Cookbooks your boys will enjoy!
Want to make sure your boy has the important skill of cooking under his belt?
With the help of these wonderful cookbooks for boys you can rest assured that he will.
I took a look to see if I could find the best books for boys on cooking and baking in case my son, or yours, wanted to make something out of them.
I hope you will try some of the books and get your boys cooking.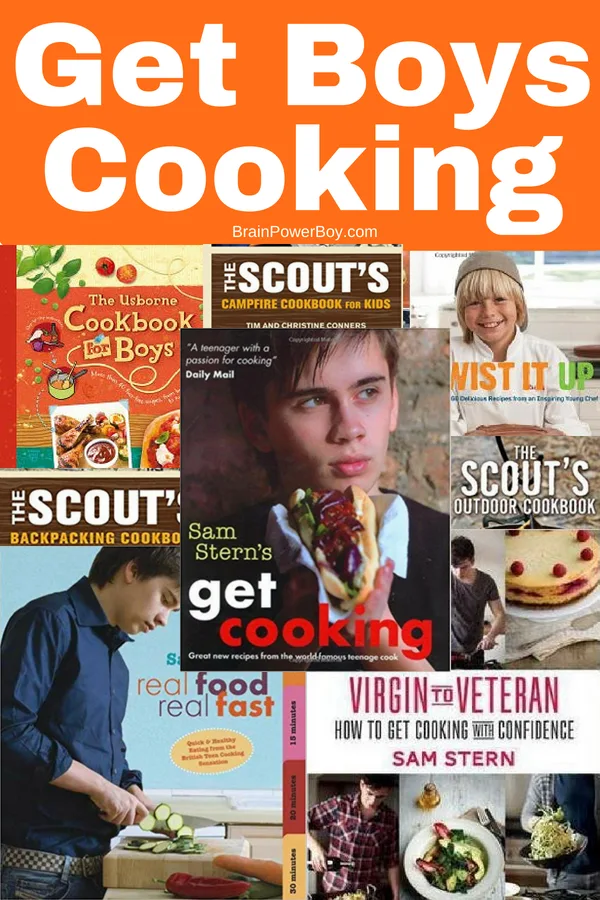 This post may contain affiliate links which means I may receive a small commission, at no cost to you, if you make a purchase through a link. All opinions are my own and I share things I think would be of interest to boys. Thanks for your support!
We have been cooking. Or, I guess I should say baking. I have enjoyed having my son join me in the kitchen once again.
When he was little he cooked with me occasionally, but we baked together often. As he got older he was not as interested in participating, which was fine.
Now he is back to helping out once in a while and I am so happy he is.
We are having fun, making delicious foods, and more importantly, making memories.
Cookbooks for Boys
For a well-rounded cookbook written specifically for boys try Cookbook for Boys
by Usborne Books. I am a fan of Usborne books and find that they are well-written with good images and illustrations to guide you through the info they share. Cookbook for Boys has quick and easy meals/snacks, main dishes and desserts. What I like about this book is they give you a lot of suggestions and tips for how to do things. Nice.
If you have a boy who has allergies, has gluten sensitivities, or your family wants to go paleo, try Eat Like a Dinosaur: Recipe & Guidebook for Gluten-free Kids
. While I am not a huge fan of the illustrations, there is a lot of good info in the book and I can see that some boys would really get a kick out of some of the recipes shared.
There are also some cookbooks on cooking outside over a campfire, with tinfoil packets, on a camp stove, and with a dutch oven. These are all Boy Scout Cookbooks and would be a fun addition to your collection of cookbooks for boys whether he is a scout or not. See all 6 Scout cookbooks here
. We love to cook outside!
Here is a book for boys who are sports fans–Boys Can Cook Too!
I have not seen this book yet but mention it because it is aimed directly at boys. Basically they took regular recipes and added a sports title to some of them. Includes food trivia, sports quotes and puzzles.
Twist It Up
has a story behind it that I think a lot of boys will find inspirational. The young man who wrote the book was struggling with leukemia when he started watching The Food Network to pass the time and take his mind off his treatments. He then decided he wanted to be a chef. The book has over 60 recipes. His "Twist It Up" sidebars are ways to change the recipe a bit to make it your own. Overall, a nice selection of recipes and a good book. If you have an aspiring chef, I would certainly get him this book and perhaps this chef set too.
Teen boys might really enjoy some of Sam Stern's books. He has a teenage survival cookbook called Cooking Up a Storm and several others including fast food, vegetarian food and a cookery course. See them all here.
Neat Cooking Gear for Boys
One way to get boys interested in cooking is to get them some cool cooking gear of their own. Click on the images below to learn more about each item.
Cooking is a skill I certainly want my son to learn. I want him to continue baking as well.
I would love for my son to have the same wonderful memories that I have of baking with my mother and my grandmother. To this day there are certain things that I bake, especially cookies, that make me think of both of them.
I learned by watching them and spending time together with them in the kitchen. We talked about everything under the sun and sat down to a delicious treat when we were done. Ah . . . lovely.
Use these cookbooks for boys, or any cookbook you have at home, to get your boys reading recipes and making delicious food for themselves and for the whole family. Make some memories today.
See our other cookbook lists: Fun Food Cookbooks and Geek Cookbooks as well for more ideas.
Does your boy like to cook and/or bake? Leave a comment below to let us know.