Dinosaurs and boys go together like peanut butter and jelly! If you are celebrating a dinosaur lover in your home, planning a dinosaur fossil dig party may just earn you petrified brownie points!
Building on your child's interests, go prehistoric when it comes to invitations, activities, refreshments, decorations and favors.
Jennifer Carver, from the blog Spaceships and Laser Beams, has five tips on planning a dinosaur birthday party your child will love.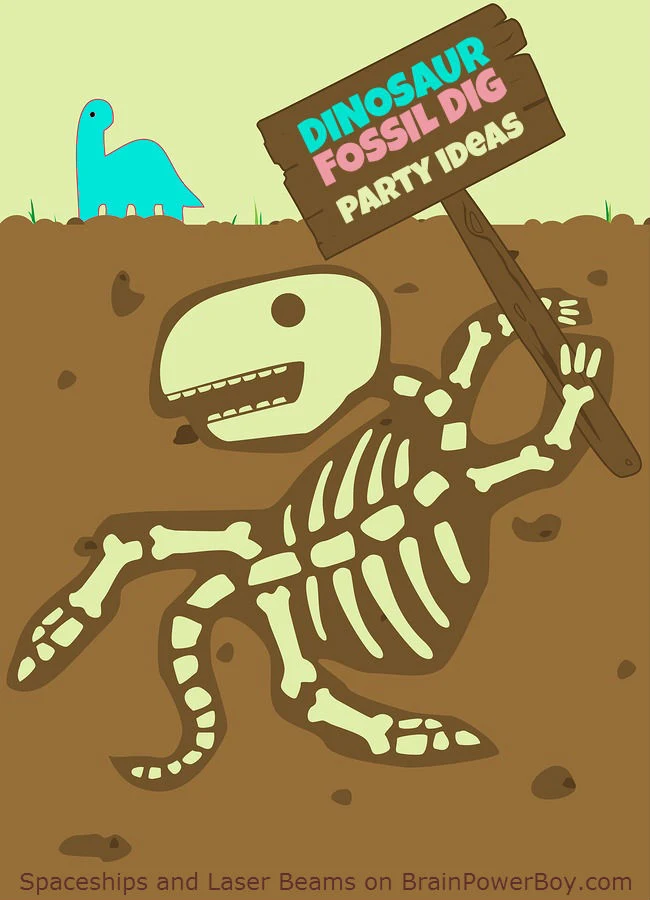 This post may contain affiliate links which means I may receive a small commission, at no cost to you, if you make a purchase through a link. All opinions are my own and I share things I think would be of interest to boys.
Dinosaur Fossil Dig Party
Party Tip #1: Cause a Roar by Sending a Dinosaur Invitation
Mailing out or hand delivering a thrilling invitation is a great way to generate enthusiasm for your dinosaur fossil dig party.
Consider sending out a cool dinosaur invitation or a printable version with dinosaur themed graphics and dino dig details.
Attaching a small dinosaur toy or shovel will only heighten excitement.
Party Tip #2: Set the Scene for a Dino-mite Dig
When designing your party space, consider the natural environment in which dinosaurs once lived. Choose a color palette and décor to reflect that natural environment. I suggest focusing on earthen tones of tans, greens, oranges and browns.
"Shop" at your own home by gathering a variety of real or artificial plants and trees, or use Mother Nature's help by hosting the dig outdoors!
Need to add to your tropical foliage? Create your own with tissue, cardstock or butcher paper cut to size and hung as a festive garland.
Utilize your child's dinosaur collection, or grab these, to provide theme appropriate props and decorations, which can also be used for a free play activity.
Shop online for anything you need to purchase. Retailers like Amazon are a great source for items like dinosaur skeletons and pith helmets.
Round up rustic crates, boxes or baskets to use on food displays or at activity centers.
Party Tip #3: Plan Party Activities that are Both Fun and Educational
What would a dinosaur fossil dig party be without actually digging? Answer—boring! Make the dig the "main event" by creating a dig area.
One suggested way of accomplishing this is by filling large storage bins or a sandbox with sand. Hide plastic dinosaur fossils for guests to excavate.
Use this activity as a fun, educational opportunity to teach them about the role of a paleontologist (or hire one to come and visit).
Make sure to have plenty of shovels on hand and small paint brushes to use for excavation work that involves more precision.
Add additional activities to keep guests busy and engaged. These could include dinosaur coloring pages, puzzles, matching games or even a pin the head on the dinosaur fossil game.
Party Tip #4: Serve Dinosaur Inspired Refreshments
A dinosaur themed party lends itself to some pretty creative refreshments.
Add excitement to the party food by using cookie cutters or molds in bone or dinosaur shapes.
Clever names can transform everyday food into prehistoric party eats! Just think of all of the possibilities: "prehistoric punch", "triceratops treats" or even "brontosaurus birthday cake".
Party Tip #5: Send Home Party Favors Guests Will Dig
If you want to have guests talking about your dinosaur dig, long after the last fossil is uncovered, send them home with a dinosaur themed party favor.
Ideas could include dinosaur candy, toy, stickers or an activity book (I found these inexpensive dinosaur activity books that are perfect for party favors.)


Using these five easy steps, anyone can successfully plan a dinosaur fossil dig party that will get kids learning, as well as, thrill party goers and the guest of honor alike!
Use this additional resource for party and learning ideas:
Dig This Dinosaur Fossil Homeschool Unit Study
You might also like: