I have been meaning to write about these books for a while now.
There is a LEGO Non-Fiction series of books called that are all about the real world!
Some are leveled readers and others have more depth. Either way this series of books by LEGO is really worth a look.
One of the things I like the most about them is that they give some LEGO building ideas as well as share real-world information about the topics.
The books are very approachable and visually interesting. Each book has minifigs in it who are telling you info in cartoon bubbles.
Some of the books even include stickers. And, the larger books include a minifig you can put together which is a great bonus. They are pretty awesome.
See all of our other posts on LEGO books as well.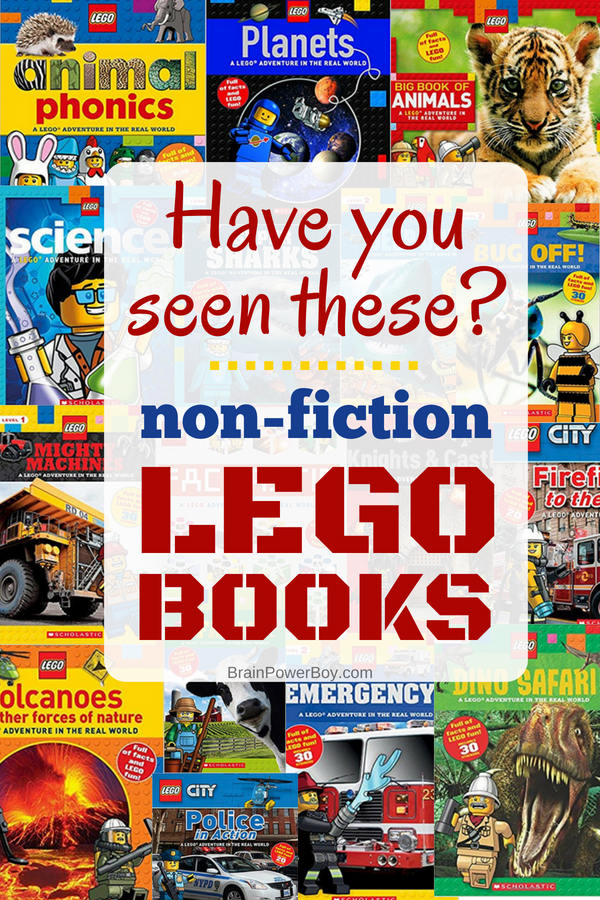 This post may contain affiliate links which means I may receive a small amount, at no cost to you, if you make a purchase through a link. All opinions are my own and I share things I think would be of interest to boys.
LEGO Non-Fiction Books
All of the books below are subtitled: A LEGO Adventure in the Real World. (I don't want to repeat that every single time lol so I am pointing it out here.)
They also all include building ideas, real-life situations and facts, and mini comics with minifigs sharing info about the topics.
About this list
There are three different types of books featured below. All are non-fiction.
There are LEGO readers which are by level and I put the level of the book after the description. (Our other LEGO Reader post
There are medium sized books that are around 64 pages that are more in-depth and more like a topical non-fiction book with a lot of images.
There are also some larger books of 128 – 174 pages that cover a lot of information and a lot of topics in one book. Those are at the end. On these I indicated an age range so you had some idea, but use your own judgement and don't make that a deciding factor.
LEGO Vehicles & Community Helper Books
Police in Action is for those who love all things police. The book is about keeping LEGO City safe, so fans of LEGO city will be happy about that! Read about the vehicles, what police officers do on the job and real-life situations the police deal with. 64 pages
For fire station fans, I would try Firefighters to the Rescue. Learn all about what firefighters do and how they do it. 64 pages
Emergency! is about the community helpers who come to our rescue and their vehicles! Level 2
In Mighty Machines the minifigs share info on construction vehicles, cargo ships, airplanes, and even rockets! Level 1
Knights
This book is all by its lonesome in a category all its own because it didn't fit anywhere else. I am hopeful they will be doing other topics such as Pirates etc. We shall see.
In the meantime, I couldn't leave out this book because knights is a topic boys love. Learn about lords and ladies, knights and other castle characters. If you have one of those boys who think knights are where it is at, grab Knights and Castles. 64 pages
LEGO Earth Books
Check out the solar system with Planets. Full of great facts that are educational, interesting and fun, this one is a winner for outer space fans. 64 pages
Volcanoes and Other Forces of Nature covers everything from volcanoes (obviously 🙂 ) to earthquakes, landslides, tsunamis, hurricanes, tornadoes, flooding, storms and more. 64 pages
LEGO Ocean Books
Sharks are pretty darn fascinating and I know if your boy likes sharks and LEGO he will enjoy this one. Super Sharks is a level 1 reader so it is great for those who are just getting started with reading on their own but also nice for those who are not yet reading. They will learn simple facts about sharks. The images are very engaging! Level 1 (See all of our shark related posts)
In Deep Dive they cover the ocean. Grab this for someone who loves ocean animals and all things about the deep. There is also info on coral reefs and even shipwrecks! Level 2
LEGO Animal Books
Farm is super cute and perfect for those who want to know all things about farming and farm animals. Level 1
Dinosaur fans were not left out when they wrote this series of books. Dino Safari takes the reader on a Jurassic adventure while learning the latest facts about dinos! Level 2
Bug Off! (no, not you! – that is the title of the book lol) is, as you may have already guessed, all about bugs. I like this one because if features bugs you may find in your own backyard. Level 2
There is also a LEGO Animal Phonics book set which you can check out if you are interested in that. I'm not a big fan of phonics, but I did want to let you know as it is part of this overall series of LEGO adventure in the real world books.
Please see also the Big Book of Animals directly below.
LEGO Non-Fiction Large Books
The Big Book of Animals is a gem filled with so many wonderful photographs of animals (hundreds!) Animal fans are going to really enjoy this title. It covers more than 50 rainforest, woodland and rainforest animals. It is geared through age 8 but it is a very nice book and I think kids who are a bit older and still like LEGO will enjoy it as well. (I did!) 128 pages. Through age 8.
This is a bigger book with a lot more to it. Science goes in-depth on all things in the universe. This is a nice reference book to have on hand if your boy likes the minifigs. I'm sure he will pick up all sorts of different facts and knowledge from just flipping through it. Bonus! It comes with a scientist minifig (note: it is a girl.) 128 pages. Through age 10.
You have got to see Factastic! Honestly, it covers so much it is pretty hard to describe it. They say it covers "almost every subject under the sun, from Vikings to volcanoes, rain forests to robots, pirates to planets. Cool, eh? If I had to pick just one of these LEGO non-fiction books, this would have to be the one. It is super interesting, highly engaging and a must have for your home library. 176 pages. Through age 12. Highly Recommended!
I hope you enjoy these awesome LEGO nonfiction books!
For more LEGO posts try these:
Cool LEGO Books You Don't Want to Miss!
You can also use the search bar on my site and put in LEGO for a lot more choices!