These fun LEGO Reader Books Series for Boys titles are wonderful as they get boys hooked on the stories. Once they read one they will want to read more. That is totally the point of this list – get them reading more and more. They are going to love these inexpensive, high appeal books.
If your boy is just starting to read on his own or if you are having trouble finding early reading books that he doesn't think are too young for him, these are simply perfect. They made our book series for boys book lists as well as our LEGO Books list.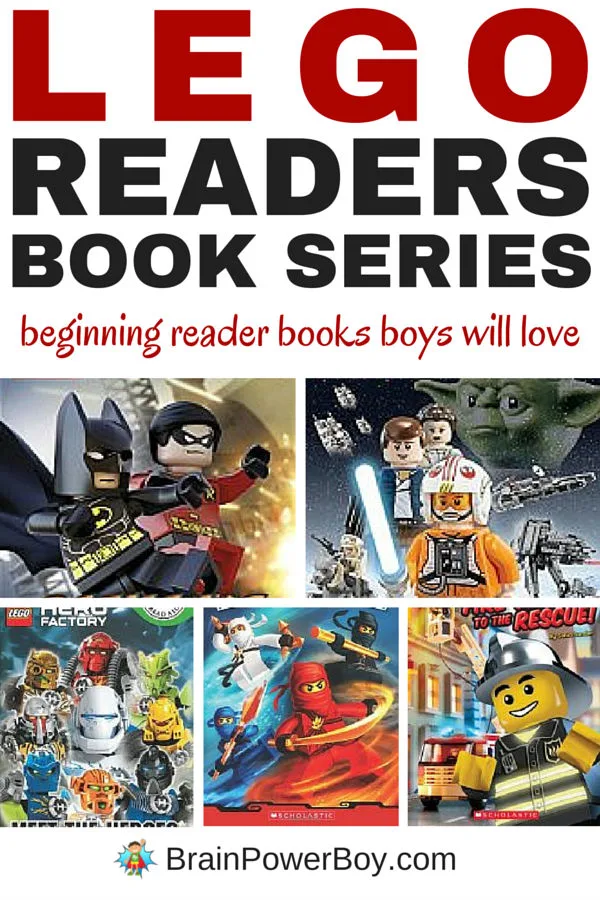 This post may contain affiliate links which means we may receive a small commission, at no cost to you, if you make a purchase through a link. All opinions are our own and we share things we think would be of interest to boys.
LEGO Reader Books Series
I know a lot of mothers who are looking for books to get their boys reading. One great way to do this is to find books that they are really going to go for.
Since many boys love LEGO we rounded up the best beginner reader books for boys for your LEGO fans: LEGO Reader Books!
A few quick notes about the various series. These easy readers are by different publishers and come in different levels. The levels for one publisher isn't necessarily the same for all publishers.
Levels are attached to grade and/or age. Honestly, I never go by that when choosing books, but you can check them out if you are interested. I think introducing books of all different levels is a great way to get boys reading. You can read more about allowing boys to choose their own books to see why it is a good idea.
On to the books . . . Click through the links to see the books in each series.
LEGO Star Wars Reader Books
The LEGO Star Wars Series
books by LEGO DK readers come in three different reading levels. LEGO Star Wars is a favorite around here and we certainly enjoyed some of these books.
LEGO Ninjago Reader Books
LEGO Ninjago Reader Series
starts with Way of the Ninja. It is all about Ninjago and the legend of Spinjitzu. Various reading levels.
LEGO Mixels Reader Books
I didn't even know LEGO Mixels Series was out until recently. These goofy characters have made their way into a book series. The books are based on the Mixels animated shorts on Cartoon Network. Silliness at its best.
The LEGO Movie Reader Books
The LEGO Movie Series
only has 2 books in it. A DK reader level one and a level two. I wish they had continued with this one but maybe they will do so when the new movie comes out. For more The LEGO Movie books see our list.
LEGO Hero Factory Reader Books
Try a few of the LEGO Hero Factory Series
in level 2 and 3.
LEGO CHIMA Reader Books
If you have a CHIMA fan check out the LEGO CHIMA Series
. These come in 3 levels as well and there are titles in the comic reader series (see below.)
LEGO Super Heroes Reader Books
You've gotta love a good superhero story! The LEGO Super Heroes Series
has level one, two and three as well as a comic reader that looks very promising. Features Batman, Superman and villains too.
LEGO City Reader Books
All of the LEGO City Series
appear to be level one readers. There are a couple comic readers as well. Space Escape Comic Reader
LEGO Pirates Reader Books
There is only one lone title from LEGO Pirates
. Us pirate lovers say arrr! However, one is better than none.
LEGO Monster Fighters Reader Books
I liked these sets when they came out (mostly for the mini-figs.) There are two books available, one level one and one level two. Monster Fighters Series
LEGO Knights Reader Books
The LEGO Knights Series
is older so you will likely have to try to get them used. If you have a LEGO knight fan it would be worth doing. They go up to level 4.
LEGO Comic Reader Books
The last one on our list today is LEGO Comic Readers Series
. I really like these! They are available in LEGO Superheroes, LEGO CHIMA and LEGO City at the moment and I do hope they expand them and continue to grow the series. These are done in comic book style with a lot of great images, word bubbles and great graphic words as well. They are pretty awesome.
There you go. All the LEGO Reader Books Series for Boys in one place. That ought to keep your LEGO fans reading for quite some time to come!
You might also enjoy:
Cool LEGO Books You Don't Want to Miss!
LEGO Non-Fiction: A LEGO Adventure in the Real World
Terrific Book Series That 3 – 5 Year Old Boys Will Love