Have you seen Awesome LEGO Creations with Bricks You Already Have yet? I am always excited to get a chance to review a new LEGO book!
I was extra excited to review this particular LEGO book because I know the author.
Let's get started . . .
And be sure to check out all of the LEGO books info we have on our site! We had so many we had to make a whole page about them!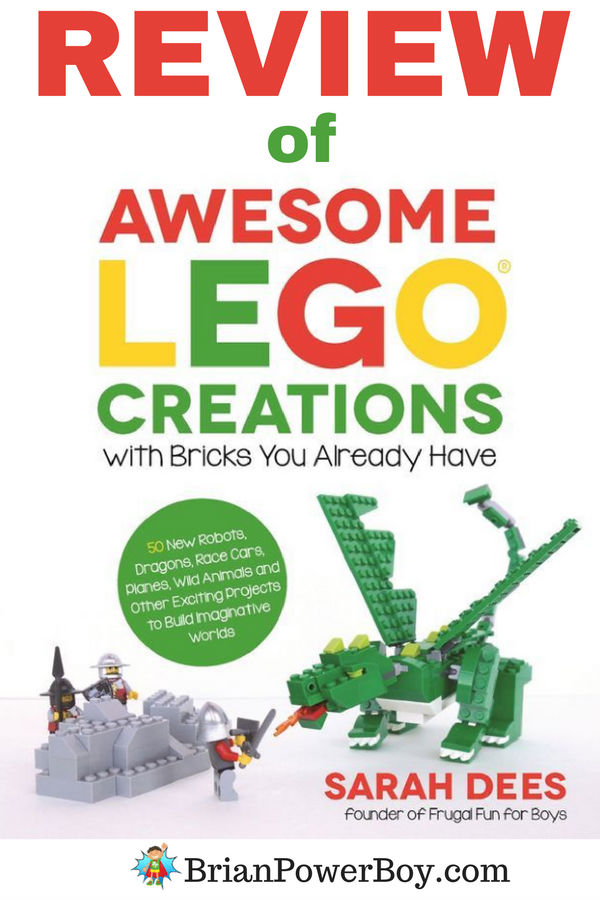 This post may contain affiliate links which means we may receive a small commission, at no cost to you, if you make a purchase through a link. All opinions are our own and we share things we think would be of interest to boys.
Special thanks to Sarah Dees and Page Street Publishing for providing images and a review copy of this book. All opinions are my own–of course.
Awesome LEGO Creations with Bricks You Already Have was written by Sarah Dees from Frugal Fun for Boys and Girls. I have followed what she has been doing with LEGO for quite some time and saw her creating some very cool builds.
If you don't know who she is, you should click the link to her blog and check her out. She is super nice and does an awesome job.
Anyway, someone else took notice of what she was doing with LEGO and she got a book deal. I am so happy for her!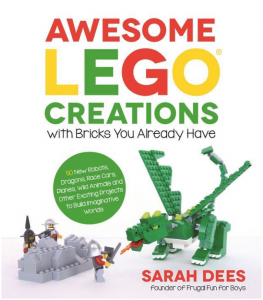 If you want my quick advice here you go: You should buy Awesome LEGO Creations with Bricks You Already Have
I think that your kids will get a whole bunch of building ideas out of this book and they will even learn new techniques.
The book has nice full-color images and the instructions are easy to follow.
If you want more details, I have them. Scroll down and read all about it.
Awesome LEGO Creations with Bricks You Already Have Review
Let's take a closer look at the book and give you an idea if this would be a good title to add to your LEGO book library.
Opening the book I am met with a super cute little monkey! When things start out this way, you just know you are in for a good time.
The book begins with an explanation on how to use the book – super useful. There are two main options. Build the LEGO projects with the included step-by-step instructions or use their no-instruction creative challenges. More on those options below.
Do I Already Have The Bricks I Need To Build The Projects?
So . . . since the book says "with bricks you already have" in the title, one of the first questions we asked ourselves was: will people actually have the bricks that are listed in this book?
The answer is, it depends.
If you are rather new to LEGO you are likely going to need to order some bricks and elements if you want to build the items with step-by-step instructions. That is completely understandable since your brick collection is not that big yet.
However, you may be fine with the bricks you already own if you do the creative challenges. Because, after all, being creative is all about using what you have on hand and making the pieces work.
If you have to order some bricks, I don't think that is a bad thing as the more bricks you have the more your child's creativity will soar.
Here are two of our top choices for additional bricks.
If you have a decent size collection of bricks from a good variety of sets you will likely have most of what you need. You may want to order specific colors or order a few extra elements to make it look just right. Ordering some pieces that you can use with the book will be totally worth it. I know we are going to order a few things ourselves, just to make using the book even more fun.
Awesome LEGO Creations: Step-by-Step Instructions
The step-by-step instructions are just as you would imagine. You get a parts list, images of how the bricks go together and at least one picture of the finished project. The instructions have a lot of good images. (Perfect for visual learners!) She did a very good job of showing how to build the creations. See below for an example.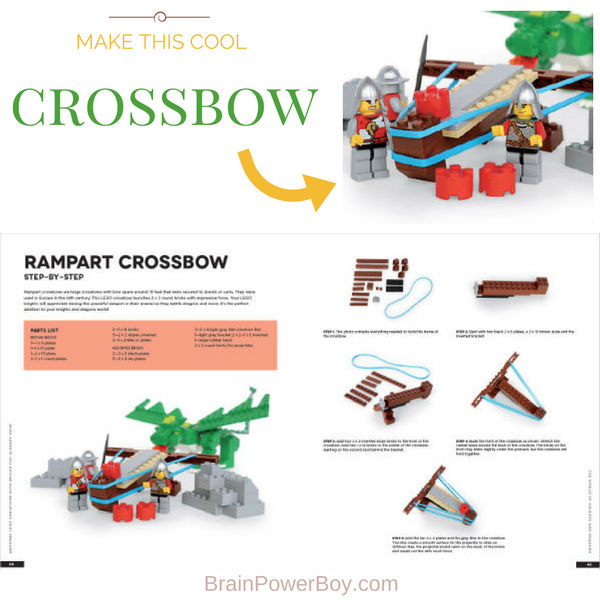 Awesome LEGO Creations: Creative Challenges
The no-instruction creative challenges are a way for kids to look at what was built in the book and use their imaginations to make a variation of that same item.
For example there is a table top foosball game (very cool!) which includes the directions for making the paddles. You can, however, make the board in any way you wish. The examples provide a solid idea for building and your kids can take if form there and build it however they want to. There is still a box with specifications and a list of parts to get you started.
With most of the creative challenges even though there are not step-by-step instructions you can easily look at the builds and do it yourself. Any LEGO fan with a bit of experience should have no issue creating the items shown.
Is Awesome LEGO Creations Worth The Price?
Yes! It totally is. The retail price is super reasonable considering the high quality content, number of projects and the full-color pages throughout the whole book. Plus Amazon has a great deal on it so it is an even better value.
Page Street Publishing is new to me but I am going to have to check out their other titles. They know what it takes to put out a great title.
Awesome LEGO Creations 50 New Projects to Build
There are a whopping 50 projects in Awesome LEGO Creations With Bricks You Already Have which is one of the reasons I think it is a good value. Some LEGO books only have a handful of projects and you can get through them rather quickly.
This book is packed with ideas. Plus there are a lot of very boy-friendly topics in it. We are talking chapters on robots (we love LEGO robots too! take a peak,) dragons, race cars, airplanes, wild animals and much more.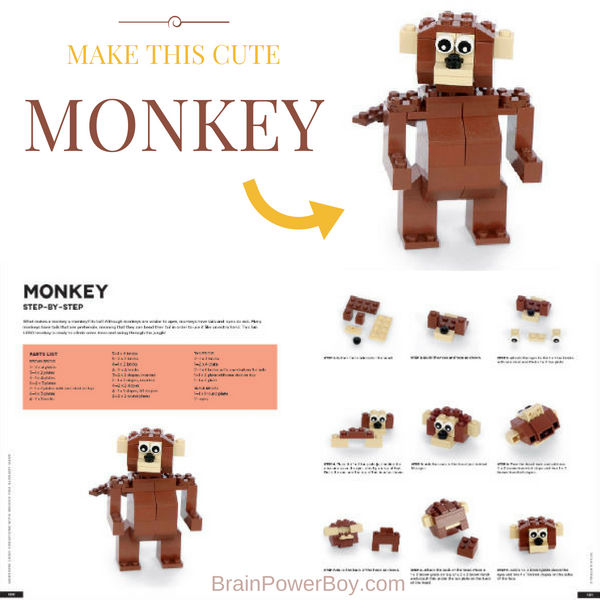 It is tough to pick a favorite but I will give you a few of the LEGO projects I really liked.
The workspaces she created for the robots are great. I think they lend themselves to a lot of imaginative play.
The Monster Truck, which includes step-by-step instructions, is really well done. I bet a LOT of kids build that one to play with.
We made a LEGO house which I mentioned a few times so we enjoyed looking at their versions of the furniture.
There is a whole chapter on Wild Animals and I have to say that I really enjoyed them. From the cute monkey shown above (love it!) to the rhino and the alligator, they are all cute and easy to build.
The book includes a lot more than what was mentioned. Honestly, with 50 projects, your kids are going to have more than enough to choose from!
Buy Awesome LEGO Creations with Bricks You Already Have now. You will be very happy you did.
Oh, and she has since come out with another book as well so you might as well take a peak at that one too: Epic LEGO Adventures with Bricks You Already Have