Have you ever wondered how you can take your child's LEGO obsession and turn it into a way for them to learn even more?
Today we are talking about ways to encourage and enhance learning with LEGO.
LEGO is a natural learning tool but you can help them even more by following the tips below.
We have several other LEGO Learning ideas here on the site as well and are planning to add more.
Use these tips and you will be helping your child learn in a fun and engaging way.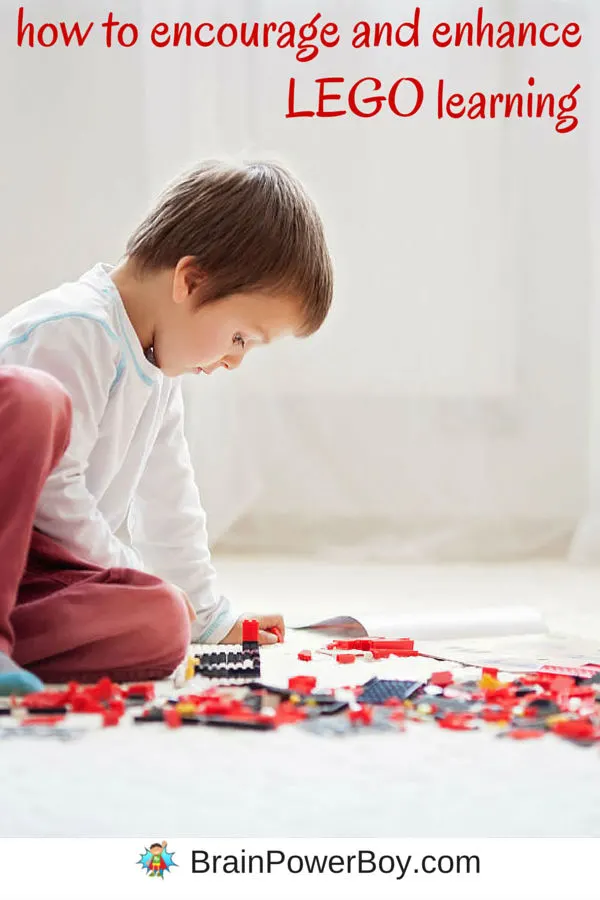 This post may contain affiliate links which means we may receive a small commission, at no cost to you, if you make a purchase through a link. All opinions are our own and we share things we think would be of interest to boys.
How To Help Your Child Learn Through Using LEGO
If you have been reading this website for a while you know that we are huge LEGO fans.
There are many learning opportunities through LEGO play such as: creativity, patterns, construction techniques, working in 3D, spatial reasoning, problem solving and more. I am suggesting taking that general learning and finding a few worthwhile ways to encourage and enhance it.
Your child is already into LEGO and you can take his learning with LEGO even further with these simple ideas. When we can encourage them in their learning through a toy with big appeal it is a win-win situation.
Encourage and Enhance Learning With LEGO:
Try these simple ideas to take LEGO to the next level. All of them are easy and they all help boys to move forward with their learning.
Time and Freedom
Mistakes and Play
Adding LEGO Resources & Experiences

Learning With LEGO: Taking Things Up a Notch


LEGO can be an incredible toy in and of itself. Just adding in a few things can take that wonderful toy and turn it into a very natural way to learn more.
I hope this gave you ideas for encouraging and enhancing their learning with LEGO by doing a few of these simple things. The benefits are great and besides, LEGO is just a whole lot of fun!
If you enjoyed this article – try these too:
LEGO Designs and