The Art of LEGO Design:  Creative Ways to Build Amazing Models by Jordan Schwartz, published by No Starch Press is an awesome book for boys who want to try advanced LEGO techniques. It is a great book for older boys!
Jordan Schwartz, the author of this book, was one of the LEGO Group's youngest designers.  Pretty neat to think about, isn't it?  All those hours your boys are spending playing LEGO could pay off 🙂
When Jordan says that this book serves as a guidebook but also a "look book" written to inspire builders I think he hit the nail on the head.  There is so much information packed into this title that it certainly is a guidebook, and a very good one at that.  It is also a visual treat and boys will love to look through it and get ideas for their next builds and learn techniques that the big builders use.
The Art of LEGO Design goes above and beyond what other books have offered and gets down to the important details.  Advanced builders take note:  this is the book for you!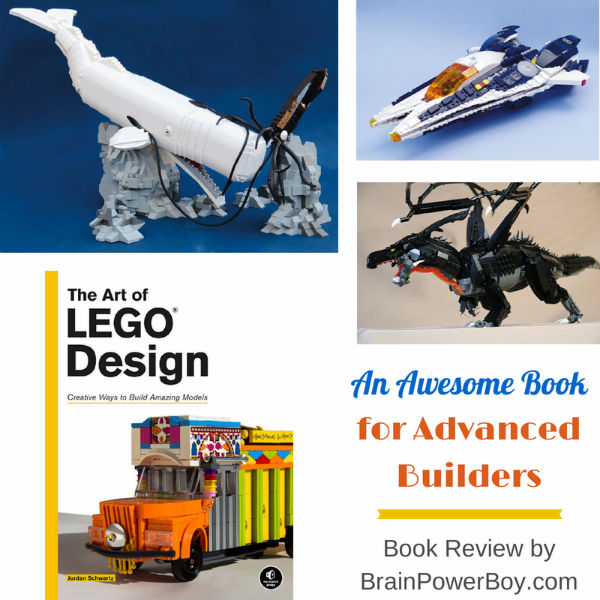 This post may contain affiliate links which means I may receive a small commission, at no cost to you, if you make a purchase through a link. All opinions are my own and I share things I think would be of interest to boys. Thanks for your support!
No Starch Press puts out another great LEGO title.  No surprise to me as their other books were also really well done (LEGO Space & LEGO Adventure Book 2.)

The Art of LEGO Design
 has a very nice balance between text and image.  It starts a bit heavy on the text and I was concerned some boys might be turned off by that but once it gets into the chapters on building the balance is just right.  There are 13 wonderful chapters and your boy won't want to miss even one of them.  Here are a few:  Inspiration & Preparation, Minifigure & Company, Wildlife & Foliage, and Cars, Wagons, & Watercraft.  There is a lot of good stuff here!
Some things I liked were a peak at Jordan's work area and his bookshelf—I don't know why it is always so interesting to me to see how people set up their work space but it is (do you like to see it too?)  Plus the sections on great tools to use, the anatomy of a minifigure, scattering bricks, creating texture, and adding fabric elements. I also really liked the section of cheese-slope mosaics.  I have seen them around the Internet but didn't know how they were done.  Now I know!
Bruce Lowell (see: Interview with Bruce) has a section on the Lowell Sphere that is a must read if your boy wants to build in the round.  Great to see him featured in the book.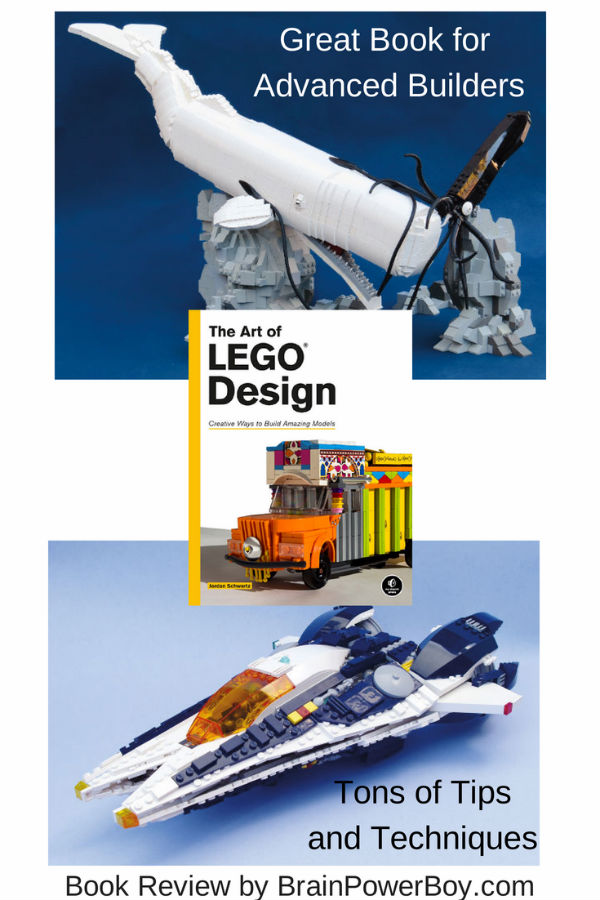 Both young (see note below) and old LEGO fans will enjoy this book.  Younger boys will like the pictures, and there are a lot of full-color, beautiful pictures here, and they will enjoy trying a few of the simple building ideas.  Older builders will want to check out some of the more advanced techniques and will be inspired to use those techniques to create new and interesting builds of their own.  This books is a LEGO boys' learning bonanza!
Note:  There are several more adult images in the book that are violent in nature.  One depicts a vignette (LEGO build on a small plate) of a murder scene done in black and white with death and blood.  Another shows Norman Bates as Mother in Psycho and another shows Hannible Lecter.  This is not a book geared toward kids but is for enthusiast builders, however the majority of the book is kid friendly.
Special thanks to No Starch Press for providing a review copy of this book and the great images. All opinions are my own–of course.
I am super impressed with The Art of LEGO Design.  Jordan did an awesome job on this book.  Highly Recommended for older boys.
The Art of LEGO Design: Creative Ways to Build Amazing Models
You might also enjoy:
Extreme Bricks
Brick City
LEGO Landmarks Roundup
Plus check out the LEGO section of BrainPowerBoy. You are sure to find something your boy will enjoy!