Today we are taking a look at the LEGO book, Extreme Bricks by Sarah Herman, published by Skyhorse Publishing.
The subtitle for this book is "Spectacular, Record-Breaking, and Astounding LEGO Projects from Around the World" and that about says it all. These are incredible, huge and really interesting builds.
When I see new LEGO books coming out like this one, I know I need to review it for you.
Read on to learn all about this book and what it has to offer. It is good for all ages. Young LEGO builders can see the incredible creations that can be made from LEGO. Older builders will be absorbed and looking for how they can use what they see in their own builds.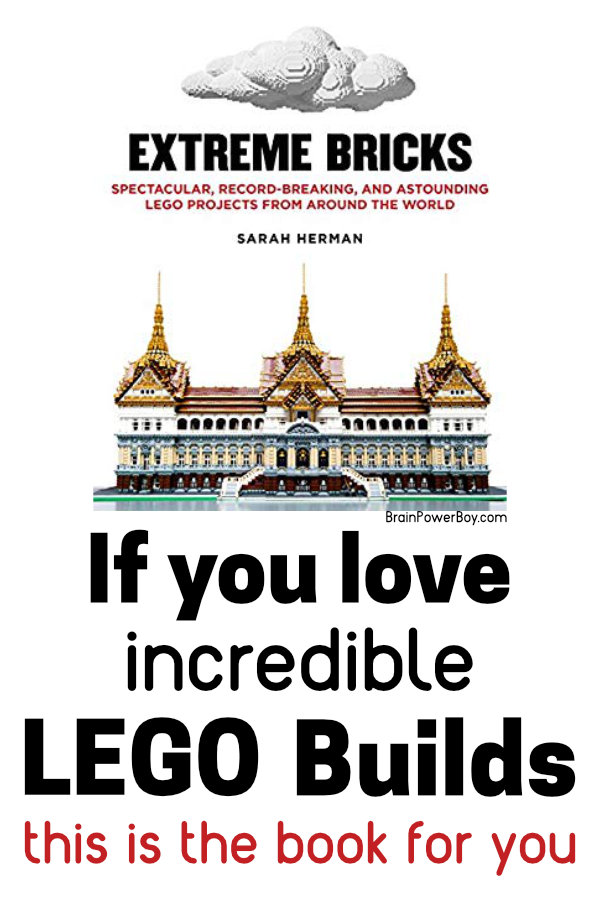 This post may contain affiliate links which means I may receive a small amount, at no cost to you, if you make a purchase through a link. All opinions are my own and I share things I think would be of interest to boys.
Extreme Bricks starts out with some older LEGO builds from the 1960s. All the while I was growing up I never knew people built LEGO structures like that.
My brother was big into LEGO and was always building neat things but I really never knew people were building large palaces and skyscrapers back then.

I enjoyed seeing the creations in Extreme Bricks. Without all the fancy specialty pieces that are available today they were still able to build some really cool things. Wait until my brother sees Extreme Bricks–he won't believe what they are doing today.
Though there is a lot of text, I still think younger boys would enjoy looking through it. For young builders you might want to also check out Sean Kenney's books, The LEGO Adventure Book 2, and LEGO Space: Building the Future. Older boys are going to think this book is awesome.
The book is broken down into a chapter with subjects such as "Pioneers of Play" or "Unconventional Bricks" and the "makers" in that chapter. Each maker has a large featured project. These sections are broken down by : fact file, what is it, meet the maker, the project, super studs, keep building and brick bits. These are rather interesting to read and the photographs are, of course, very fun to look at.
From the big models that are built by The LEGO Group, to work by designers in LEGOLand, and on to the awesome creations by AFOLs (Adult Fans of LEGO) there is so much to see.
Extreme Bricks is packed with information about some of the greatest builds in the world. These are the big, really cool, can you believe someone could make that? kind of LEGO creations that astonish and amaze. This book is certain to spark a lot of imaginative ideas!
This book is not written for children, but my son sure enjoyed it.
NOTE: There are no building instructions or projects/activities to complete.
It is purely a visual treat with plenty of information. LEGO enthusiasts will want to have a peak.
The LEGO Neighborhood Book: Build Your Own Town!