Check out Brick City: Global Icons to Make from LEGO by Warren Elsmore!
Wow! There are really a lot of awesome LEGO books coming out lately and this is no exception.
Warren Elsmore has been a LEGO fan and builder for as long as he can remember and it certainly shows. His creations are nothing short of spectacular.
In Brick City he shares his own creations and gathers brick artists from around the world to share landmarks and global icons in all shapes and sizes.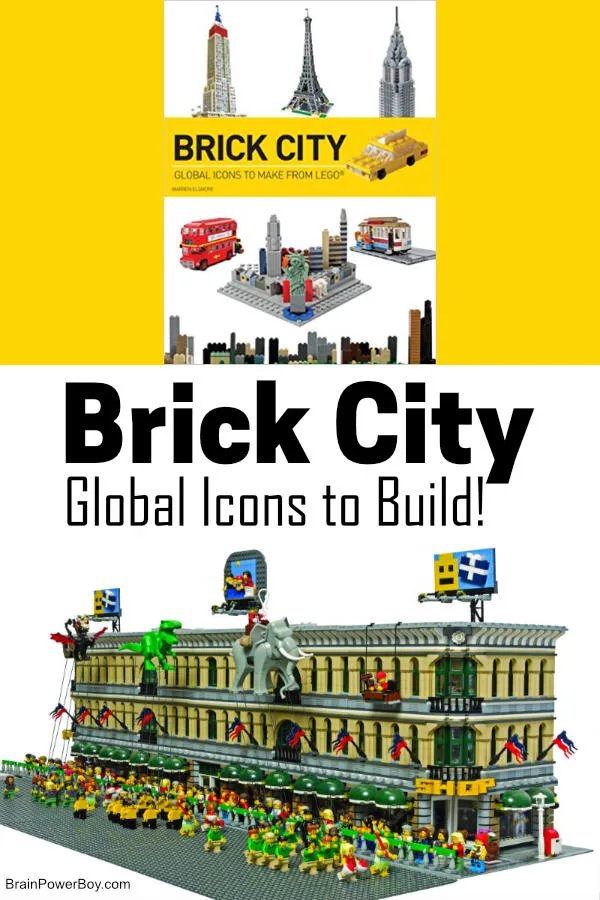 This post may contain affiliate links which means I may receive a small amount, at no cost to you, if you make a purchase through a link. All opinions are my own and I share things I think would be of interest to boys.
On pages 9 and 10 of Brick City, Warren lists the 10 most useful bricks. This little section is great because it gives you an idea of the types of bricks that make building beautiful buildings (say that 3x fast!) easier.
To create items in the book he suggests you dig into your piles of LEGO and see what you already have. Be willing to make substitutions and then get building.
The Pick-a-Brick walls at LEGO stores are great for adding pieces and we have done just that. We love that you can get a variety of the harder to find pieces right off the wall. We scored some very cool window pieces and wheels last time. You can also order Pick-a-Brick online here.
Other interesting spots in the book include the discussion on scale, building with Computer-Aided Design software such as LDraw, as well as some very well written (and handy!) LEGO building tips.
I am especially fond of the "Customizing Minifigs" info by Caroline Savage. She provided great tips and neat ideas for customization.
Warren starts readers/builders out with a practice project that is very do-able. The illustrations are well done and you can easily see what pieces to use and how to go about building the house. Give it a try!
Check out this cool shop that is featured in the book!
The book is broken down by geographical area.
Starting in the United States with San Francisco (cable car) and Los Angeles and moving on to New York (check out the yellow cab & the Macy's Day Parade) and then traveling the world.
This book has so much going for it. Not only are there great LEGO projects and instructions but Brick City also gives information on each of the landmarks. Check out our post on LEGO Landmarks for additional ideas.
The included instructions are for the smaller structures and can be made if you have a decent collection of LEGO. I really can't say enough about the beauty of the LEGO Landmarks in this book. You and your boy are going to be impressed! He may even want to live in Brick City!
Take a trip around the world in LEGO and come back and let us know what your boys' favorite building project was. Happy building!
UPDATE: See our interview with Warren Elsmore, the author of Brick City. He shares his experiences and tells how boys learn from using LEGO.