If you are new here I should tell you up front that I am a huge fan of LEGO. If you have been around a while, you know this about me and have seen the many LEGO articles we have available on the site.
LEGO is a wonderful toy, though I kind of hate to even call it a toy, for it is so much more. It is a pathway to making anything you can imagine, it is an art medium, it is a tool that people are using to design incredible things like Braille machines, it is used to make movies, and it is an engaging way for kids to learn while they play.
LEGO Learning is something I have been focusing on lately. I was thinking about what boys learn from playing with LEGO. You will be amazed at how many things we came up with!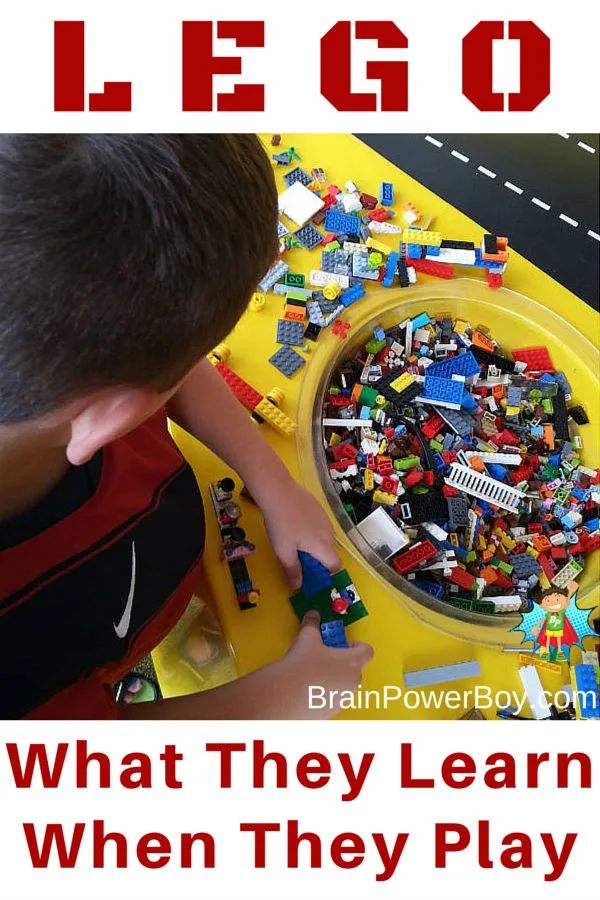 This post may contain affiliate links which means I may receive a small commission, at no cost to you, if you make a purchase through a link. All opinions are my own and I share things I think would be of interest to boys.
LEGO Learning: What They Learn
My brother used to spend long hours in the hallway playing LEGO while my mom sewed. I am sure he learned a lot while playing. He has a very mathematical mind and I think building and creating with bricks was a natural way for him to use that strength.
Like my brother, my son has loved to build since he was very young.
The drawback of being young and using tiny bricks is that it is super frustrating. They are tough for little fingers to put together and get apart (my fingers hurt after taking apart so many pieces—really hurt!) plus LEGO falls apart. If you push a bit too hard, it can collapse.
All of these things were great for him though. He learned, he dealt with frustration, he had to make adjustments to how he built or ask for help. It was a wonderful experience for a young boy.
Here are more things learned by playing with LEGO bricks.
LEGO Learning: from Art to Math
It encourages creativity.
LEGO gets kids using their imaginations.
You can use it to create sculptures, mosaics, stamped paintings, and collages.
Builders use patterns and symmetry.
Additional construction techniques are picked up as they build.
Engineering comes into play when trying to make different structures.
Work is done in 2D or 3D.
As building skills progress you may work with scale such as Microscale, Minifig Scale or Life-size.
Following specific step-by-step directions including visual direction following.
Literacy skills.
Learn robotics with LEGO.
Spatial Reasoning Skills.
LEGO learning is very natural. They play . . . they learn.
Additional LEGO Learning:
Fine motor skills are used during building.
The learning is hands-on and some boys really need this type of learning.
Perseverance! LEGO can be very frustrating and boys can get very easily frustrated with it. But because of its appeal they tend to stick to it.
Problem Solving. There are a lot of opportunities for figuring out how to make things work.
Discipline.
Mastery of skills.
Can help special needs children learn as it tends to hold their attention when other things won't.
Planning.
Completing a project (I think this is one of the hidden benefits–completing what you start is an important life skill)
Knowing when to quit (You also have to know when it it ok to quit and move on.)
Communication skills are used when storytelling with Minifigs, when explaining what they made or in working with others.
Working together.
and much, much more . . .
The greatest thing about LEGO, my absolute hands-down favorite thing of all, is that LEGO can be turned into absolutely anything you can build–anything!
LEGO is the best toy/tool/learning resource we have in our home.
Ok, we do have quite a bit of LEGO but . . . just the other day my son and I were building some LEGO Designs and we looked at each other and said "We need more bricks!" and we were not kidding. I think I will be ordering this. I love these classic sets they came out with. They have great pieces in them–they even come with eyes!
With all those bricks around you might want to check out this article on choosing the best way to keep all of the items organized.
See our big awesome LEGO page for other fun articles and resources.
If you get a moment can you click on a share button below? I'd appreciate it!