I am a huge fan of hands-on learning and we really, really enjoy LEGO.  Adding those two things together provides a wonderful way for boys to learn.
We have come up with a big variety of LEGO learning ideas and will continue to search to find more.  If you want your boy to learn more math, english, history or any other topic make sure he is learning in a way that works best for him.
Honestly, there is so much that can be learned by just playing around with LEGO.  Incorporating a few games or open-ended play into the mix can be a great idea if they are open to it. If it is fun for them, try a few of these LEGO learning ideas on for size.
Be sure to bookmark or pin this page because we will continue to add to it over time. In fact, there will be a whole lot of posts added here over time! You can also sign up for our newsletter so you are sure not to miss out on anything.
On to the LEGO Learning . . .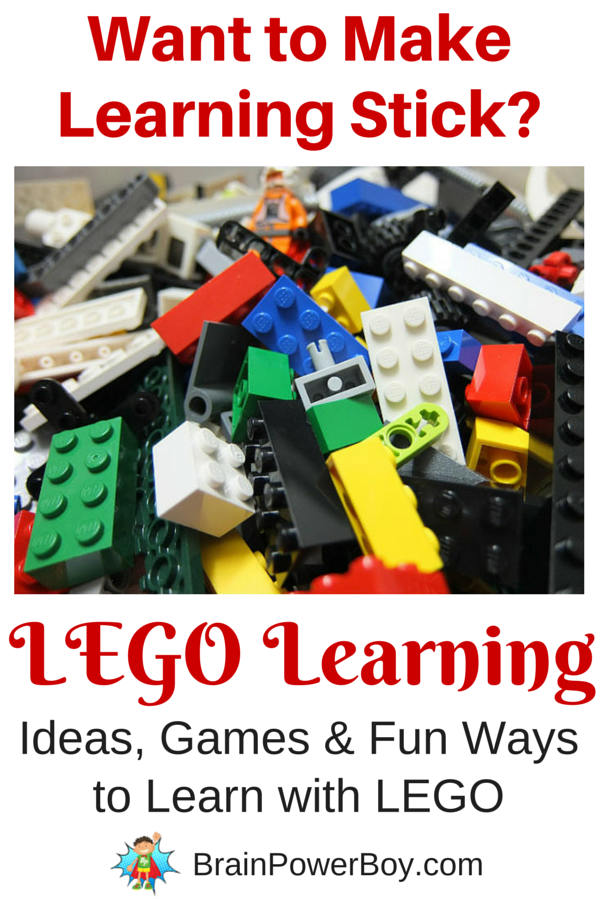 LEGO Learning Ideas:
Start with LEGO: What They Learn When They Play and then move on to these ideas:
LEGO Ideas Site and The EXO Suit
Play and Learn with LEGO and Playdough
Link to Making an Omnidirectional LEGO Robot 
Ways Boys can Learn from The LEGO Movie
LEGO Learning: What They Learn When They Play
Try our LEGO Designs page for directions for making LEGO Builds and our big LEGO page for more fun ideas.
You may have to play around with different ideas to find some that work well for your boy's learning style.
Take a handful of LEGO bricks and add in some great learning ideas and you have a match that is perfect for boys