Anna is here to share wonderful ideas on learning with LEGO and Playdough today.
LEGO and playdough are two of our favourite toys, so I have been looking for some fun ways to combine them and include some learning fun. They are both really versatile toys so the possibilities are endless. You can use shop bought play-doh or make your own using one of these simple playdough recipes.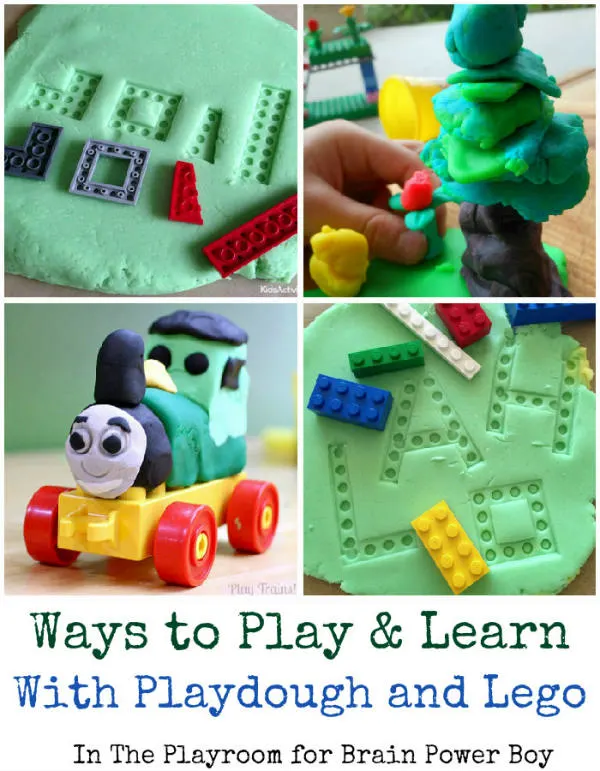 This post may contain affiliate links which means I may receive a small commission, at no cost to you, if you make a purchase through a link. All opinions are my own and I share things I think would be of interest to boys.
LEGO and Playdough Activities:
Here are 5 fun ways to combine LEGO play with your playdough activities and a provide a fun and hands on way to learn for young children
Printing with LEGO to create letters is a great hands on way to work on letter recognition, or on building words. There's lots of critical thinking as your boys work out which pieces would be best to use for each letter, and kinesthetic learning too.
Recreating LEGO sculptures in playdough This is a fun activity to work on visual processing, and children look at their original LEGO sculpture, process that information and recreate. There's also lots of fun fine motor practice in both the LEGO building and the playdough building, which all strengthens those hand muscles ready to learn how to write.
Create a LEGO and Playdough Puzzle is a simple activity is a great way to combine playdough and LEGO to work on early maths skills like spacial awareness and shape recognition. You could make it more complicated by combining more LEGO bricks to make each shape print.
The LEGO and Playdough DIY Train Set activity combines yet another of my boys favourite things : trains! This is a great idea for younger children, since you are creating this with the larger sized duplo rather than the classic small LEGO pieces. What a fun way to use fine motor skills, and creativity
LEGO Playdough Mats There are lots of fun playdough mats you can find online to give variety to your playdough activities, and help with learning. These fun LEGO-themed playdough mats help children to work on their early numeracy skills like one to one correspondence. Print and laminate them for repeated use.
I hope you enjoyed these fun playdough and LEGO learning ideas. There are so many more ways you could combine these two classic toys. Why not challenge your children to see what other ideas and activities they can come up with using these materials.