Last year we had so much fun building our LEGO Leprechaun Trap that we decided to do it again this year.
I asked my son to make one and he did an awesome job. I love the tiny details he incorporated into his build.
For last year's leprechaun trap and to see our other LEGO builds visit our LEGO designs page.
To entice a leprechaun you only need one thing and that is gold! They find gold absolutely irresistible and are sure to come looking around your trap if you put plenty of gold pieces around. Will you try to catch one this year?

LEGO Designs: Leprechaun Trap
How to Catch a Leprechaun – LEGO Style
Here are a few of the important "features" of the trap.
It is done in green – which we all know leprechauns like.
It includes a trail of gold leading up to the trap. (Not all of the gold trail is visible in pics)
It has a pot of gold. You know they love pots of gold too, right?!
It has a spring trap that the pot of gold sits on. If the leprechaun picks up the pot of gold the trap is sprung.
The green LEGO parts at the top of the build are called 1×1 nose cones. Once the trap is sprung the alarm goes off, the cones light up and you can go catch your leprechaun.
Here is a fun book on catching a leprechaun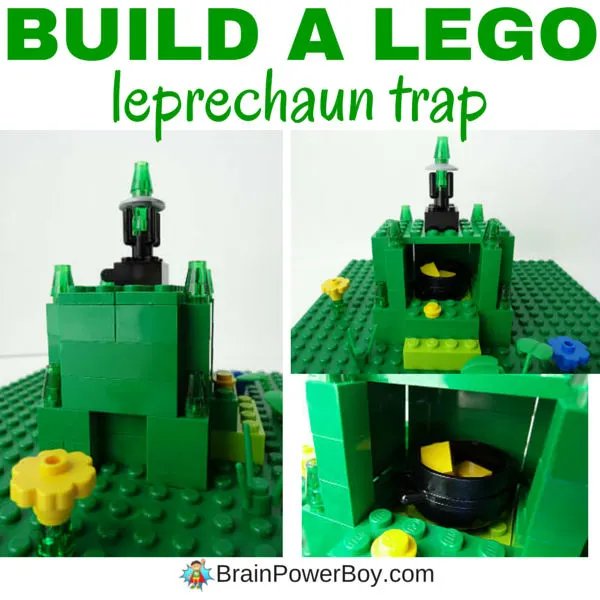 Build Your Own LEGO Leprechaun Trap
You can take a look at the pictures if you would like to build a LEGO leprechaun trap of your own. Here are a few dimensions to get you started.
The trap is about 8 bricks high at its highest point which is the top of the alarm.
The building is 5 bricks and one plate high. It is 8 studs wide.
There are two steps which are 2×4 bricks.
The plate on the top consists of two 2×8 plates.
The image on the left is of the side of the trap, the image below right is of the inside and shows the pot of gold.
Let your kids use their imaginations to build their own traps. That is more than half the fun!
Will you catch that rascal this year? I know we are going to try! 🙂
Here are a few other fun St. Patrick's Day ideas for you.
See our other way to catch a leprechaun.
Alli has several St. Patrick's day list printables for you.
Check out these shamrock crafts for kids from Clare.