Do you have a toddler boy who worships his big brother and always wants to play with him? Let them play together with these Dinosaur activities for toddlers that they will both enjoy!
Clare from Just Bright Ideas is here today to share 9 fun dinosaur ideas for toddlers and their big brothers to do together!
If you sometimes struggle to find activities they can both do keep reading because we have a wonderful collection of dinosaur activities for toddlers and their big brothers to enjoy together!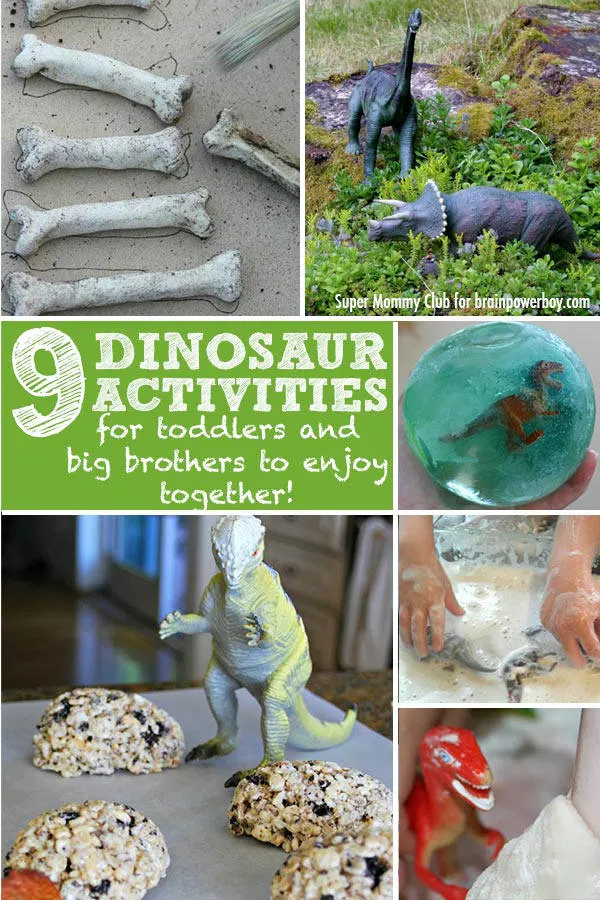 This post may contain affiliate links which means I may receive a small amount, at no cost to you, if you make a purchase through a link. All opinions are my own and I share things I think would be of interest to boys.
Dinosaur Activities for Toddlers and Big Brothers
Frozen Dinosaur Eggs – Paging Fun for Mums –
How cool are these frozen eggs with a dinosaur just trapped inside the ice? They are so simple to make and are a great dinosaur activity for toddlers and older boys to explore together.
You might want to think about melting the eggs with warm water as well as excavating them with a hammer!
Fizzing Dinosaur Eggs – Preschool Powol Packets -Here's another dinosaur egg activity, but this one involves gloop and lots of fizzing fun.
Let your boys get stuck in there together and watch them have lots of fizzing fun!
Sand and Cornstarch Dinosaur Fossils – Coffee Cups and Crayons -This activity requires some advanced planning as you need 36 hours for the fossils to dry but then you can show your boys how to excavate fossils!
You never know, you might have some future paleontologists on your hands.
Dinosaur Volcano Science Sensory Bin – Little Bins for Little Hands -Now this sensory bin looks like so much fun you might just want to get in there and play too!
Have your older boy helps to set this one up and then your toddler can join in the fun and watch the volcano erupt!
12 Dinosaur Fossil Skeletons
Dinosaurs Toddler Wooden Block Set
Volcano House w/ 5 Plush Dinos
Awesome Dinosaur Activity Bin for Kids – Happy Hooligans -This water based dinosaur activity for toddlers bin is really simple to set up but should inspire some imaginative play from your boys.
Just tailor the contents to suit your toddler if he likes to put small things in his mouth!
Not a Fairy Garden – a Dinosaur Garden! – Fun at Home with Kids -Now here is something toddler boys and their big brothers will love to play with together, a dinosaur garden!
I'm already trying to think where we could put one of these in our backyard.
Digging for Dinosaur Bones Maths Game – The Imagination Tree -How about some dinosaur math?
Your little guy can help to dig up the bones, while big brother can show him how to do the math bit!
Dinosaur Egg Rice Krispie Treats – Mess For Less -All of these activities for toddlers and their big brothers are sure to work up a healthy appetite, so why not invite them into the kitchen.
Let them have fun together making some of these yummy dinosaur eggs!
Best Books for Boys: Dig into Dinosaur Fossil Books – Brain Power Boy -And when they've had their fill of activities, let your boys snuggle up together on the couch and read some of these fabulous dinosaur fossil books, which were handpicked by the wonderful Sheila!
You can watch our little video about these dinosaur activities on YouTube if you like.
Have fun playing dinosaurs!
If you are looking for more fun ideas try these:
Circus Activities for Toddlers
Dinosaur Free Printable Sight Word Game
Snowman Activities for Toddlers