Dinosaurs! I remember a time when all we talked about were dinosaurs. We played with them, read about them, and because my son is big into drawing, we drew a lot of them too.
Dinosaurs seem to be one of those topics that a lot of boys really take to. We went looking for the best books for boys who would like to draw their favorite dinos.
I have to say there are some really lame drawing books for kids out there. When my son first started getting into drawing I would order books and be very disappointed to see that they jumped from step three into a full-blown professional drawing of the dinosaur. What? No young child is going to be able to draw that way and when they can't they get frustrated, very disappointed, or give up and think they stink at drawing.
I did however find some dinosaur drawing books that were very good. Of course, I am sharing them with you. Each is good for a different reason so I highly suggest that if you have a boy who is into drawing that you try several titles for each topic they want to draw.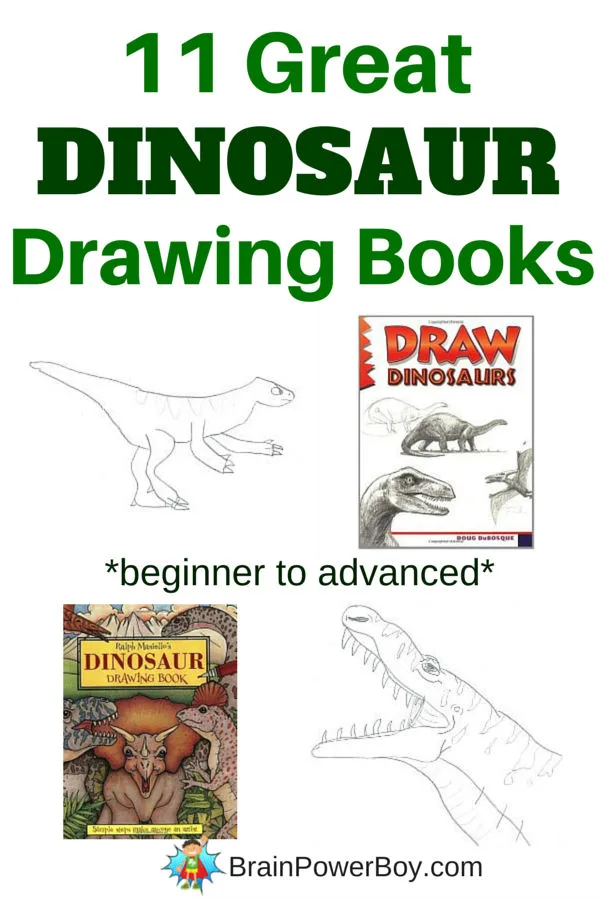 This post may contain affiliate links which means I may receive a small commission, at no cost to you, if you make a purchase through a link. All opinions are my own and I share things I think would be of interest to boys. Thanks for your support!
Best Books for Boys: Dinosaur Drawing Books
The books in this list are in order from the easiest to the most advanced dinosaur drawing book. Hopefully you will be able to find the right books for your budding artist.
How to Draw Dinosaurs by Rob Court (2007 edition) is a simple drawing book with easy line drawings. It has a cartoon style. While there are only four steps per drawing these are simple enough for a young artist to achieve good results. The one on Amazon is not the one we have. That one is an earlier edition and much more complicated. This is a great book for beginners.
If you have a cartoonist on your hands you must try You Can Draw Dinosaurs. Funny drawings such as the Fearless Boxer which is a T-Rex in boxing gloves or the Skater Dino who skateboards are just great fun! These are simple six step drawings. I really like this book!
This book made the list based on its technique of using positive and negative space while drawing. What I like about it is that you get an instant background by drawing this way. Explore and Draw Dinosaurs
Next up is Dinosaurs and Other Prehistoric Creatures You Can Draw (Ready, Set, Draw!). Using different colors which show the lines you are to draw, they start with red, then go to blue lines, then to black. This method is very visual and seems to help kids to see the overall idea a bit better. The final pictures of the dinosaurs are simply colored which can easily be done.
If I had to pick only one dinosaur drawing book, this would be it. Ralph Masiello's Dinosaur Drawing Book is awesome. It is my favorite one hands-down. I love that he starts the book with "Hello, Fellow Artists!" There are excellent visual directions in this book. The beginning has some easy to draw dinosaur eggs and slowly moves on to more complex drawings. To draw triceratops he gives 26 steps. While that may seem overwhelming I guarantee it makes the final drawings so much better. He also encourages creativity with the suggestion that they make up their own dino-designs. Highly Recommended!
Everyone Can Draw Dinosaurs is another book that includes cartoon-style dinosaurs. Yes, I have a cartoonist in my home 🙂 It also has some very realistic detailing with color that we liked. It does jump from one stage to a finished drawing a bit fast but it made the cut for the cartoon corner sections and for the professional artist tips which were included.
Draw Dinosaurs is the first dinosaur drawing book I picked up for my son. I still like it as much as the day I bought it. It starts out with very simply shaped dinosaurs, and moves on to more advanced drawings. It is a very instructional book and the author shares his thoughts as well as tips and techniques as he goes through the book. An excellent book.
As we go along the books are getting more complex. This book, Drawing Triceratops and Other Armored Dinosaurs (Drawing Dinosaurs), is part of a series of dinosaur drawing books. Steve Beaumont has books on different dinosaurs so be sure to check for your boy's favorite. The reason this book is on the list is for the construction of shapes and detailed finishes. Great for older boys or those looking for something a little more advanced.
I added this book to the list for its large amount of different dinosaurs. The book doesn't just stick with the basics but shows How to Draw Incredible Dinosaurs such as Omeisaurus, Rugops, Edmontonia and many more, as well as the standards such as, Diplodocus, Stegosaurus, and Triceratops. There are only five steps per drawing so it is for those who are more advanced in their drawing abilities.
Draw-A-Saurus is amusing, witty, and an all around fun book to own. This is not really a book for beginners as it moves quite quickly to more details and the details are where this books is strong. The style is a cross between cartoon and realistic. One thing that is great is the instruction the author give. He not only tells you how to draw what you see but he tells you what to do if you want the dinosaur to be in a different position etc. His final drawings, while a big leap for young artists, provide incentive to keep at it–they are awesome!
How to Draw Dinosaurs and Other Prehistoric Creatures starts to get into perspective and does a great job of covering the basics. For those who have been drawing for a while and want to take their drawings to the next level this is an excellent guide. I found this book to be very helpful.
Wonderful dinosaur drawing books are out there, you just have to dig around a bit to find them (that was a little paleontology joke there 🙂 ) I am happy to share my list with you.
If your boy enjoys drawing as much as mine does, and is a dino lover to boot, I'm sure he will find a good book or two from this list.
Thanks for visiting! See our other dinosaur posts by clicking on the links below:
Dig this Dinosaur Fossils Unit Study
Dinosaur Questions and Answers Book List
Dig into this Dinosaur Fossil Books and