Winter brings cold weather and that is the time to think about some winter science activities.
I like to have a few good ideas on hand for when we need something new to do.
Playing around with science that matches the seasons is a great way for kids to learn and if you do the experiments more than one winter in a row, they really remember them!
We live in a place where it gets pretty cold, in fact most winters it gets so cold that I don't want to go outside on the bitter cold days or during a blizzard!
So I selected both indoor and outdoor activities for you – just in case you experience the same temperature drops and the same feelings I have. Brrr! I hope you enjoy these science projects!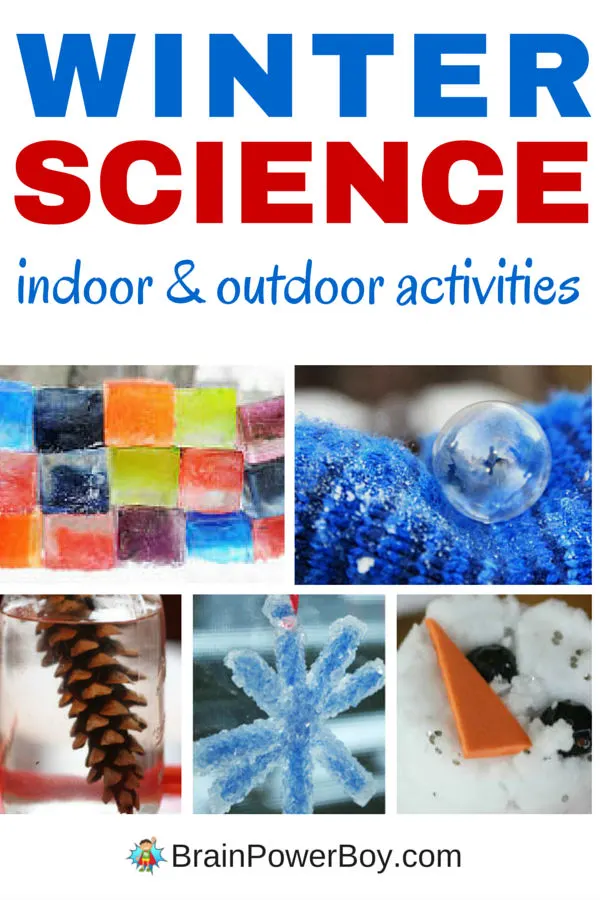 These are just some of the many things we like to do. Whether you are homeschooling, on winter break, or want some things to do after school or on the weekend, you will find a lot of great ideas here.
They all have a winter twist to them. Your kids will want to do them more than once!
Indoor Winter Science Activities
When the temperature is at 10 below and the wind chill makes it feel like 50 below zero, or when you can't see the tree outside your window because it is snowing so hard and the snow is blowing around causing whiteout conditions – those are good times to stay in if you can!
Even if it doesn't get as cold where you are, you may still want to plan some indoor activities.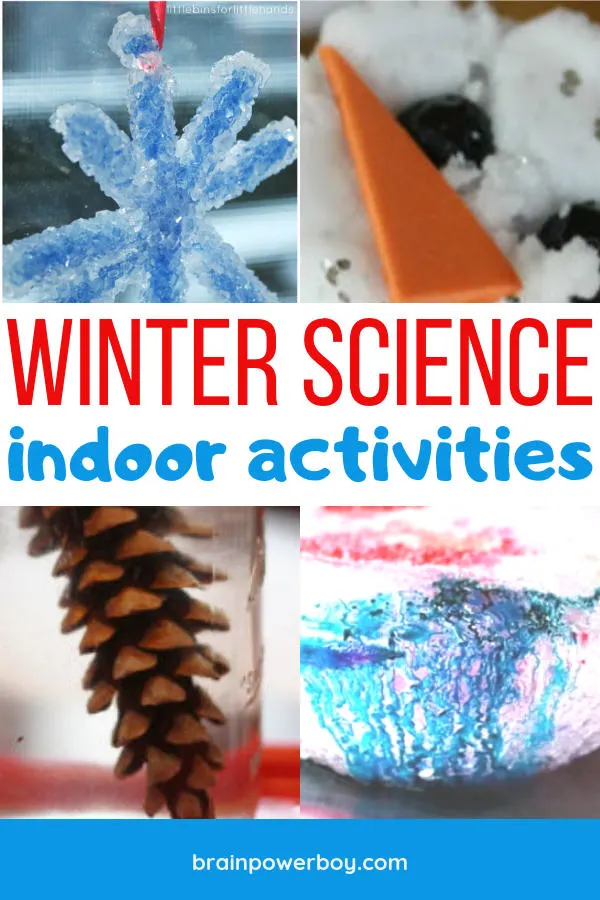 Here are some fun winter indoor science ideas to help pass the hours.
Here is a melting ice activity with a colorful twist. Honestly, I just love this and would enjoy playing around with it myself!
Making crystal snowflakes is an enjoyable project but keep in mind that it does require a bit of patience as they need to sit overnight.
Make melting snowmen! These baking soda snowmen are the cutest ever.
You can also make a crystal suncatcher which is very neat. I love how it looks!
If you have pine trees nearby or have access to pine cones you can try this neat experiment to see what makes a pine cone open.
Outdoor Winter Science Activities
Even though it gets rather cold here I know there are plenty of places where nice days abound. Thankfully we do have our share of nice winter days too.
It is enjoyable to get outside and experience nature while doing a few really interesting winter science experiments kids will love.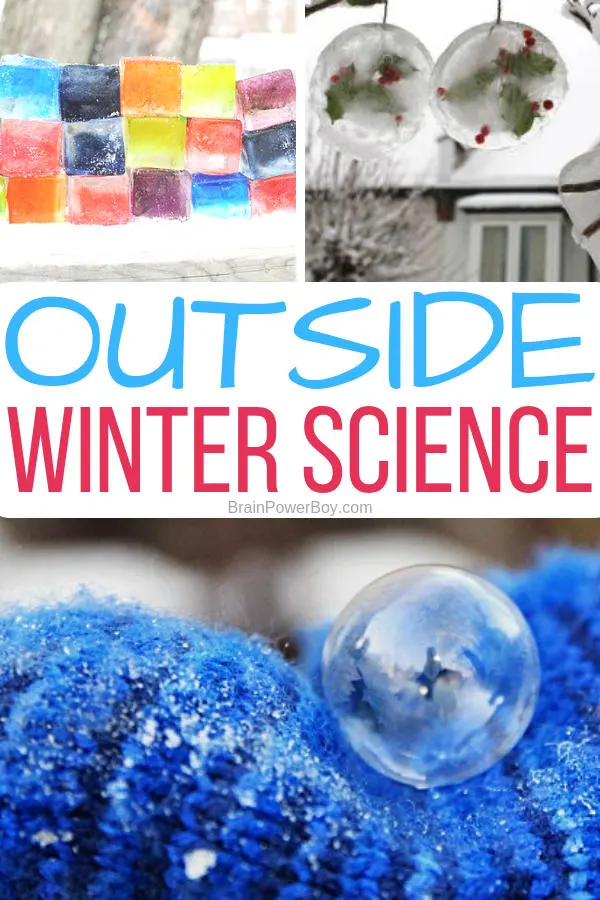 Make frozen bubbles. Yes, you really can freeze bubbles. It takes a bit of patience but it is totally worth it. If your temps dip below freezing be sure to try this one!
I bet a lot of you have made a volcano from sand but have you ever done it with snow? We did the sand one many times but will have to put this snow volcano on our list of things to do for this year.
If you like ice experiments we have a lot of them: Ice Science!
Explore freezing by making your own icy nature art. This is a bit of an outdoor/indoor/outdoor activity. Go outside to collect nature items, go inside to assemble and freeze, then back out again to hang.
Plan ahead and make up these colored ice stackers for some open-ended outdoor play. I included this in our science list because of what will happen outside when they melt and stick together. You could also include a salt shaker to add to the fun.
Got two seconds? Try this fun science experiment on a bitter cold day. Make snow!
Here are a couple of additional ideas you may like.
The insta-snow powder is fun to play with. You can put it in a sensory bin or try other ideas. All you have to do is just add water and watch it erupt. That little container actually makes over 2 gallons of instant snow. I picked the one that is put out by Steve Spangler and includes scientific explanation of how it works. 4 and up
The Wacky Weird Weather Kit includes everything you need and teaches the science of storms. With this kit you make your own weather effects right in your home. They recommend 12 and up. If you are going to do this with your kids you can take a look to see what age you think would be appropriate. I can't really figure out why it would be so old.
Insta-Snow
Wacky Weird Weather Kit
Here are two winter book lists you should check out as well: snowflakes and animals in winter.
Take some time to plan ahead with these indoor and outdoor winter science activities! Have a great time!