Snowflakes! They are truly a wonderous thing. I have been fascinated with snowflakes since I was a small child trying to catch them on my tongue. I also loved to hold my red mitten out to see them land and then examine each tiny flake. They are so beautiful.
As you know if you have been reading the blog for a while, I love to put together lists of the best books for boys and I am hoping your boys are going to enjoy this one.
I started with the classic Caldecott Medal book Snowflake Bentley and went on a search to find some great books to share that were all about snowflakes. Reading these books ensures your boys will learn something interesting about snow, the makeup of snowflakes and really experience the beauty and wonder of these tiny crystals.
If you live in a snowy place, like we do, snowflakes are a part of life. We really enjoyed studying these books to learn more about snowflakes and enjoyed the beautiful photography as well.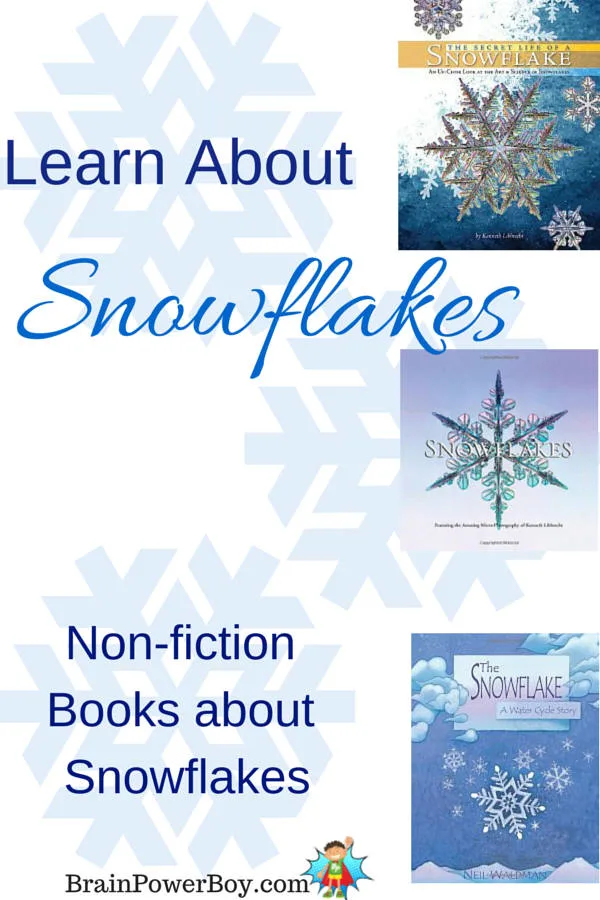 This post may contain affiliate links which means I may receive a small commission, at no cost to you, if you make a purchase through a link. All opinions are my own and I share things I think would be of interest to boys. Thanks for your support!
Best Books for Boys
Non-Fiction Snowflake Books:
We will start out with the book I already mentioned, Snowflake Bentley
. If you have not yet read this book you really need to give it a try. It is based on the life of a boy who loved snowflakes and parents who, in the end, supported him in his passion.
Snow Crystals
by W.A. Bentley (yes, the Snowflake Bentley from the book above) has very detailed explantions of snow crystals and dew drops. Great reading for those interested or for older boys. The wonderful thing about this book is the collection of images of snowflakes which make up the majority of the pages.
If you want to know more about snowflakes and how they form try The Snowflake : A Water Cycle Story
. It is a bit of a poetic story of a snowflake coming down and its journey through the seasons and back to becoming a snowflake once again.
Snowflakes
is not a children's book per se but I am including it here because, well . . . I love it. It is a small sized book, which I am fond of and it is thick. The book has beautiful micro-photography full page images of single snowflakes. It also includes some lovely quotes. The photographer, Kenneth Libbrecht, includes little explanations and interesting facts about the crystals as well. Nice!
The Story of Snow: The Science of Winter's Wonder
tells us how snowflakes form, what shapes they can take on and what happens when they land. They do a great job of making things easy to understand. If you need to know the answer to the question "Are no two snow crystals alike?" this is the book for you.
The Snowflake: Winter's Secret Beauty
is a book for older kids or those who really want to know the details. It is another up-close look at these lovely crystals with longer text on each topic including photographers (Bentley and others) snowflake watching, symmetry, best snowflake weather, a field guide to falling snow and more. Told you it was detailed!
Last but not least, is The Secret Life of a Snowflake
.This is a great pick for learning the details of snowflakes. I like how things are explained. The author is passionate about snowflakes and it shows. They also include the "right way" to make a paper snowflake–which turns out really neat! This book is a mini unit study on snowflakes on its own but there are also very nice companion books. The link is for a list of his books.
As I said, I really love snowflakes and I hope you and your boy will enjoy learning more about them. These books are tops on the subject so be sure to take a peak into the wonderful world of snow crystals.
You might also like:
Our posts on LEGO
Thanks much for stopping by. If you like this list–please share it!