The very best, must see coding apps for kids!
Learning about coding is a lot of fun and we are moving along in our series on all things coding.
You can visit our coding unit study for all of the posts in this series.
I am excited about this one as there are some very neat coding apps out there just for kids.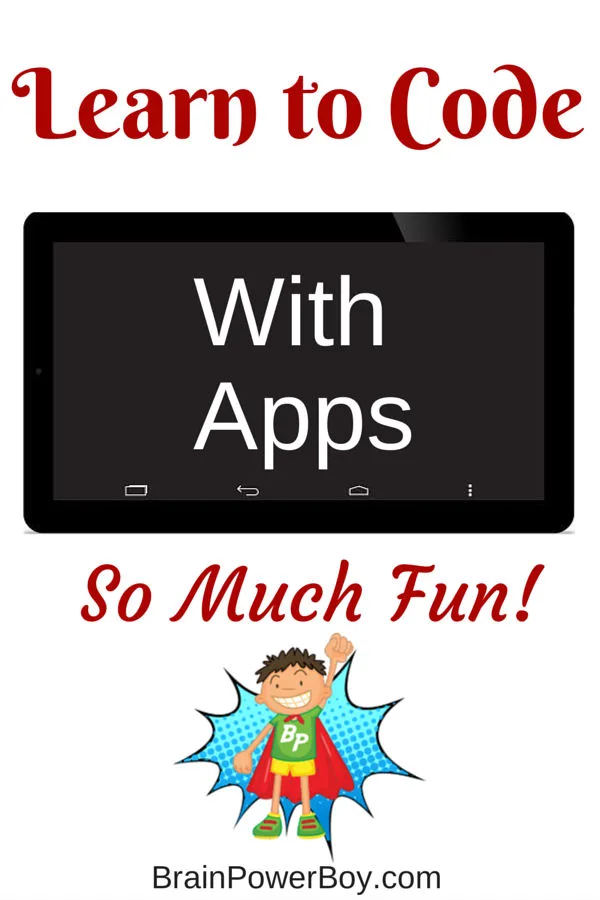 This post may contain affiliate links which means I may receive a small commission, at no cost to you, if you make a purchase through a link. All opinions are my own and I share things I think would be of interest to boys. Thanks for your support!
We are now working on using apps to learn more coding, and more importantly, to learn about coding in a different way.
I really like to learn about things in many different ways and with many resources. There are so many ways to learn! Trying different things is so important because when you hit on the right one, the level of retention will go up exponentially.
More important connections are made in the brain when you approach a topic from different directions.
Maybe they would learn best playing offline games to learn coding, or maybe they would like to start with coding for beginners. So many great options!
But enough about that for now, let's get into the apps!
There are many different apps and many different age suggestions. I personally take age suggestions with a grain of salt. Use them as a guideline if you feel you would like one but don't be afraid to have them dive into an app that they want to try.
Coding Apps!
Most of the selections below are iPhone or iPad only. As an Android user I can tell you that I certainly wish there were other versions of several of these games! All of these were free at the time this post was written.
Hopscotch is similar to Scratch but is in app form. It is in a drag and drop format with fun creature characters to play around with. I like the look of it. Ages 8 – 12 or so. This is the free hour of code edition.
Daisy the Dinosaur. Yes, her name is Daisy and yes, she is a girl dino. Very cute and a great place for young kids to begin with some simple coding to do animation.
Scratch just came out with an app for younger kids. It allows kids to program their own animations and games. Scratch is really geared at 8+ so I was happy to see Scratch Jr. which is an app for ages 5 – 7 (iPad only) The game looks really neat and if you have an iPad I would suggest starting with this as it is totally free. We love free!
Kodable. For younger kids 5 and up. This gives an intro to coding by having them problem solve and use logic. Lead cute fuzzy friendly monster looking avatars, the Fuzz Family, through mazes by having them follow your drag and drop commands. Free, but there are plenty of in-app purchases to upgrade—yup—wanted to let you know.
Cato's Hike (Lite). Cato goes out for a hike and discovers a portal to another world. Learn basic programming skills. Create a "map" for Cato to be able to move.
Be sure to check out Coding Games to Play for more fun games to try.
BeeBot is a simple programming challenge for younger kids. Uses directional language and programming such as forward, backward, left, right and 90 degrees.
This is an interesting puzzle game that gets kids thinking logically. The developer created a game he would like his nephew to play so he could learn about programming a robot. A.L.E.X.
The Foos
is another totally free Hour of Code game. The Foos are different silly characters such as ninjas, builders and chefs (+others) that you program to move around and interact with each other. You have to see them–pretty cute/silly/goofy/funny looking.
Have them try their hand at app creation with MIT App Inventor. This site includes information on getting started, setting up your phone for testing, tutorials, and best of all, a forum for questions.
These apps are a great way to learn about coding.
Take the leap and try a few different ones to see which they like best.
Give them plenty of choices when it come to coding apps and coding in general. We have tried some that we didn't like very much but then found others that we really enjoyed. Good thing we didn't give up because we are having a lot of fun with coding.
Would you like to subscribe to our newsletter for more fun boys' learning resources? It's totally free.