Animals in Winter Books will get your kids learning about how animals survive and what they do to adapt to winter weather.
This list is part of our best books for boys series. I did animals in winter with my boys' book club so thought I would share these with you as well.
We also included some fun play ideas at the end of the post that you can use to enhance reading the books in this list.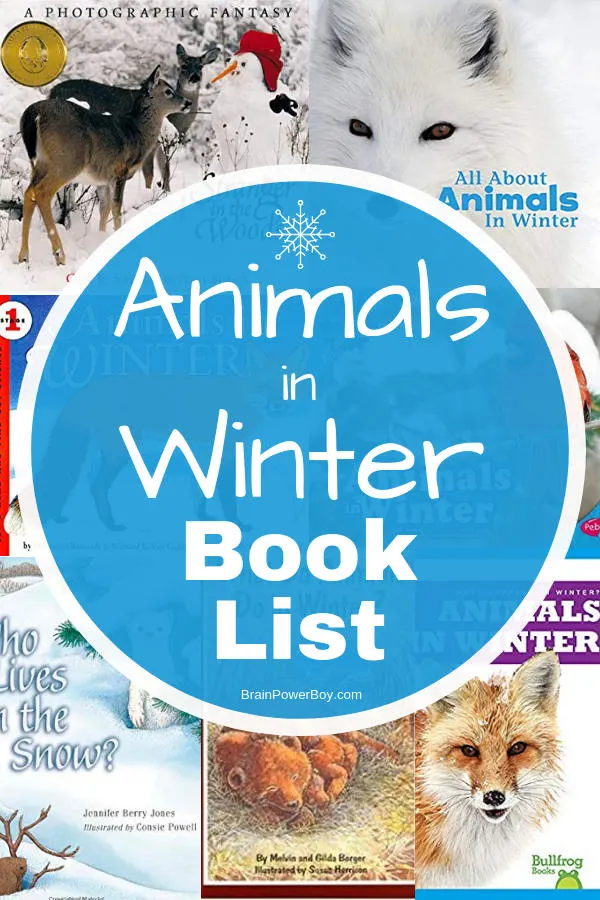 This post may contain affiliate links which means we may receive a small commission, at no cost to you, if you make a purchase through a link. All opinions are our own and we share things we think would be of interest to boys.
Animals in Winter Books
As I update this book list the temperatures are dropping and we actually at -2 degrees with a wind chill of -17 degrees. Brrr!
Learn all about animals and how they survive winter.
Do they migrate or stay and tough it out?
How do animals find food in winter?
Where do they seek shelter?
How can we help the animals over the cold months ahead?
Animals In Winter Play Activities
In addition to reading books about animals in winter, we like to add play into our book reading, do you?
We have some animals like the ones below. I just love the set with the polar bear (they are a favorite of mine.)
1. Use some of the animals below to set up a winter scene and act out how they survive in winter.
2. Tell stories about the animals in winter and what they are doing.
3. Draw the animals in the books or the arctic animals below.
4. Put some of the Schleich arctic animals (see great selection through that link) in a bowl with water and freeze them! Then you can use hot water, salt and other methods to free them from the ice.
5. Feed the animals in your own backyard this winter. You can get ideas in this book.
These are all simple ideas that make learning about animals come alive.
Grab the arctic animal set, the Toob set or the 3D arctic animal puzzles as a fun surprise to add when studying animals in winter.
Thanks for stopping by to see the books. I hope you will find some good titles for you and your family to enjoy.
If your child likes animals, you might also like:
Indoor and Outdoor Winter Science Activities
Birds of Prey Books
Forest Food Chain Game with Book List