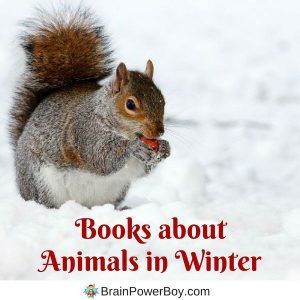 Animals in Winter Books will get your kids learning about how animals survive  and what they do to adapt to winter weather.
This list is part of our best books for boys series. I did animals in winter with my boys' book club so thought I would share these with you as well.
We also included some fun play ideas at the end of the post that you can use to enhance reading the books in this list.
This post may contain affiliate links which means we may receive a small commission, at no cost to you, if you make a purchase through a link. All opinions are our own and we share things we think would be of interest to boys.
Animals in Winter Books
As I update this book list the temperatures are dropping and we actually at -2 degrees with a wind chill of -17 degrees. Brrr!
Learn all about animals and how they survive winter. Do they migrate or stay and tough it out? How do animals find food in winter, where do they seek shelter, how can we help the animals over the cold months ahead?
---
Animals in Winter (All About Winter)
Animals in Winter is a nice book for younger boys.
It has wonderful full-page photographs of the animals it features.
Low text and highly visual this book covers migration, hibernation and signs of winter.
It is a library bound book so it is a bit more expensive in general. You can see what the price is on Amazon today as sometimes it is drops down nicely.
&
---
All About Animals in Winter (Celebrate Winter)
All About Animals in Winter is all about the photos!
Beautiful photography is a key component of this one.
It is a simple introduction to animals in winter and what they do. Some hibernate, and some have fur that changes color.
Perfect for early readers or those who really enjoy pictures of animals.
&
---
Animals in Winter (Young Discovery Library)
I am rather fond of small books and this is a good one. It is nicely detailed and has lovely illustrations.
I especially like several of the images that show above and below ground details. Quite a lot of info packed into a small format. This is an older book–available used or try the library.
---
Someone Walks By: The Wonders of Winter Wildlife
Someone Walks By: The Wonders of Winter Wildlife is illustrated in a wonderful paper collage style. I am rather fond of that style of illustration and this book is nicely done.
The text is compelling and enjoyable to read.
"Within the new snow night, rabbit finds shelter, owl continues his watch, and someone goes walking through the deep, deep snow."
&
---
What Do Animals Do in Winter?: How Animals Survive the Cold (Discovery Readers)
What Do Animals Do in Winter?: How Animals Survive the Cold .
This book shares interesting details including a couple of maps showing migration paths.
Survival techniques and how animals change color in winter are covered.
There may be words children are unfamiliar with, but the author includes phonetic pronunciation in parentheses which is a nice touch.
&
---
Wintertime for Animals by Margaret Cosgrove is an older title but a good one. You will have to make an effort to seek it out. I see that it is now available used so I am linking to it. The book starts in fall and moves into info on winter. The author then covers specific animals and how they deal with winter. We then return to spring. Very nicely done!
---
The title page of Who Lives in the Snow is covered with lovely snowflakes (see our snowflakes book list for wonderful titles) and the book starts with a snow storm.
This title is for kids who like details!
They mention the subnivean zone (under snow,) snowpack, dormant and other terms you don't often hear in children's books.
It is a very good book.
&
---
These are what that authors call photographic fantasy books. Meaning that the photographers set the scenes they captured. However, I am adding them here because the photographs of animals are so wonderful that we read them every year
Stranger in the Woods: A Photographic Fantasy (Nature)
First Snow in the Woods: A Photographic Fantasy
&
---
Animals in Winter (Let's-Read-and-Find-Out Science)
Animals in Winter (again!) This version is from the series Let's Read and Find Out About Science which I like a lot.
It starts in fall and covers specific animals. There are woodchucks (we saw a big one in the field behind our house a while back,) pikas, squirrels, mice and more.
It ends with two pages on feeding the animals in your backyard.
&
---
Animals In Winter Play Ideas
In addition to reading books about animals in winter, we like to add play into our book reading, do you? We have some animals like these. I just love the set with the polar bear (they are a favorite of mine.)
Use some of the animals below to set up a winter scene and act out how they survive in winter.
Tell stories about the animals in winter and what they are doing.
Draw the animals in the books or the arctic animals below.
Put some of the Schleich arctic animals in a bowl with water and freeze them! Then you can use hot water, salt and other methods to free them from the ice.
Feed the animals in your own backyard this winter. You can get ideas in this book.
Schleich New Arctic/Antarctic Set of 5 Wildlife Figures: Snowy Owl, Seal Cub, Wolf, Puffin and Emperor Penguin Bagged Together, Ready to Give
Schleich Polar Bear Toy Figure
Assorted 4pcs/set of Ukenn 3d Polar Life Animal Puzzles Diy Arctic Wolf Penguin Walrus Polar Bear Models Kids Educational Toy 2666
Safari Ltd Arctic TOOB With 10 Fun Figurines, Including A Harp Seal, Husky, Caribou, Arctic Rabbit, Killer Whale, Walrus, Arctic Fox, Beluga Whale, Igloo, And Polar Bear – For Ages 3 and Up
Hape George Luck Arctic Animals Wood Puzzle (34 Piece)
Safari Ltd Penguin TOOB With 10 Fun and Flightless Figurines, Including Gentoo, Humboldt, Chinstrap, Rockhopper, Galapagos, Adelie, Swimming, Sliding, Baby, And Penguin With Baby Ages 3 And Up
&
Thanks for stopping by to see the animals in winter books. I hope you will find some good titles for you and your family to enjoy.
If your child likes animals, you might also like:
Birds of Prey Books
Forest Food Chain Game with Book List
Hands-on Farm Books and Animal Shadow Puppets