Let's cut right to the chase. Don't limit boys' reading choices as it may lead to reading problems such as loss of motivation and loss of literacy development.
Today we are going to take a look at the reasons limiting a boy's reading choices is a bad idea and why you need to stop. I will tell you a story about our trip to the library and explain what happens when unreasonable limits interfere with a boy's desire to read.
When I see people limit boys' reading choices and I think about all the problems this causes it really bothers me because it has a big impact on boys' learning.
Reading is wonderful. It is a joy. It provides a lot of important information and much of our learning involves some sort of reading. Not only is it enjoyable, it is also very valuable and can make a huge difference in a boy's life.
So I was just a tad upset the other day when we went to the library and this happened . . .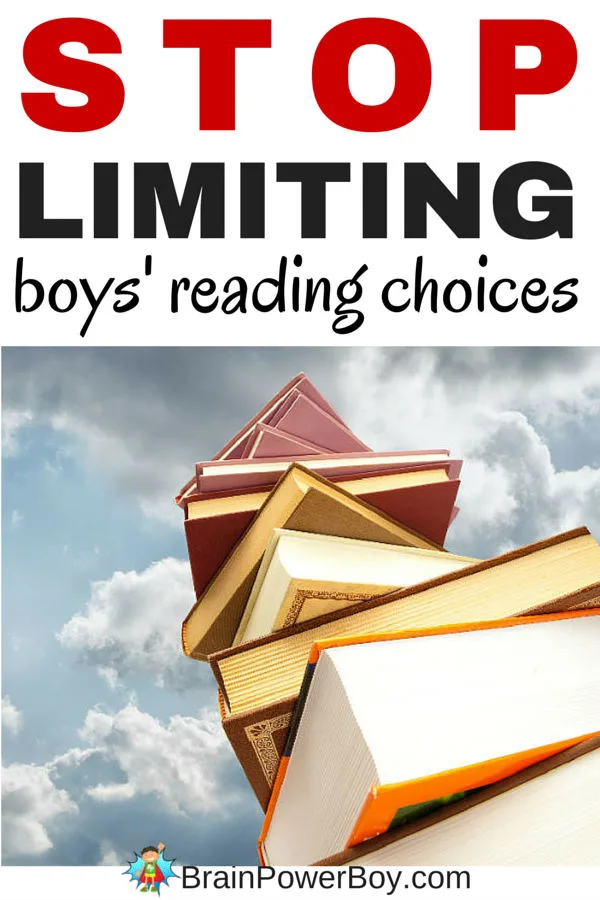 Why You Need to Stop Limiting Boys' Reading Choices
My son and I went to the library the other day and there was a woman there with three young boys. I would say they were around four, seven and nine/ten in age. Each boy was so excited to be at the library. They were interested in a lot of different books and were talking in hurried, loud voices about what they were going to get. They were asking the librarian for help finding the books they wanted.
There is an excitement to picking out your own special book and slowly opening the cover. Limiting what they read takes this away.

Boys who choose their own books will read more books. Period.
Then the mother stepped in and put limits on the number of books and what books they could check out. Boo hiss. I guess I can understand reasonable limits – well, not really – and these limits did not seem reasonable to me. Two books. Really? Two. Why two? That doesn't even seem to be enough books to get through a week.
I have a hard time understanding choosing to limit the number of books a child is allowed to check out from the library. I guess if they get lost or if you incur fines that would be an issue but both of those things can easily be remedied by keeping track of your checkouts.
It is not respectful to deny your boy the joy of reading by limiting his choices.

The more a boy reads the better he gets at reading.
Then, and this was the biggie for us, she refused to let the older boy get any book he wanted unless it was a chapter book. He asked for books, she said no. He said he would enjoy a Transformers guidebook, she said no. He asked if he could get a book on Minecraft. Her response was, "Is it a chapter book?" "I gave you a simple task to read a chapter book. Can't you understand what a chapter book is?"
The more books a boy reads the more vocabulary he is exposed to. It doesn't matter if he reads comic books, non-fiction books, or magazines—he is learning new words.

A boy may find his passion, his life's calling, while browsing through a wide variety of books.
Unfortunately, it went on and on. She yelled (really yelled) at him across the library and then, when he said he had a chapter book at home she said "then why did we even come here tonight?" Ouch.
Exposing boys to books and print on a regular basis is imperative. They need to be around books a lot in order to feel comfortable with them and want to pick them up.

Allowing a boy to make his own choices shows that you trust his judgment and that you value his decisions.
With all the information out there about the crisis in boys' learning and especially in boys' reading I was saddened to see this happening. The boy wanted , really wanted, to read. I wish this was an isolated incident but unfortunately I see it all too often.
Letting boys pick the books they want to read means they may actually read them.

Reading helps with speech, communication, comprehension, writing, grammar, and so much more. You don't necessarily know which book is going to work the best—but your boy might.
My son was very upset and couldn't believe it. I said "Maybe the mom is having a hard day." "No," he said in a quiet voice, "That is how it is for them. They can't choose."
Limiting a boy's reading choices could lead to him hating reading. If you have a boy who hates reading please see What to do if Your Boy Hates Reading to turn that around as soon as possible.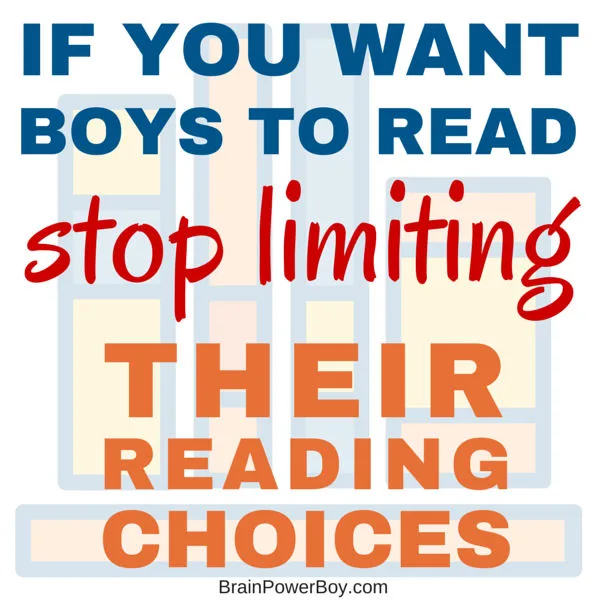 Limiting a boy's reading choices can be harmful for many reasons as outlined above. In addition, a study on reading said that choice can actually be linked to achievement. "According to Hunt (1996/1997), a reader "who finds a really good book … that has ideas he truly wants to learn about, frequently will outdo his own instructional level of performance.""
In this same study they say that "some books may be very difficult to read, but because they are so interesting students decide to read them anyway" (Tompkins & McGee, 1993, p. 278)." Being able to choose may actually lead them to read books that you would never pick for them but that will allow them to learn a lot.
In conclusion, reading is a personal experience. It really is. The whole point is to get boys to read because reading can be helpful and valuable to boys.
Don't make reading into something a boy "has" to do. Reading is enjoyable and fun, it is wonderfully delightful. Letting him choose his own reading materials will get him reading more and that is a very good thing.
See also: The Five Finger Rule and Why it is Bad for Boys.
Now, back to our regularly scheduled program of raising boys who love to learn. Hey, a good way to do this would be to let boys make their own book choices! 🙂
If you liked this article, please use the sharing buttons below to share it with others. Thanks!