These free printable LEGO lunch box notes are perfect for brick fans. Each note has an interesting LEGO fact to read and a cool image too.
All you have to do is download them, click print, cut them out and put one in a lunch box or at the table.
Since we homeschool we don't really use lunch boxes too often, but I still like to leave notes for my son. 🙂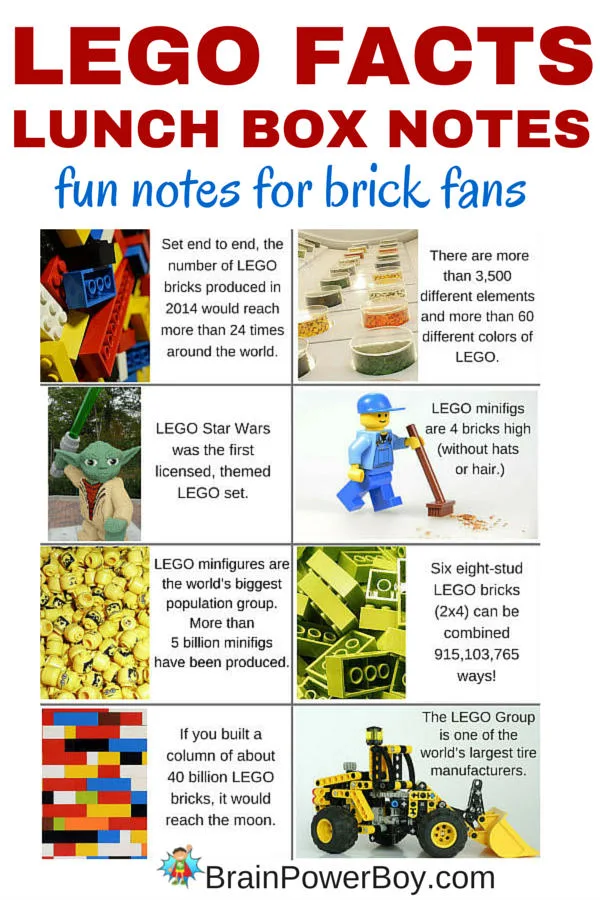 This post may contain affiliate links which means we may receive a small commission, at no cost to you, if you make a purchase through a link. All opinions are our own and we share things we think would be of interest to boys.
LEGO Lunch Box Notes
I was looking for some fun LEGO fact lunch box notes but couldn't find any so I made my own and decided to share them with you!
They are the first in a series of lunch box notes with a learning twist I am creating.
The information on these notes is super fun to share.
Did you know that just six eight-stud LEGO bricks can be combined 915,103,765 ways? Isn't that is amazing?
LEGO Lunch Box Notes Free Printable
You can print these on regular paper, or if you want them to look just a bit more snazzy, try card stock (this is the cardstock that we recommend.)
Free Printable LEGO Lunch Box Notes<<<<<<click link to download
Carefully cut apart on the lines. I am in love with this paper cutter and use it instead of scissors all the time.
Pop one in a kid's (or AFOL's) lunch box and be ready for a big "thanks!"
I really enjoy surprising my son with notes and he certainly enjoys getting them.
Plus, if you have a LEGO fan on your hands be sure to check out the cool LEGO lunch gear below.
LEGO Brick Lunch, Multicolor
Kids' Interlocking Brick Utensils
LEGO Skeleton Vertical Lunch
If you are looking for other LEGO fun in addition to the LEGO lunch box notes try these:
180+ Free Printable LEGO Coloring Pages!
We also have Pirate Facts Lunch Box Notes and Dinosaur Facts Lunch Box Notes
Thanks for visiting!