Oh boy, you just have to check out the cool lunch box notes for boys I found for you! They are really neat and I know your boys are going to enjoy them.
If you have a boy who is in school, pop them into his lunchbox.
If you homeschool, leave them next to his lunch.
Look below to print your free printable lunch box notes for boys. Yes, they are all free!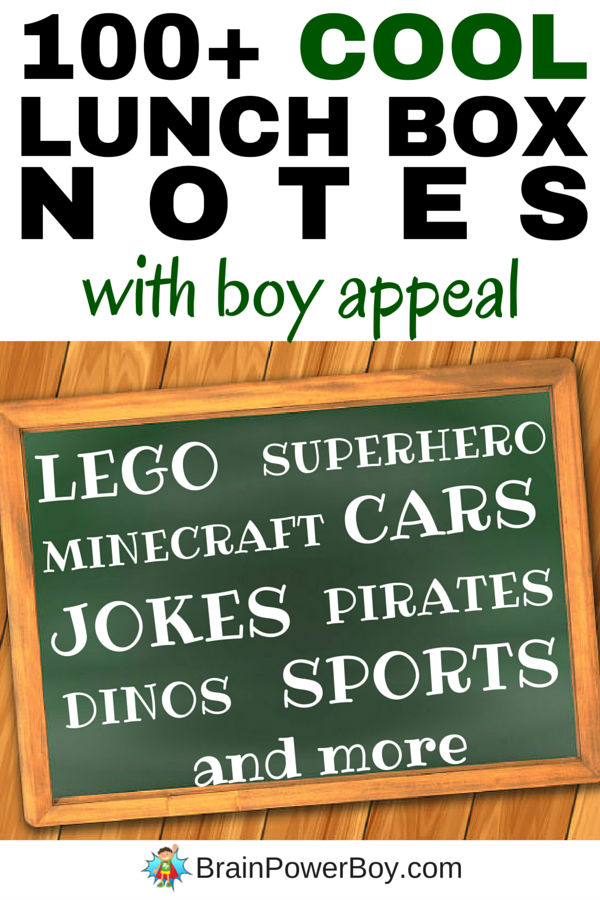 Lunch Box Notes for Boys
Wow! We ended up with over 100 notes on this list. Each set has from 6 – 10 notes. We found the very best lunch box notes for boys and made sure there was a good variety to choose from.
Kids love to get notes and you will find a terrific selection here. Adding a bit of "I was thinking of you" and literacy to his lunch time is always nice.
I really hope you and your boys enjoy them!
LEGO Lunch Box Notes
We made these LEGO Facts Lunch Box Fact Notes. They are a lot of fun and I got nice comments from moms who say their boys loved them.
These are also very cool. LEGO Star Wars Minifig Lunch Box Notes!
Dinosaur Lunch Box Notes
Do you have a dino fan at your house? Try these Dinosaur Facts Lunch Box Notes. Great images and facts make them a hit.
Another set of dino notes with some funny dinosaur humor.
Car Lunch Box Notes
These car lunch box notes are cute and you can add your own message to them.
Vintage Lunch Box Notes
These are nice vintage-style notes. I love the rocket (have a blast today) and the guitar (you rock!) Nice for older boys.
Joke Lunch Box Notes
Jokes! I had to find a good joke one. This is great. It has pirates, trains, boats, lightening and more.
Star Wars Lunch Box Notes
Super excited to find these Star Wars Lunch Box Notes. I know a few fans that would love to get these in their lunches. "U R2 Smart" made us laugh.
Minecraft Lunch Box Notes
I looked and looked for some good Minecraft notes and finally decided on these. Plus – bonus: they are jokes too.
Here is another Minecraft notes set, this one is without text. Print them out and add your own note to the back.
Pirate Lunch box Notes
Can't really have a lunch box notes for boys list without pirates! Try these Pirate Facts Lunch Box Notes – we took pirate myths and gave your boys the facts.
If you are looking for other freebies like these free printable lunch box notes for boys, try our Free Printable Robot Memory Game, 180+ Free Printable LEGO Coloring Pages!, Free Printable Games for Boys