I found some really wonderful card table playhouse patterns that I wanted to share with you today.
I have a sewing machine and love to make crafty things!
If you too enjoy crafting and sewing and would like to make a card table playhouse for the special child in your life you have to see these patterns!
We have just what you need. I picked patterns that were boy-friendly, pretty easy to make and that I knew they would totally go for.
There are houses made of fabric and those made of felt, so choose your preference, buy your pattern and get sewing!
This post may contain affiliate links which means we may receive a small commission, at no cost to you, if you make a purchase through a link. All opinions are our own and we share things we think would be of interest to boys.
Materials Needed to Make Your Playhouse
Each pattern will give you a materials list along with the pattern.
Here are a few of the supplies I like to have on hand (or wish I had) when doing these types of projects.
Card Table Playhouse Patterns
Knights Card Table Playhouse Pattern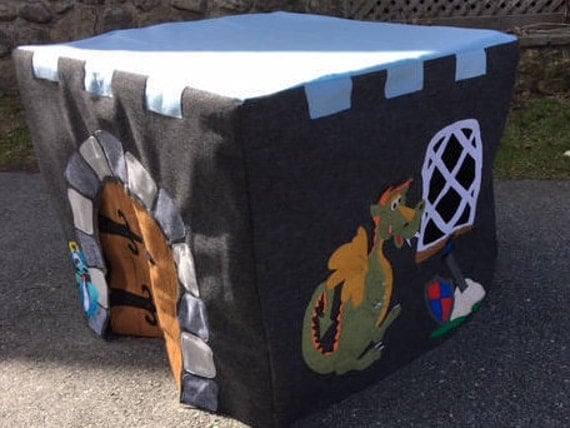 Castle with Dragon Playhouse PatternBuy From Etsy
This pattern is perfect for the boy who is all about knights, castles, and of course, dragons!
I really love the applique details on this one. Can't you just picture the boy you are making this for peeking through the door of the castle? So cute!
The pattern comes as a pdf download and the material used in the playhouse is felt.
Only basic sewing skills are needed!
Be sure to see the other knight pattern at the bottom of this post.
---
If you grab this one, your boys will be camping under the stars in the living room!
Look closely and you will see that this one is designed to look like a tent and it even zips up!
The moon, stars, dragonflies, a little squirrel and even a campfire adorn this playhouse making the theme come to life for your little camper.
Make this playhouse tent, include this adorable camping playset and you have the perfect gift idea!
---
Vehicle Card Table Cover Patterns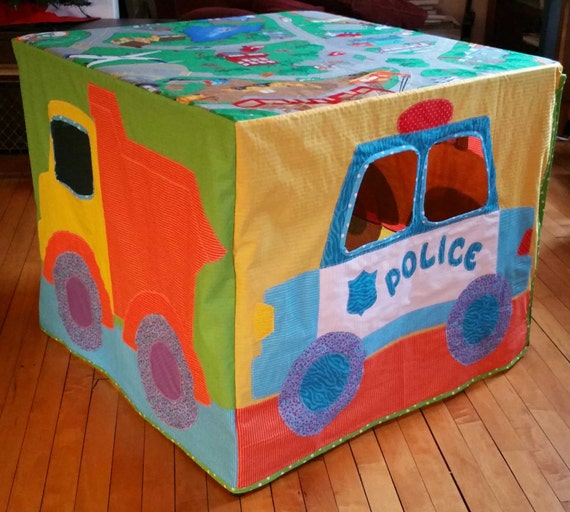 Vehicles Fabric Playhouse PatternBuy From Etsy
I know some were looking for a fabric playhouse pattern instead of one made out of felt. Here you go!
This vehicle playhouse is bright and cheery. Plus it is packed with the most popular vehicles.
There is a police car, a construction truck (see picture) plus a car and a fire engine (click here to see those.)
If you can find some road fabric like they have on top you are golden because that is like having double the play opportunities!
Those with cars and trucks fans are not going to want to pass up this cute pattern.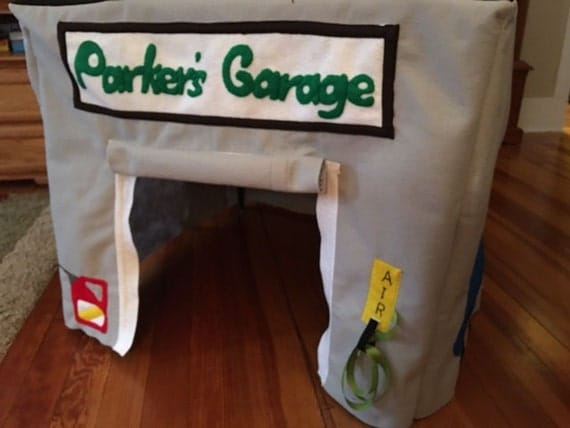 Garage Card Table Playhouse PatternBuy From Etsy
Here is a garage pattern!
I am thinking that those who have big cars and trucks in the house are going to go crazy for this! They can bring them right up to the garage and work on their vehicles.
Details include gas can, gas pump, air hose, tools and accessories, plus vehicles on the back which you can see by going to the pattern page.
I have a suggestion for you. If you get this, instead of simply sewing all of the items to the sides of the garage, I would make some that are stuffed so they can actually use them!
---
Pirate Patterns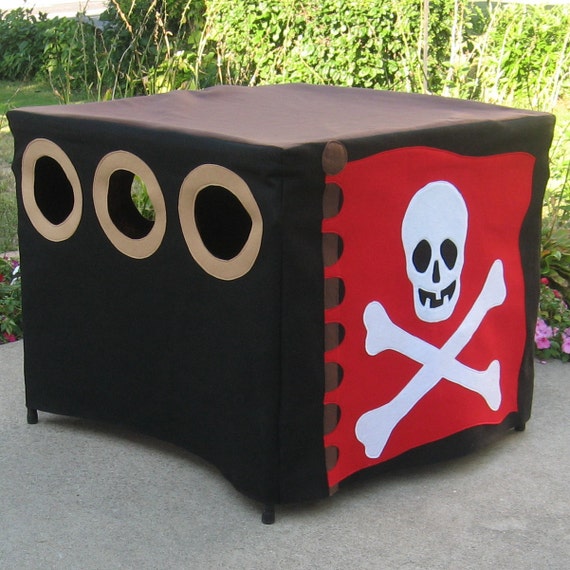 Pirate Card Table Playhouse PatternBuy From Etsy
I know boys who cannot stop talking about pirates! All day long it is arr!!, ahoy matey!! and other cute pirate talk.
When I saw this pirate playhouse hideout pattern, I knew I had to share it.
Just look at it! I love that huge red pirate flag. Take a close look and you can see that the portholes on the side are open so they can see out of them. Very cool idea!
The door says "Enter if You Dare" and there is a mailbox as well. That is such a fun feature. You have to see all four sides!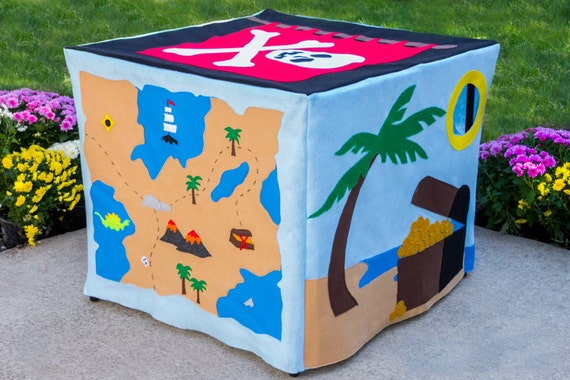 Pirate Card Table Cover PatternBuy From Etsy
Here is another variation of a pirate pattern.
The other was a hideout, and this one is focused on pirate ships, maps and treasure.
It has a huge map, a ship to sail the seas, and they even remembered the treasure chest on an island.
This one is perfect for the pirate that wants to imagine himself sailing in his ship and finding the buried treasure.
They even include instructions on how to make the map no-sew.
All is included in an inexpensive pattern download!
---
Limited Quantity Patterns
Here are some additional pattern options. Quantities are limited so if you want one of these you will need to grab it quick. I will be checking and will remove the ones that are sold out when I see them but it could happen at any moment so sorry if they are gone!
These are all made out of fabric and some use felt for the applique.
Get the circus tent, knight castle or barn card table playhouse sewing patterns while you can.
Barn Playhouse Table Pattern
Circus Tent Table Sewing Pattern
Children's Knight Playhouse
Those of you who love to craft and sew will find plenty of pattern choices. I hope you find the one that fits the boy you are making it for perfectly and they have years of fun enjoying it!
On the off chance that you decide you don't have time to sew one, you can take a look at card table playhouses that are already made and ready to put on the card table so the play can begin. There are some super cool choices!