We picked out seven fiction shark books that are sure to please. These are great for shark week or any time.
For more book selections on all types of topics be sure to see our best books for boys list.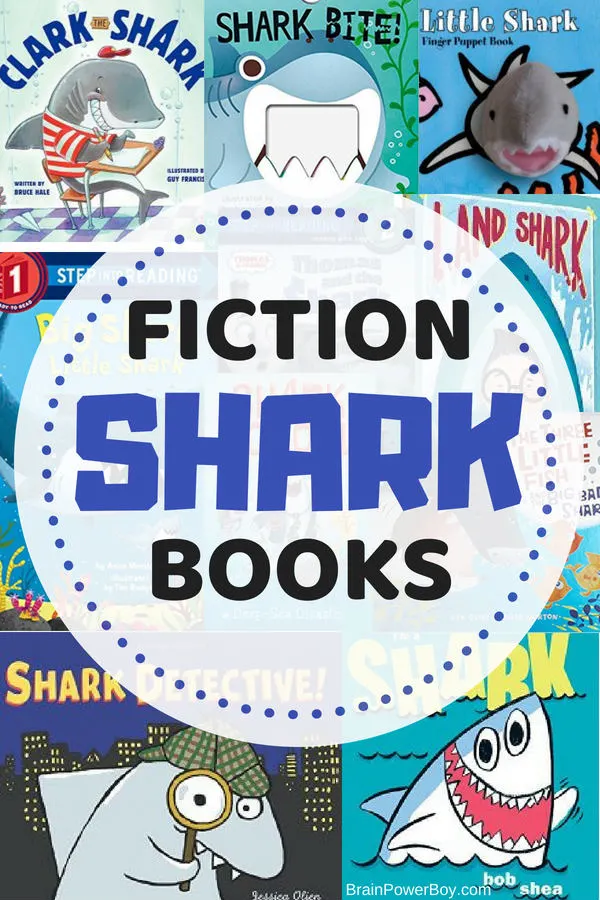 Fiction Shark Books
1. Little Shark is such a cute book. Yes, books about sharks can be cute! It is perfect for a little one who enjoys ocean animals or for boys who like to interact with their books. Simple text with a shark puppet attached to the book which peaks through the holes in the book.
2. You have got to see Shark Bite! Readers will love making the shark's mouth go up and down by pulling the tabs. We really like interactive books and this is a good one. (Board book format)
3. In Shark Detective!, Shark wants nothing more than to be a detective. Alas, he is a shark and sharks are not detectives. However, a missing kitty poster changes everything and Shark gets his big chance and make a friend as well.
4. Clark the Shark is wild, boisterous and a wee bit out of control. He does everything big and loud. He is enthusiastic to say the least but . . . that bothers his classmates and his teacher so he needs to learn to take it down a bit. Boys will enjoy Clark and his antics.
5. Land Shark is a fun book about a boy who really, really, really wants a shark for his birthday. Sadly, he doesn't get a shark, he gets a puppy. Sometimes it works out just fine if you don't get what you ask for. Cute.
6. I'm a Shark and I'm not afraid of anything is how this book goes. Well, he is afraid of one thing. But the story has a twist at the end. Pretty amusing and the illustrations are big and bold which is nice indeed.
7. Thomas and the Shark was new to me. I have fond memories of reading Thomas the Tank Engine books to my son and I know he would have enjoyed this fiction shark book. Thomas has to help Salty get the new addition to the aquarium and it just happens to be a shark!
8. Big Shark Little Shark is perfect for those learning to read as it is a Step 1 book. It is all about opposites and the pursuit of a snack. 🙂
9. In The Three Little Fish and the Big Bad Shark you can kind of see where we are going here! It is a take on the classic Three Little Pigs story and it is a hoot. The illustrations are colorful and really compelling and it is well-reviewed. What's not to love, right?!
10. Shark School: Deep Sea Disaster is for kids 5-6 and up. This book is the first in a series. (Learn why series books are great for boys.) A nice sharky story about the importance of being who you are. Oh and the author's name is Davy Ocean 😉


These fiction shark books are just perfect your young shark fans. The books are not scary and are enjoyable to read.
Stop by to see our Non-fiction Shark Books as well!
And be sure to see Shark Activities That Will Blow You Out of the Water for fun activities all around the topic of sharks.
If you want your kids to learn about sharks in a fun and engaging way, go here >>> Educational Shark Toys for Learning About Sharks