Try these awesome educational shark toys to add some fun to learning about sharks. I like to throw in some fun activities when we are studying a topic and these toys are just the ticket.
I picked neat toys that are both entertaining and educational. All of these shark toys are educational in a multitude of ways. Pick and choose what will work best for your child based on his interests.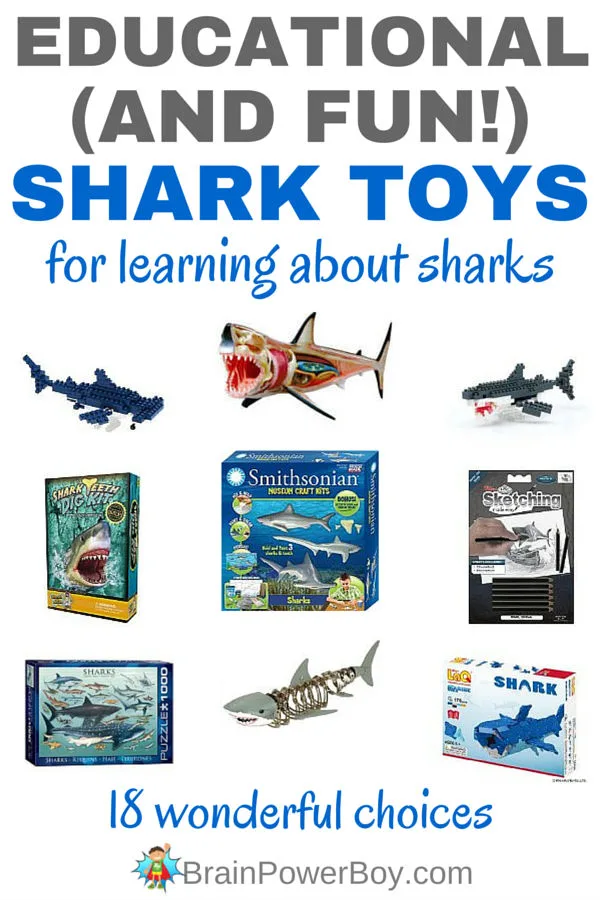 This post may contain affiliate links which means we may receive a small commission, at no cost to you, if you make a purchase through a link. All opinions are our own and we share things we think would be of interest to boys.
When we are talking about educational toys be advised that my choices lean toward enjoyment. There is little point purchasing an toy if it is not going to be used and played with. So, what you see here are toys that are high quality, have boy-appeal, are reasonable in price, and most importantly, they are engaging.
Educational Shark Toys
There are so many ways to learn. I like to mix things up a bit and add some fun into our studies. If my son is interested in a topic we usually dive deep (a little ocean reference there since we are talking sharks – lol) and really explore the topic from all angles.
When he was interested in sharks we read a lot of great non-fiction shark books, played with educational shark toys, put together puzzles, drew sharks and watched a lot of videos.
Shark Puzzles
1. The 1000 piece EuroGraphics Shark Puzzle is very nicely done. The graphic is wonderful. I love that is is labeled with the shark names.
2. If 1000 pieces is too much for your child, there is a nice 100 piece one as well. The image is very similar with just a few small changes from the one above and it is also labeled.
3. The Melissa and Doug Shark Puzzle is also 100 pieces. The image is of one shark with fish swimming below it.
4. We are also featuring this puzzle by Ravensburger. Their Animal Planet Shark Reef puzzle is 200 pieces. Ravensburger makes great puzzles and I always check for their brand when making puzzle purchases.
5. Here is a puzzle twist, a 3D wooden shark puzzle. We have some of these kits and have enjoyed putting them together. I will say that they take a bit of patience to get the pieces to fit together just right but we did it and these look great on display.
Shark Construction Toys
6. Nanoblox is putting out some neat building sets. I love the animal ones. Here is a Hammerhead Shark Building Kit. In case you are not familiar with nanoblox kits, I would describe them as miniature LEGO sets.
7. In addition to the Hammerhead shark listed above they have a Great White Shark building kit as well. Pretty darn neat!
8. Here is something different that I like quite a bit. The Wild Republic Nuts and Bolts Shark comes with nuts and bolts (right!) and plastic pieces. You put it together with the tools that are included. This looks promising and I am anxious to see more from this line of building toys. I checked and you can mix this with other nuts and bolts sets.
9. Makedo makes a cardboard construction kit that creates a 2 foot shark. If you want to go big with your building, this is the set for you. Ready to Build Shark includes pre-cut panels and a tool for putting them together. This would be rather cool to display in a playroom or kids bedroom. I would likely hang it from the ceiling.
10. If you are looking for something a bit different, try a LaQ kit. They make a 175 piece shark model.
Shark Art Activities
11. I am fond of the Dover line of coloring books because they are nicely done and include informational text on the pages. As you color you are learning about the topics in the book. Try Dover Sharks of the World.
12. Sharks! is another option which includes interesting facts about their feeding, swimming and territorial habits.
13. So many boys really enjoy drawing that I wanted to add in a couple of shark drawing books. Here is a 5×7 Sketching Made Easy: Shark drawing kit.
14. I like How to Draw Sharks for younger boys because the drawing diagrams are basic and step-by-step with good transitions shown. By that I mean they don't jump from a stick figure shark to a completely professionally drawn shark like some drawing books do.
15. Draw 50 Sharks, Whales, and Other Sea Creatures for older boys. It does include other sea life beyond sharks but I hope you and your boy simply see that as a bonus. This drawing book features very nice drawings with a good amount of detail.
Educational Shark Kits
16. If your child likes casting kits, here is a nice Shark PerfectCast Museum Kit for him. It includes molds, mixture, paints and crayons as well as a background to color that you can place your completed sharks onto. This is a nice way to add art into your shark activities.
17. We used to go hunting for sharks teeth many years ago when we lived in Florida. You can have your kids "hunt" for sharks teeth right in the comfort of your own home with this Shark Teeth Dig Kit. It is an excavation kit that includes real shark teeth from the Sand Tiger, Crow, and Otodus sharks. Interesting and fun.
18. We have a skeleton anatomy model with removable organ and body parts that has gotten a LOT of use in our homeschool. This is a shark version. The 4D Vision Great White Shark Anatomy Model comes with a 13 inch shark body with cutouts for 20 detachable shark organs and body parts. Wonderful learning tool!
I hope you enjoyed this list of educational shark toy. One thing I do is order a couple of items that I can surprise my son with. It doesn't have to cost a lot and getting a package in the mail is always a neat surprise!
For more shark resources try:
10 Awesome Non-Fiction Shark Books