Top 15 LEGO books of 2015!
Are you looking for a gift or wondering exactly which LEGO books you should get that were published in 2015? We have the answers. See our list of the Top 15 LEGO books of 2015. You are sure to find something special for your LEGO fan.
LEGO books are a must for any household that loves the bricks. Believe me when I say, books will take your child's building to the next level.
Books also got us reading and learning about so many things that have nothing what-so-ever to do with bricks. It has been simply amazing to me just how much learning LEGO has actually provided. Take a peak at this article to learn more.
This article is part of our best books for boys lists highlighting books we think are the very best books put out in 2015.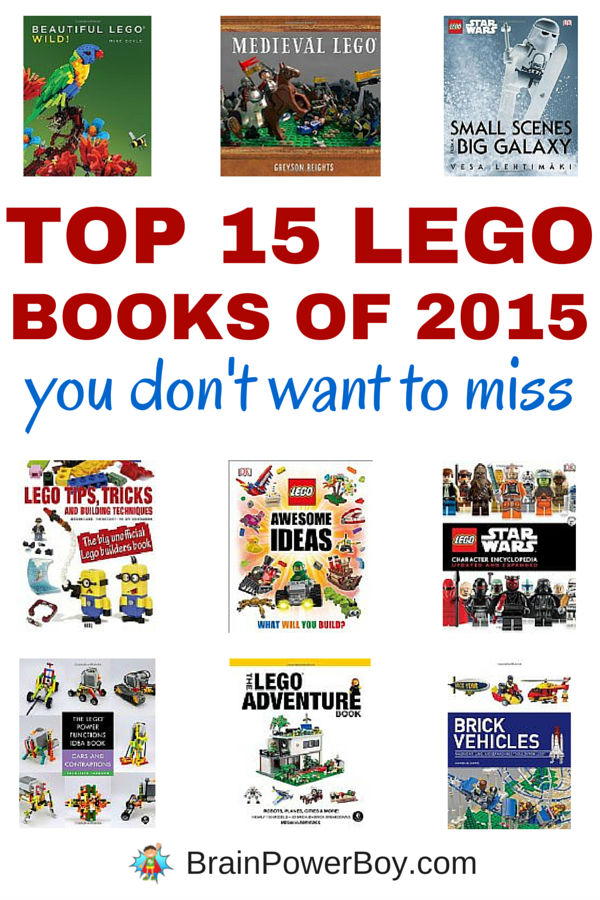 This post may contain affiliate links which means we may receive a small commission, at no cost to you, if you make a purchase through a link. All opinions are our own and we share things we think would be of interest to boys.
TOP 15 LEGO Books of 2015
I like to keep track of what is new in the area of LEGO books.
There were plenty of books released in 2015 and all of the ones listed here are good. Which ones you buy really depends on the interests of your LEGO fan.
Read the info provided, take a look at further information through the links. and if you are still stuck and are not sure which ones to get, feel free to leave a comment and I am happy to try to help.
English history in the middle ages is made even more interesting and exciting when depicted in LEGO bricks! Medieval LEGO
is illustrated completely with pictures of LEGO scenes.
In The LEGO Adventure Book, Vol. 3
you get part story book, part building guide, and part wonderful LEGO scene examples. This book is also illustrated LEGO-style and focuses on robots, planes, cities and more. We have enjoyed this series of books. See full review of Volume 2 here to give you an idea of what these are like.
The Art of LEGO Scale Modeling
is a unique book that is perfect for AFOL (Adult Fans of LEGO) or older kids. There are building techniques sharing how certain things were done but this isn't really a building guide.
The LEGO Architect
is an architectural wonder. The buildings featured here are very detailed. There are 12 building guide included but you will likely need specialty pieces and they are not like the book on the cover. That said, if you have a building fan they will really like this one.
Fresh off the presses, Lego Tips, Tricks and Building Techniques
is a building technique book geared toward beginners as well as seasoned builders. I have yet to get my hands on this one so I am not sure exactly what is included.
If you have a LEGO Star Wars fan and don't have this updated guide, you may want to consider it. LEGO Star Wars Character Encyclopedia: Updated and Expanded
is completely updated and expanded to include new sets. Every LEGO fan I know really enjoys these DK guides.
The creator of the exceptional LEGO Ideas Birds Model Kit
which I really like a lot has written a new book. Thomas Poulsom's Birds from Bricks
includes step-by-step instructions for completing 15 projects. You will need to order pieces for these builds. You can watch a quick video on the birds below.
Beautiful LEGO: Wild!
is a winner. It has incredible LEGO designs in it that are amazing to behold. One wishes they could see them in person, but this book is certainly the next best thing.
I Love That Minifigure
is another DK entry. This one is all about minifigs. Includes pics of over 200 LEGO minifigures as well as facts and trivia. This is a fun one for those who like LEGO trivia as well as minifig fans.
Geeks young and old will not be disappointed with the beautiful photography in this book. Honestly, it is really worth checking out. LEGO Star Wars: Small Scenes from a Big Galaxy
.
Warren Elsmore (see our interview here!) wrote Brick Vehicles
and fans of land, sea and air vehicles will enjoy paging through and seeing all the awesome vehicles. There are some smaller project directions included so you can get your start building a few of your own.
50 historic events depicted in LEGO: Brick History: A Brick History of the World in LEGO®
covers prehistory, early civilization, the Renaissance and the Age of Empire as well as the 19th and 20th centuries. Over 400 color pictures are included in the book.
LEGO Awesome Ideas
is by the author of The LEGO Ideas Book, and LEGO Play Book
(both of which we own.) I can't wait to get a copy of this one. All of his books are high quality. This one is geared toward unlocking the building secrets and learning how to create your own designs. Highly Recommended.
The LEGO Power Functions Idea Book, Vol. 1: Machines and Mechanisms
and The LEGO Power Functions Idea Book, Vol. 2: Cars and Contraptions
both require a LEGO motor in order to build the selections shown. (see it here: LEGO Technic Power Function box
) If you already have it, or are willing to buy it, these books will certainly be worth the purchase and will likely lead to many fun hours full of creative projects.
If you see a book you like, be sure to get it soon.
There you have it! The list of the Top 15 LEGO Books of 2015.
Don't miss our Top 10 LEGO Books of 2014 as many of them are still available and there are titles in there you simply don't want to miss.