Are you looking for a gift or wondering exactly which LEGO books you should get that were published in 2015? We have the answers. See below for our list of the Top 15 LEGO books of 2015. You are sure to find something special for your LEGO fan.
LEGO books are a must for any household that loves the bricks. Believe me when I say, books will take your child's building to the next level. Books also got us reading and learning about so many things that have nothing what-so-ever to do with bricks. It has been simply amazing to me just how much learning LEGO has actually provided. Take a peak at this article to learn more. And get some books!
This article is part of our best books for boys lists highlighting books we think boys would really enjoy and learn from.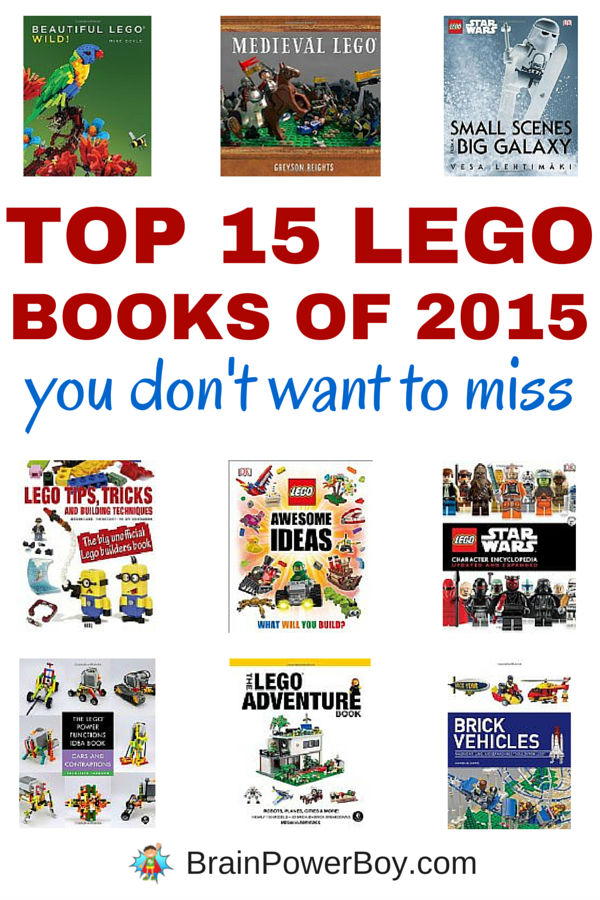 This post may contain affiliate links which means we may receive a small commission, at no cost to you, if you make a purchase through a link. All opinions are our own and we share things we think would be of interest to boys.
TOP 15 LEGO Books of 2015
There are a lot of books out there and I like to keep track of what is new in the area of LEGO books. There were plenty of books released in 2015 and all of the ones listed here are good.  Which ones you buy really depends on the interests of your LEGO fan. Read the info provided, take a look at further information through the links. and if you are still stuck and are not sure which ones to get, feel free to leave a comment and I am happy to try to help.
If you see a book you like, be sure to get it soon.
There you have it! The list of the Top 15 LEGO Books of 2015. Don't miss our Top 10 LEGO Books of 2014 as many of them are still available and there are titles in there you simply don't want to miss.