Knights! Boys love to think about medieval times and the wonder of the time of the knights. They also like funny. So today we bring you funny knight books for boys.
This is part of our series on the best books for boys and I hope you enjoy the selections for today's list. I guarantee some laughter!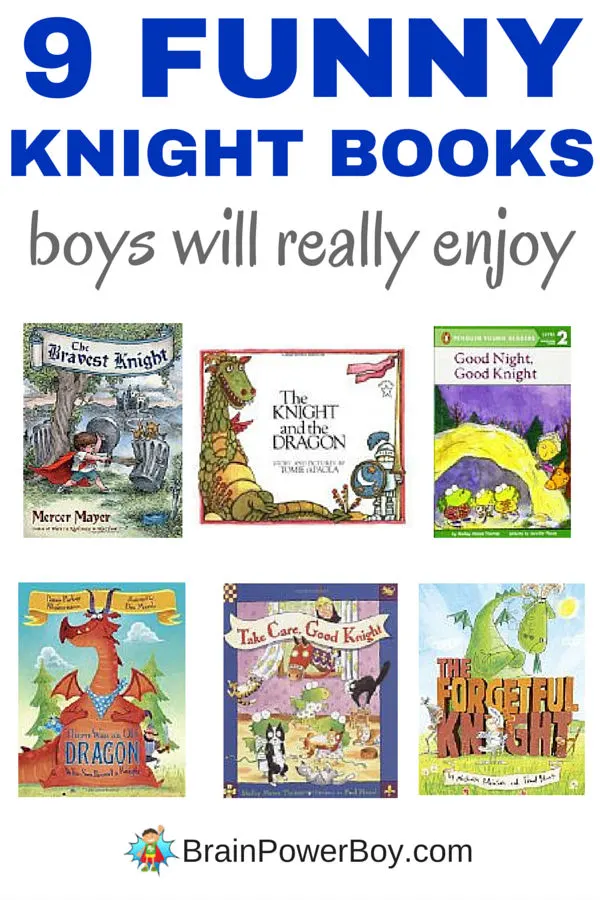 This post may contain affiliate links which means we may receive a small commission, at no cost to you, if you make a purchase through a link. All opinions are our own and we share things we think would be of interest to boys.
Funny Knight Books for Boys
1. We will start with The Knight and the Dragon, an amusing tale of a not-so-brave knight who finds a book on fighting dragons and a timid dragon who is reading up on how to fight a knight. Tomie DePaola writes some good books.
2. The Bravest Knight is a short, funny picture book about a little boy who wishes he were back in the glory days of knights, dragons and castles.
3. One time my son and I read all of the There Was an Old Lady who Swallowed a Fly variations we could find. Oh how I wish this book had been available then. Your boys will enjoy There Was an Old Dragon Who Swallowed a Knight. Perhaps this is actually more a dragon book than a knight book but it has a knight in it (at least at the very beginning!) and it is funny.
4. Young readers will enjoy Good Night, Good Knight and the others in this readers series. Good Night, Good Knight is a silly bedtime story about putting three young dragons to bed that your littler ones will enjoy.
5. Try the Take Care, Good Knight as well for the same characters in a longer picture book story.
6. This is an unusual choice which some of you will like and others may not. Check it out before you decide though as the illustrations are quite unusual and unique. There are seven knights to guard the castle. They are asleep but alas the little prince is not. He sneaks out of his room to see werewolves, zombies, mummies and more heading to a monster ball. Boogie Knights
7. Soon to be released, The Forgetful Knight looks like a good title. I was able to take a peak at some pages and it is funny for sure. Beware 🙂 it has rather macabre, albeit amusing, ending.
8. The Adventures of Sir Lancelot the Great is part of a series. Very funny! Adventure and comedy are the words to best describe these books. Sir Lancelot even gets shot in the butt with an arrow! Click the link provided and look directly below this book to see the other titles in this series.
9. The Knights of the Kitchen Table is re-read often in my house. We love the Time Warp Trio book series and this one is a great funny knight book.
This funny knight books for boys book list was a special request from a reader. If you have a best books for boys list you would like me to create contact me to submit your request. I started this site to help you help your boys love reading!
For more funny books for boys see:
Funny Pirate Books to Make Boys Laugh