The best joke books for boys are the ones that make them laugh. They are also the books that make them want to read and read to find awesome jokes to tell to family and friends. We found those books for you!
There is nothing quite like the sound of a boy laughing. They laugh with full, uninhibited joy. They don't hold anything back. It is a wonderful sight to behold.
Take a peak at the best books for boys, and grab a few of these funny joke books to bring a bit of laughter into all of your lives.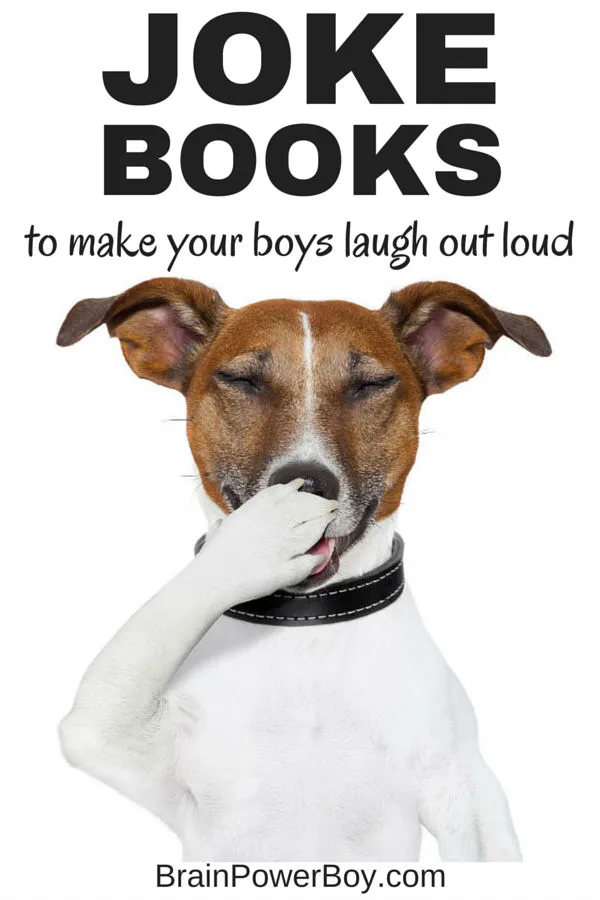 This post may contain affiliate links which means we may receive a small commission, at no cost to you, if you make a purchase through a link. All opinions are our own and we share things we think would be of interest to boys.
Joke Books for Boys
1. We will start off with a joke book for the younger set: Knock Knock Who's There: My First Book Of Knock Knock Jokes It has cute images and you pull back the flaps to reveal the punch line to the joke.
2. Here is a joke from the book to tell to your boys: "What do you call a train that sneezes?" "A choo-choo train." This level one reader has short, understandable riddles perfect for younger boys. What Do You Hear When Cows Sing?: And Other Silly Riddles
3. Phineas and Ferb fans will go crazy for Laughapalooza Joke Book. This is nice and short with easy to remember jokes.Includes all the cast in a silly book full of jokes and riddles.
4. The Laugh-Out-Loud Jokes for Kids has a lot of great reviews and is a hit with boys. From the book: "What happens to race car drivers when they eat too much? They get indy-gestion." Ha! This book is a great value and should be one of your top picks if you don't have many joke books yet. Recommended
5. Here is another title by the same author. Also a hit. More Laugh-Out-Loud Jokes for Kids
6. Knock-knock jokes are a classic and this book will give your kids a great selection to choose from. Get ready with your "who's there?" as you will be hearing "knock-knock" again and again. Knock-Knock Jokes for Kids
7. You will want to check out National Geographic Kids Just Joking: 300 Hilarious Jokes, Tricky Tongue Twisters, and Ridiculous Riddles for a kid that is very visual. Full of awesome pictures and funny jokes this one is a winner on several counts.
8. Done in black and white (and blue to add a bit of color) the Jokelopedia, Third Edition: The Biggest, Best, Silliest, Dumbest Joke Book Ever! is 288 pages of silliness. There is a big variety of jokes in this one including snot, gross, creepy, crawly, space, cops and "ribbers," goblins, fossils and more – yup, boys will go for this title.
These joke books are the best ones we found. Ahem, don't blame me if they have to tell you every single joke in the book you get!
For more funny and fun books for boys go to our Best Books for Boys page.