You can get your boys crafting with these superhero craft kits! They are going to have a lot of fun!
When I did a survey on my site many, many boy moms asked for craft kits and activities.
They wanted to get their boys doing some crafts but they were having trouble finding something that they would enjoy doing.
With that in mind, I have rounded up some crafts that they are sure to like.
Browse below and choose the ones that fit your boy the best. Or, better yet, let him pick out which ones he would like to try!
These make awesome gift ideas for boys.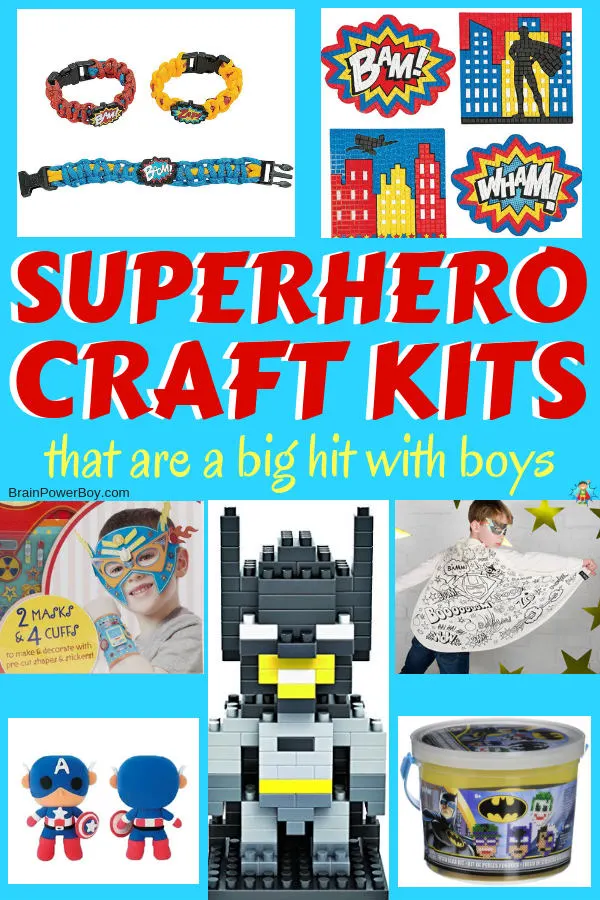 This post may contain affiliate links which means we may receive a small commission, at no cost to you, if you make a purchase through a link. All opinions are our own and we share things we think would be of interest to boys.
Superhero Craft Kits
Superhero Clay Craft Kits
First we have some clay modeling kits. They are a step up from playing with play dough! There are a lot of different little characters to choose from and you can see them all here. They are surprisingly cheap!
Avengers Clay Modeling Kit
Batman Clay Modeling Kit
Captain America Clay Modeling Kit
---
Superhero Masks, Frames, Capes and More
Masks and Superhero Paracord Bracelet
Here are a couple of mask kits for those who would like to color and decorate their own super hero mask.
We also found a superpowers paracord bracelet kit. I wasn't sure if I was going to include it at first because their shipping seemed high but when I figured out the price per bracelet, it turned out that the price was reasonable.
You get all the cord, the superhero boom pieces and the clasps.
12 Color Your Own Superhero Masks
Superhero Masks and Cuffs Kit
Paracord Bracelet Kit set of 6
Frames and Cape
Here are three more superhero craft kits to take a look at. There is a superhero frame which is a very easy and great for younger boys.
The design your own superhero cape kit comes with a blue cotton cape, foam sheets and cutouts, as well as felt sheets and cutouts, glitter glue and a few other items. The creativity to create your very own cape is the big attraction here.
I really like the designs on the extreme mosaic kit with the superhero silhouettes and the Bam! Wham! wording. Great for boys who are patient and don't mind little pieces.
Superhero Picture Frame Kit
Design Your Own Super Hero Cape
Superhero Extreme Mosaic Kit
Fabric Cape and Frame
Oh boy! When I saw this fabric cape kit I knew I had to include it.It is a bit priceybut also very cool, so it is worth it!
The kit comes in two versions. Both similar patterns but one includes a personalization option. See the one on the right has "Casper" written in? Kids just love things that have their names on it!
This superhero frame craft is, on the other hand, super inexpensive. You can order several to use for a play-date, give as a gift, or just get the number you need for your boys.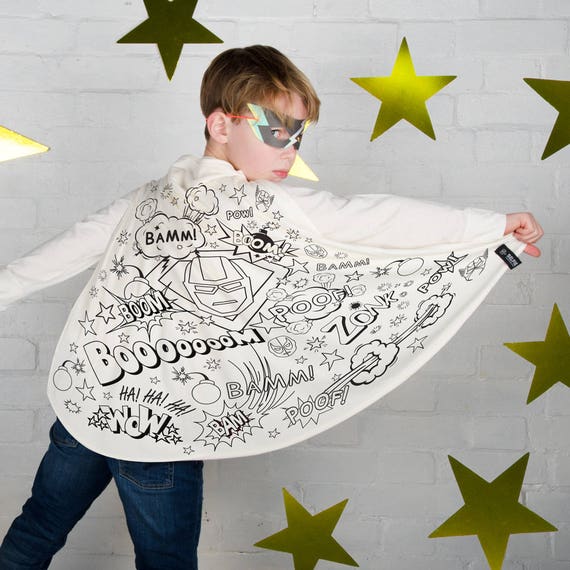 Superhero Cape
Buy From Etsy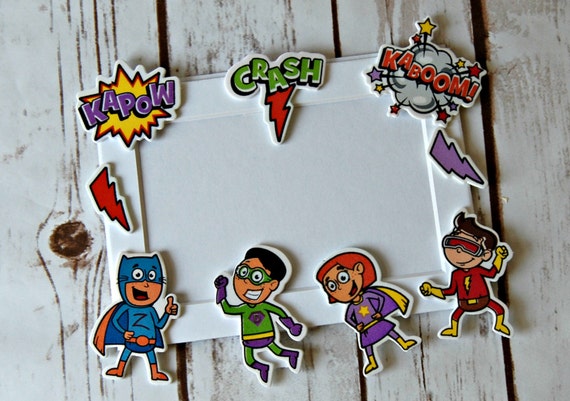 Superhero Frame KitBuy From Etsy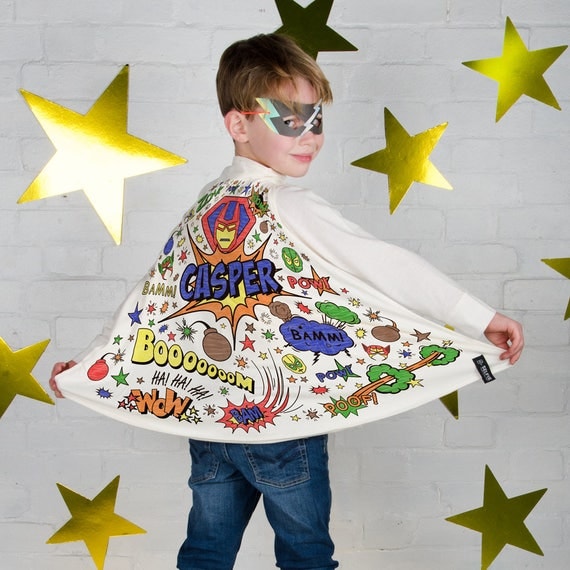 Personalized Version!
Buy From Etsy
---
Superhero Craft Kits to Build
Miniblock Building Kits
Fun, fun, fun! These kits are perfect for those who like some building with their crafting. See all of the character options here or click one of the pictures below to go to your boy's favorite superhero.
Batman Kit
Multi Superhero Kit
Superman Kit
LEGO Brickheadz
If you prefer to go with LEGO for your boy's crafting, give these Brickheadz a try.
They are stand-alone kits to build one superhero.
One great bonus of getting these is, if your boy is a big LEGO fan, he can take these apart and re-use the pieces along with his collection of bricks.
Bonus: There are nice specialty pieces in these kits!
LEGO BrickHeadz Robin
BrickHeadz Iron Man
LEGO BrickHeadz Batman
---
Superhero Perler Bead Kits
We love crafting with Perler Beads at my house! I was so excited when I found some awesome Perler superhero kits for you and your boys.
Our favorites is the Batman kit but they also have a couple of Justice League kits, one with 4500 beads, or the bucket with 8500 beads.
There are also small Batman and Superman kits.
Batman Perler Bead Kit
Justice League Perler Kit
Justice League Perler Bead Kit
I hope you found a lot ideas for helping your boys get crafting with these cool superhero craft kits.
Which ones do you think your boy can't do without? Leave a comment below.
If your boy likes superheroes you may also like to see:
Make Your Own Batman Snowflake
Super Cool Superhero Crafts Boys Will Enjoy
175+ Free Printable Superhero Coloring Pages
Fun Food Spider-man Lunch for Your Superhero!