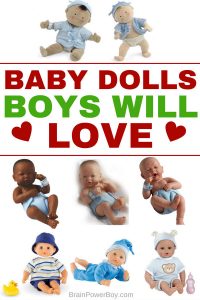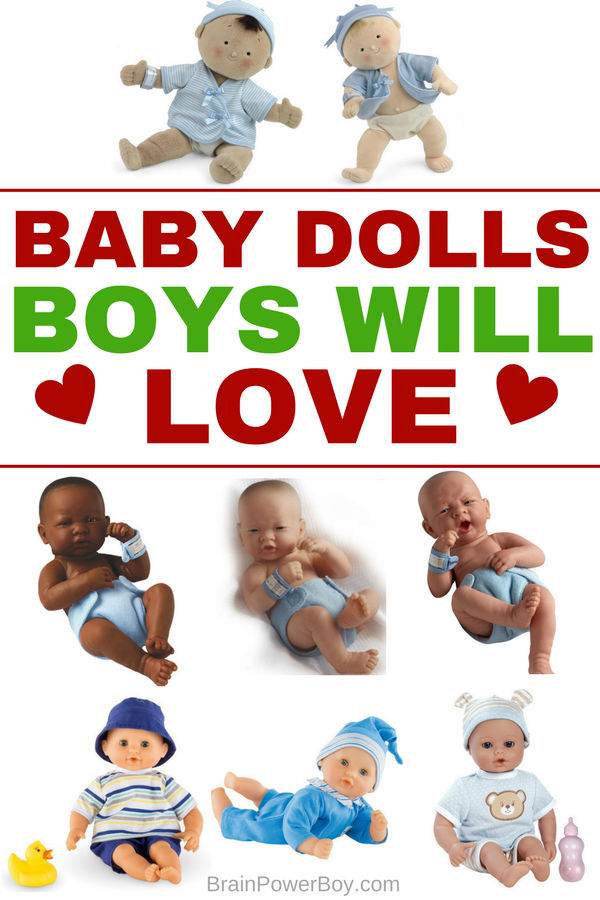 Baby Dolls for boys!
This is a wonderful selection of the very best baby dolls for boys.
Boys really should play with dolls. There is so much value in giving them one of these great toys.
They enjoy doll play; they really do. They hold them and carry them around. They feed them, bathe them, sing to them and love them. All things dads do, right? Consider it husband/dad prep!
See all our gift ideas for boys here.
This post may contain affiliate links which means I may receive a small commission, at no cost to you, if you make a purchase through a link. All opinions are my own and I share things I think would be of interest to boys. Thanks for your support!
Dolls for Boys
If you're planning to get a doll for a boy, use this doll buying guide to find the perfect one for your little guy.
By getting them dolls to play with you are providing them with an experience to help them grow. They can be so gentle and loving with their dolls.
Soft Baby Boy Dolls
Soft, sweet and wearing a dino outfit this little guy is great for young boys. The features are embroidered (including a belly button!) so there is no danger of an eye coming off. His clothes can be removed which means dressing him is part of the fun. The First Baby Boy Doll
won't disappoint, and bonus, he is washable. Plus, it is an award winning doll. He is 15 inches long and for 12 months and up.
Soft Nurturing First Baby Boy Doll
Have a peek at these two charmers!  Those rosy cheeks got me as soon as I saw them. If you are looking for a doll for your little boy, this plush award winning baby doll has a lot of very positive reviews. He is sweet and cute with a touch of red on the cheeks, and an embroidered face. His top and diaper come off for dressing.  He is 15 inches tall and is listed as 3 and up.
Rosy Cheeks Baby Boy
Rosy Cheeks Baby Boy
Here are three more soft cloth doll options that you can consider.
Snug-up Luis is machine washable, 9 inches tall and for ages

birth and up

.
Baby's First Doll African American Boy is made of velour, is machine washable and dryable. He is 10 inches tall.

No ages listed

.
Baby Boy Blue is made of soft fleece, is machine washable and 12 inches tall.  Age listed as

safe for youngest babies

.
Snug-up Doll Luis
First Doll African American Boy
Baby Boy Doll Blue
Baby Dolls for Boys
This charming baby boy doll
is made for cuddling 🙂 He is super sweet and has a bean filled posable body. His eyes close when you lay him down. The face, arms and legs are vinyl and are slightly scented with vanilla. Just letting you know in case you have a child sensitive to smells.  He is 12 inches long and for 18 months and up.
Little Prince!  This little guy is all about cuteness. Even the little frog on his striped outfit is cute! His clothes are removable so your little boy can dress him up. The bottle fits in his mouth as does his thumb.  There are mixed feelings about the powder scented vinyl. Some think it is way too strong, others don't mention it at all so I am guessing it didn't bother them and others still like it.  He is a charmer for sure. 13 inches long and for ages 1 and up.
This is Little Beary Blue 🙂 Just look at that adorable face and cute hat and outfit! See the info above in Little Prince, as he is made by the same company and has the same information.  13 inches long for ages 1 and up.
These three little fellows come with accessories including a reusable cloth diaper, realistic hospital ID bracelet (which is removable in case you had a home birth), hospital belly button gauze, and birth certificate. I like that this series of dolls has a few different options available: Asian, African American and Caucasian are all available. They are very realistic looking and anatomically correct. The arms and legs move as well. This series has very nice reviews. 14 inches long and for ages 2 and up.
Asian Baby Boy Doll
African American Baby Boy Doll
Caucasian Baby Boy Doll
It took quite a while to find a nice Hispanic baby boy doll with good reviews but I finally did. While smaller than some of the other dolls, it is very nice and comes with a one piece outfit and hat. Both are removable.  Super cute, isn't he? He is 11 inches tall and is for 18 months and up.
Bath Baby Dolls for Boys
They also make boy dolls that can get wet. I think this is great as they can take their doll into the tub to play. You know they are going to love that!
If you want a complete baby doll for boys gift set, this is the one to take a serious look at. For what you get this is an excellent value, I would even go as far as to say it is cheap!  I couldn't believe the number of reviews. This is a very popular boy doll. He comes with a full layette so boys can take care of him and dress him up.  14 inches long and for 2 and up.
8 Piece Layette Baby Doll Gift Set
Rub a dub dub! What a fun doll. This boy doll
is made for the bath. I would have loved having this one. It has soft vanilla scented vinyl. He is able to go into the bathtub, the swimming pool and sea water. There is a tab on the back so you can hang him to dry. What a great companion for a little boy. 12 inches long and for 18 months and up.
Premier Bebe Bath Boy Baby Doll
Drink and Wet Baby Doll for Boys
Paul is currently available in two versions. He is a drink-and-wet bath baby
who happens to be anatomically correct and comes with a potty seat.
His eyes open and close and he comes with the accessories seen below. Some people are using this to help their boys learn about using the toilet. After giving water in the bottle, when you press his tummy, he goes. He can also be put into the bath. 14 inches long. The one on the right is for 24 months and up. The one on the left is for 3 years and up. I'm not sure why they are rated for different ages.
Paul Drink-and-Wet Bath Baby Doll
Paul Drink-and-Wet Bath Baby Doll 2
If you are looking for learn to dress dolls we have picked the best ones here.
Playing with dolls is not a girly thing, it is a human thing. Boys are naturally loving and really enjoy themselves while playing with dolls. They are learning and having fun.
Take some time to look through the dolls here and choose a doll for your special boy. We picked our favorites.
If  for some reason you didn't find the one that was just right,
try the search below because we want you to get the right doll!


Encourage him to show the soft, gentle, loving side of boyhood.
Here are a few other gift idea guides you may enjoy:
How to Choose a Dollhouse for Boys – Plus Dollhouse Gift Guide
Experiences Gift Guide for Boys
and see all of our guides in one place at Gift Ideas for Boys.
Does your boy have a special doll? Leave a comment, I would enjoy hearing about your experiences with boys and dolls.