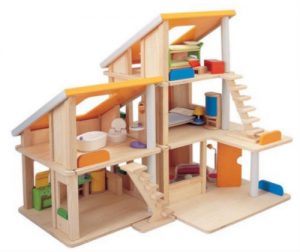 Are you looking for a dollhouse for your boy? Find out how to choose the best dollhouses for boys and see the great selection of high quality houses. Dollhouses are great for boys who like to use their imaginations. They get a chance to play house, in miniature!
We are compiling a gift guide for boys page so be sure to check that out for other great gift ideas for boys.
This post may contain affiliate links which means we may receive a small commission, at no cost to you, if you make a purchase through a link. All opinions are our own and we share things we think would be of interest to boys.
Best Dollhouses for Boys
There are a lot of choices out there and not all of them are well-made. I'll narrowed down the choices to the best, high quality dollhouses that will last for years.
Tips for buying a Dollhouse for Boys
Think about your boy first and foremost. What type of house would he enjoy?  A more stereotypical boy dollhouse or a general house?
Buy a wooden house. I cannot emphasize this enough. They last longer and can handle rougher play. Wood is the best material choice for a high quality house.
Decide if you want a furnished house or want to pick your own accessories.
Look for a house that is open so your boy can get his hands into it easily (all of the houses shown above are open.)
Think about where you are going to put it and choose the appropriate size. We had ours on the floor but some like to have it on a table.
Choose a house that you won't mind having sitting out. Leaving it out encourages a lot more play time.
Consider if you want to hand the house down. If you plan to keep the house for a long time–buy a high quality dollhouse. 
Decide if you are going to purchase dolls to fit the house or if you are going to use your own dolls. Make sure the house will work with the dolls you want to use.
---
Fire Station Dollhouses for Boys
The Kidcraft Fire Station set is sure to be a hit with boys who love all things about fireman and firetrucks.
This house has two bendable fire fighters, beds, a dog, a firetruck and a even a neat helicopter!
The Fire Station Set is made of wood and is very sturdy.
I like how open it is as it makes it easy for them to get their hands in to play with the furniture and park their fire engine.
&
---
Kidkraft Deluxe Fire Rescue Set 
The Deluxe Fire Rescue Set is bigger and has more features
FYI, it is discontinued by the manufacturer so if you want it you need to buy it soon.
It has 3 firemen, a garage with a fire engine and a ambulance, 22 pieces of furniture! Plus a cute dog.
You can't beat this wooden dollhouse that is sure to be played with for years to come. These fire station sets make a great dollhouse for toddler boys choices.
&
---
A Castle Dollhouse!
Melissa & Doug Fold & Go Wooden Castle 
If you are looking for an inexpensive, compact dollhouse try this wooden toy house for boys, the Melissa & Doug Fold & Go Wooden Castle.
It folds up for easy storage. This is a nice take-a-long house for trips or to take (or keep) at Grandma's house.
It comes with a King, a Queen and two knights as well as two horses. Plus it features a working drawbridge (neat!)
&
---
Hape – Wooden Doll House, Furnished
Boys Dollhouses
This fun, colorful dollhouse is a great choice. It is called an All Season DollHouse and has a nice style to it.
The rooms are easy to access and it comes with a lot of furniture.
It is made of light weight woods and is not quite as sturdy as our top choice below but it is more affordable and comes fully furnished.
You only have to add dolls and you will have a great setup.
&
---
Small World Toys Wooden Doll House
For a natural finish toy house that has a very open design go for the Small World Toys Doll House.
It is 3 stories high and is made of wood.
You need to add dolls, furniture and accessories like this wonderful pet set.(We own it and it adds so much to our playtime.)
If you, or the person you are buying for, likes a plain dollhouse so the kids are left free to use their imaginations this is the perfect choice for you.
&
---
Melissa and Doug Hi Rise Dollhouse
Colorful, and well-made, the Melissa and Doug Dollhouse is a wonderful choice.
It is made of wood, is 3 stories high, includes some furniture, 3 dolls and even has a neat elevator!
I really like this set but I wish it had a boy doll (there is a dad, a mom and a girl.)
To fix that issue, you can simply purchase this car and doll set to go with it. It is still a very good value and they have a car to put in the garage!
&
---
Plan Toys Dollhouses
Plan Toys Terrace Dollhouse
This is the brand of dollhouse that we own. Plan Toys makes a sturdy, high quality wood dollhouse that is nice enough to hand down.
We have a model which is very similar to The Terrace Dollhouse and I have been very happy with my purchase to this day.
You will get a lot of years of play out of this beautiful wooden dollhouse and can keep it for your boy's children to play with.
You will need to purchase a Doll Family and furniture and accessories to go with it. We bought this additional set because it is so cute and it used a lot!
&
---
Plan Toy Chalet Doll House with Furniture
They also make a stylish furnished model if you would rather just get everything at once.
The furniture and accessories that come with this house is of high quality and will last even with a bit of rough boy play.
I like that it has bright colors – no pink in sight! It is also open enough that boys can get their hands into it.
Dollhouses are great for boys. I bought a great wooden dollhouse and it was the best purchase ever. We spent a ton of time making up stories or continuing long, drawn out, delightful stories of the family who lived there. If you need another reason to buy . . . you will have fun too! I know I did.
Buying a dollhouse for boys can be a bit overwhelming. There are a lot of choices out there and you really need to think about the boy you are buying the dollhouse for and how he will play with it before investing in a dollhouse.
Scroll down for more dollhouse choices.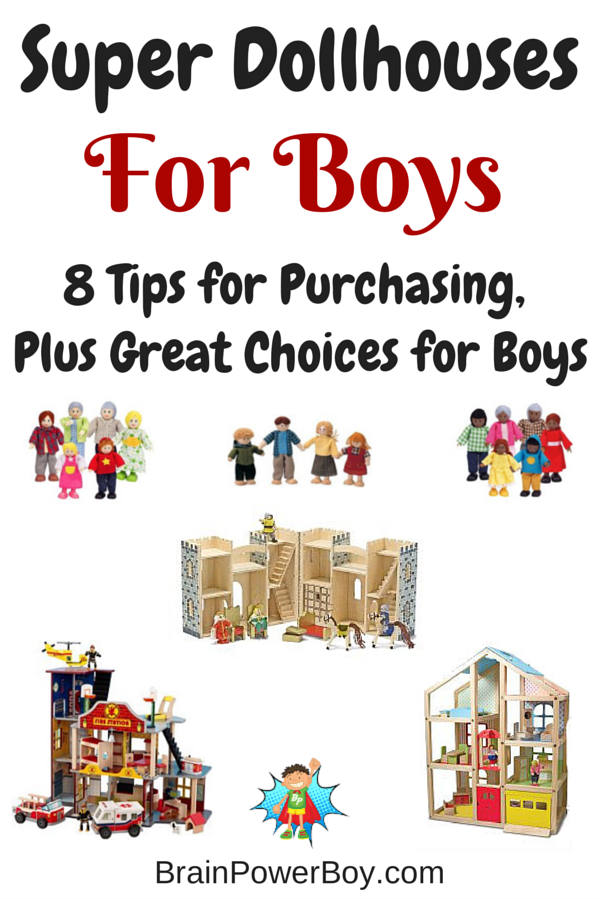 We added to our dollhouse as we went along. Every now and then we would get another accessory set or some additional furniture. These made nice gifts and kept the dollhouse play going for a long, long time.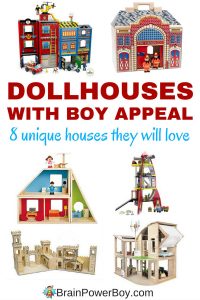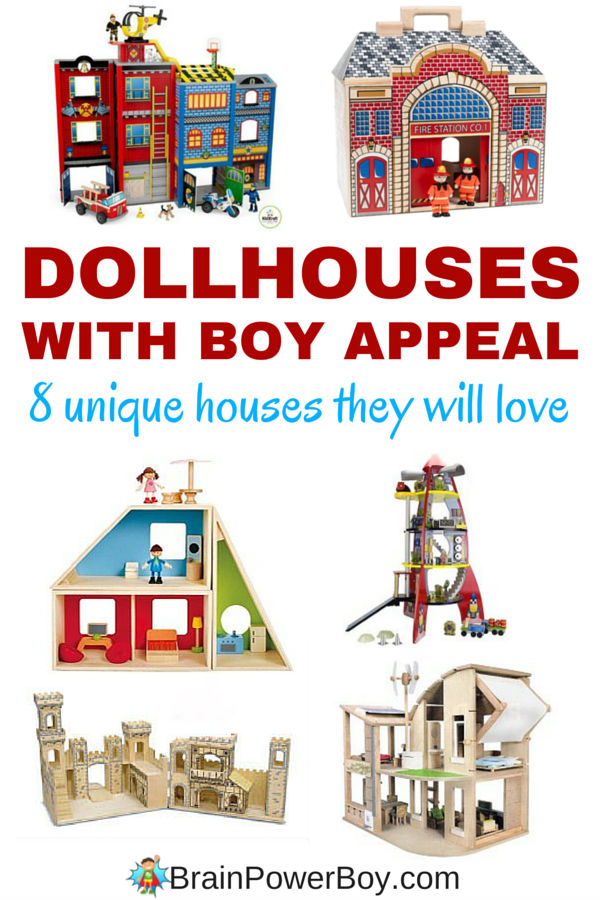 Purchasing a wooden dollhouse for boys is a good investment. There are some many opportunities for open-ended play and imaginative storytelling.
Don't listen to others when they question your idea of buying your son a dollhouse. It is a wonderful toy for boys.
I hope you enjoyed taking a look at the dollhouse buying guide and the list of great dollhouses for boys.
Need even more choices? Check out our unique dollhouses article! Includes Pirate's Cove, Heroes House, Rocket Ship and other cool choices.