Are you looking for a dollhouse for your boy? I did a lot of research and used past experience to make sure you end up with a great one..
I am sharing my tips on how to choose the best dollhouses for boys.

What I am sharing will allow you to choose a high quality dollhouse that they will absolutely love and play with for years and years to come.
Plus, we selected dollhouses that pass our guidelines and share that selection of high quality houses below.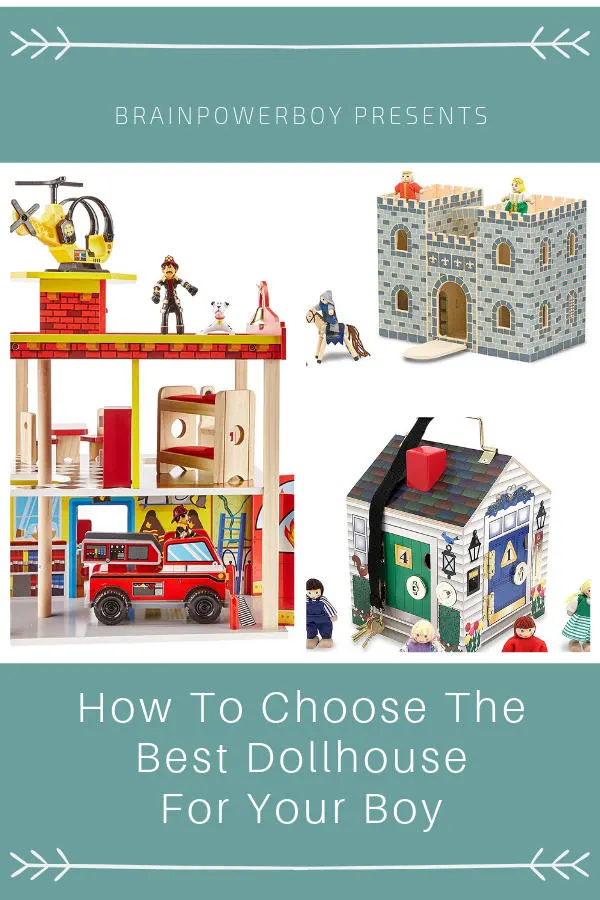 Dollhouses are amazing toys for boys who like to use their imaginations. They get a chance to play house, in miniature!
Be sure to take a look at our gift guide for boys page for other great gift ideas for boys.
Best Dollhouses for Boys
Let's start with the fact that there are a lot of choices out there and not all of them are well-made.
I've narrowed down the choices to the very best wooden dollhouses with boy appeal. Some are plain which makes them very versatile, and some feature a theme which can also be a nice choice.
I give you the details and reviews of all of the ones we liked best, but do take a moment and read our buying tips first.
How to Buy a Dollhouse for Boys
Here are our tips for buying a dollhouse. Read through before purchasing one. Believe me, the information provided here will help you make your decision.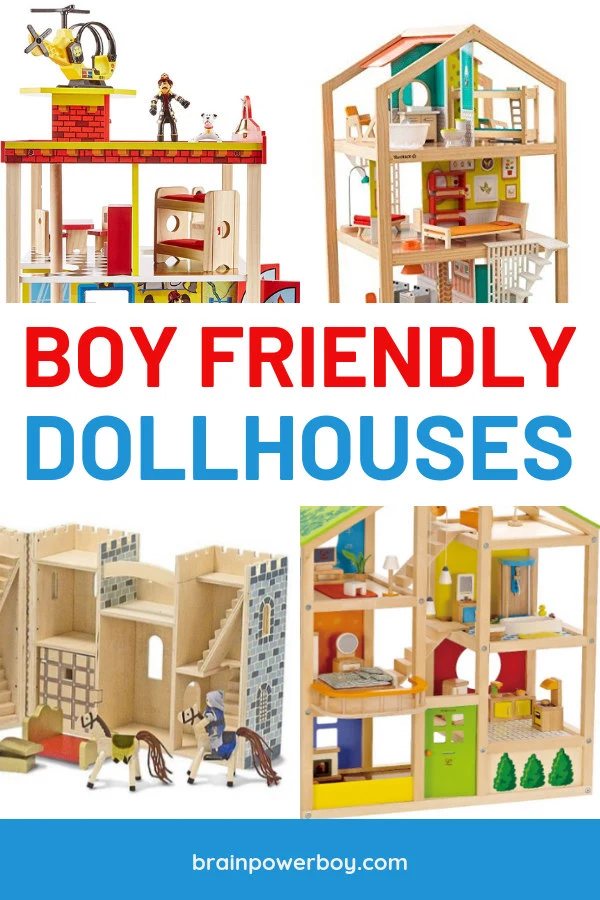 Think about your boy first and foremost. What type of house would he enjoy? A more stereotypical boy dollhouse or a general house?
Buy a wooden house. I cannot emphasize this enough. They last longer and can handle rougher boy play. Wood is the best material choice for a high quality doll house.
Decide if you want a furnished house or want to pick your own accessories. Either way is fine, just be sure to factor that into the final price. Fully furnished houses can seem more expensive at first but are often a good value when you factor in having to buy all of the accessories. However, buying your own accessories means you can buy exactly what you want. This is what I ended up doing and was happy with the way it turned out. Yes, it was a little bit more in the end but we got extra pieces for the dollhouse over time and gave them for birthday and Christmas gifts.
Look for a house that is open so your boy can get his hands into it easily. All of the houses shown here are open because I think it is very important, leads to the house being used a lot more, and there is less frustration because they are not as likely to knock things over by accident.
Think about where you are going to put it and choose the appropriate size. We had ours on the floor but some like to have it on a table. If you do not have a lot of space, choose a small house. If there is no space limitation, I would suggest getting any of the bigger houses that you like.
Choose a house that you won't mind having sitting out. Leaving it out encourages a lot more play time.
Consider if you want to hand the house down. If you plan to keep the house for a long time–buy a high quality dollhouse.
Decide if you are going to purchase dolls to fit the house or if you are going to use your own dolls. If you are using your own, make sure the house size will work with the dolls you want to use.
Here are some of our picks for boys dollhouses.
Dollhouses for Boys
On to all the choices! Oh, and I also have another post with some more unique choices in the yellow box at the bottom.
Fire Engine Dollhouse
The KidKraft Fire Station (firehouse) set is sure to be a hit with boys who love all things about fireman and firetrucks.
This house comes with 15 accessories including two bendable fire fighters, beds, a dog, a firetruck and a neat helicopter! The garage doors open and close. It even has a fire pole!
The Fire Station Set is made of wood and is very sturdy. The walls are decorated with fire house scenes which make it very colorful and appealing.
I like how open it is as it makes it easy for them to get their hands in to play with the furniture and park their fire engine.
The fire station dimensions are 16L x 16W x 19.4 / 20H inch (without / with turntable.) The weight is 20 lbs. Ages 3 and up.
Small Dollhouses for Boys
If you are looking for a medieval castle for boys, the Melissa & Doug Fold & Go Wooden Castle is our top choice.
It folds up for easy storage. This is a nice take-a-long house for trips or to take (or keep) at Grandma's house. It is also nice if you have a smaller play space or bedroom where you will keep it.
It comes with a King, a Queen and two knights as well as two horses. Plus it features a working drawbridge (neat!) and a dungeon. With 12 accessory pieces in all this one is a good value.
Comes fully assembled which is nice when giving as a gift.
The castle dimensions are 13.5 x 7.2 x 10.5 inches. The weight is 4.5 pounds. Ages 3 – 7.
I am very taken with this small compact dollhouse. A charming wooden toy house with several features that make it a winner.
At first I wondered if it would get enough play time because it is so small but the reviews are amazing on it and it has some special features that make it worth checking out. Plus it is very inexpensive!
See the little keys hanging down? They unlock each door. And the best part is that each key is unique and only opens one door. Plus, to add to the fun there is a doorbell on each door and every one has a different sound.
You can see why this gets a lot of play time. I would likely add either this or one of these sets to make it even more fun.
Boys Dollhouses
This fun, colorful dollhouse is a great choice. It is called an All Season Doll House and has a nice style to it.
The six rooms are easy to access and comes with a lot of furniture.
It is made of light weight woods and is not quite as sturdy as our top choice below but it is more affordable and comes fully furnished.
You only have to add dolls and you will have a great setup.
The Hape All Seasons dimensions are 23.6 x 11.8 x 28.9 inches. The weight is 14.11 pounds. Ages 3 and up.
This one is a bit similar to the Hape model shown above but they are different.

Colorful, and well-made, the Melissa and Doug Dollhouse is a wonderful choice and a great value.
It is made of wood, is 3 stories high, includes 15 pieces of furniture, 3 dolls and even has a neat elevator!
I really like this set but I wish it had a boy doll (there is a dad, a mom and a girl.)
To fix that issue, you can simply purchase this car and doll set to go with it. It is still a very good value and they have a car to put in the garage!
The Melissa & Doug Hi-Rise dimensions are 30″ H × 23.75″ W × 13″. It weighs 18.9 pounds. Ages 3 – 6 years.
Extra Large Dollhouse for Boys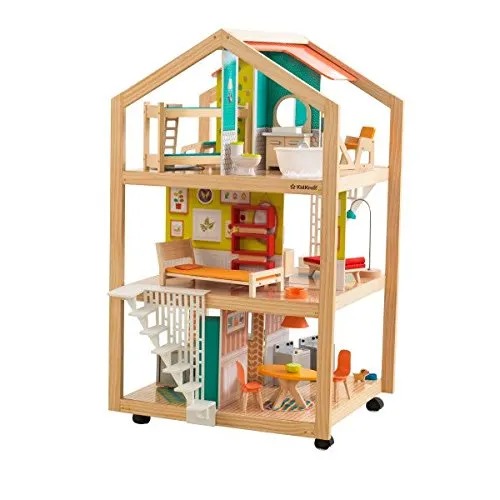 This one is huge! You will have to have the room for it but it looks pretty awesome.
They call it a mansion and I can see why. It is made by KidKraft and they do make good products.
Features include 42 pieces of furniture and accessories for the house. There are 3 levels and 10 (really!) rooms.
I like that they have the expected furniture but also a deep bathtub, a toilet, a telescope and even a desk with a laptop computer.
I like the bright colors, the modern style and even the patterned wallpaper. The colors are not girly at all either.

The whole house is on casters so you can move it which means you could, if you wanted to, store it in a closet. The wheels do lock in place as well.

I am keen on leaving them out because they get played with more that way but I did want to point out the option.
Note: you can put dolls up to 12 inches in the house.
Mansion dimensions are 26.8 x 23.2 x 43.3 inches. It weighs 49 pounds. Ages 3 and up.
Best Dollhouse for Boys
This is the brand of dollhouse that we own and it is also what I consider to be the best dollhouse for boys.
Plan Toys makes a sturdy, high quality wood dollhouse that is nice enough to hand down. The wood is very nice, sanded smooth and finished naturally.
We have a model which is very similar to the one above and I have been very happy with my purchase to this day.
It has three levels and included steps, a parking or patio area, a terrace and an attic or loft area. We used that for the bedroom.
Your family will get a lot of years of play out of this beautiful wooden dollhouse and can keep it for your boy's children to play with.
You will need to purchase a doll family (use the Hape or Plan Toys dolls to make sure they are the right size) and furniture and accessories to go with it. We bought this additional set because it is so cute and it used a lot!
The Plan Toys Terrace dimensions are 4.7 x 23.2 x 25.2 inches. It weighs 11.95 pounds. Ages 3 and up.
Conclusion
Dollhouses are great for boys.

I bought the Plan Toys wooden dollhouse above and it was the best purchase ever!
We spent so much time making up stories or continuing long, drawn out, delightful stories of the family who lived there. If you need another reason to buy . . . you will have fun too! I know I did.
Buying a dollhouse for boys can be a bit overwhelming. There are a lot of choices out there and you really need to think about the boy you are buying the dollhouse for and how he will play with it before investing in a dollhouse.
We added to our dollhouse as we went along. Every now and then we would get another accessory set or some additional furniture.
Purchasing a wooden dollhouse for boys is a good investment. There are some many opportunities for open-ended play and imaginative storytelling.
Don't listen to others if or when they question your idea of buying your son a dollhouse. It is a wonderful toy for boys.
I hope you enjoyed taking a look at the dollhouse buying guide and the list of great houses for boys.
These made nice gifts and kept the dollhouse play going for a long, long time.
Need even more choices? Check out our unique dollhouses article! Includes Pirate's Cove, Heroes House, Rocket Ship and other cool choices.