We are sharing the very best gift ideas for boys. These are the types of gifts that they want and that they will be happy to receive.
Ever wondered what gift to get your boys? I know I have! There were times when I knew exactly what the perfect gift would be, and other times when I just couldn't figure out what to get him. Everything I thought of just wasn't quite right. I don't like to buy stuff just to buy it so I try to find something that he will like for a long time to come.
I am putting together a list of gift ideas for boys of all ages. Every gift and product post will be shared on this page so be sure to save it for future reference.
Use the gift guide for boys to find the perfect gift for boy. If you need suggestions feel free to contact me. I am happy to help.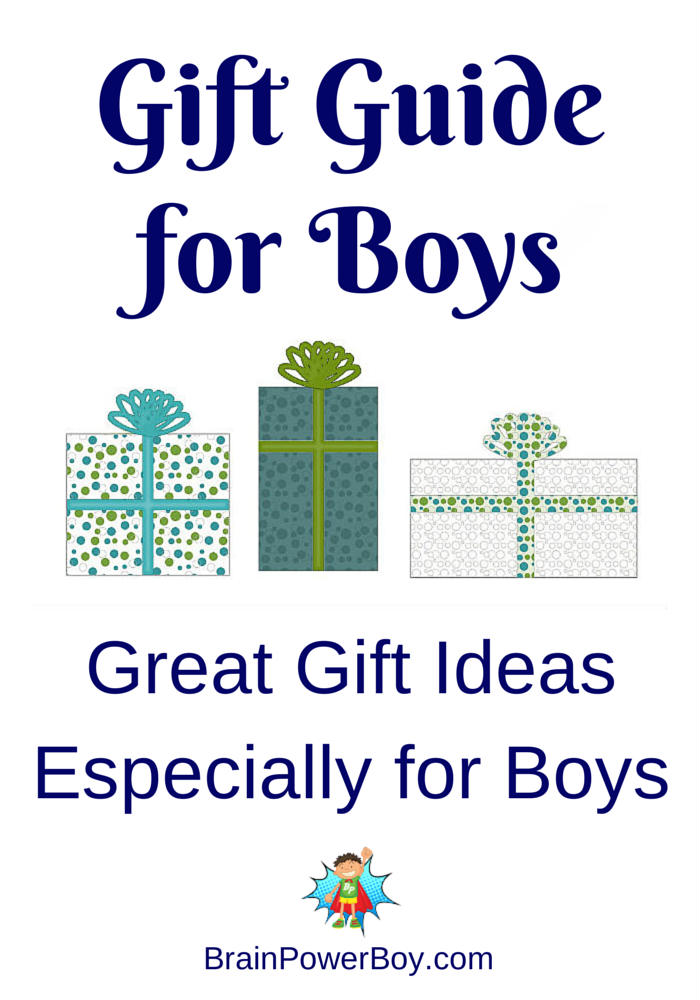 Gift Ideas for Boys:
My big gift giving advice is to give things that will last a long time. I tend to have a focus on open-ended toys because they get a lot of play time and boys can learn so much from them. Plus, you get a lot of  value for your dollar. Gifts like LEGO can last a child into adulthood!
Since this is Brain Power Boy, and we focus on boys' learning, many of the gift ideas for boys shown here have a learning aspect to them. I love giving a great gift that boys will learn something from yet still have a ton of fun with!
Books for Boys
I have so many book lists on my site that you should have no problem finding some books to give as a gift to your boys.
This is our big page full of book lists: Best Books for Boys Click on the individual lists to find specific books he will enjoy.
If you are interested in picture books you simply have to see this list. 100+ Best Picture Books for Boys: Books They Will Absolutely Love! It is packed with over 100 picture books that are the best of the best.
Dolls and Dollhouses
Gift Guide for Boys: Dollhouses. Super choices for dollhouses that boys will enjoy along with a buying guide.
Dollhouses – part 2: Best Dollhouses for Boys – Unique Choices unusual and unique dollhouses they will love.
Gift Guide for Boys: Dolls Yup, boy dolls for boys. These are great for young boys and there are some really good dolls on this list!
Experiences Plus a Gift
Experiences Plus Gift Guide for Boys with free printable gift certificates. Experiences make great gift ideas for boys. Find gifts for young, school-age and teen boys for LEGO, animals, dinosaurs, cars, trains and trucks, and pirates.
Graduation Gifts for Boys
Graduation Gifts They Will Actually Use
LEGO Gift Guides for Boys
The Ultimate LEGO Gift Guide is just what it says! If you need LEGO gifts, be sure to start here.
Top 10 LEGO Valentine's Day Gifts for Boys under $10 Inexpensive LEGO gifts your boys will like. (Not just for Valentine's Day either!)
The Very Best LEGO Stocking Stuffers Ever! Small, wonderful LEGO gifts that fit into a stocking. They do say that good things come is small packages 😉
Star Wars Gift Guides
THE Best Star Wars Gifts for 3 – 5 Year Old Boys is a collection of the Star Wars gifts younger boys will really go for!
The Best Star Wars Gifts for 6 – 9 Year Old Boys is for older boys who are big Star Wars fans. You are sure to find the perfect gift for this age group here.
Tech Gear and STEM Toys
Tech Gear Guide for Homeschool Boys. Not just for homeschoolers, this list has wonderful techy gifts boys will really go for.
The Very Best Hands-on STEM Toys to Engage Boys These STEM toys will get your boys super interested in learning more and they will have fun while doing so. Awesome!
Rube Goldberg Style Toys to Boost Learning These Rock! They really do. Grab a few of these toys to build Rube Goldberg machines or to get your boys interested in learning in a fun and engaging way.
Unplugged Gift Ideas for Boys
Amazing Inexpensive Gifts for Teen Boys: Unplugged. If you want your teen boy to enjoy some time offline, try these unplugged gifts. They are under 20 bucks each, some as little as a few dollars.
Educational Toys for Boys
The Best Sight Word Games to Make Reading Easy. For boys who are learning to read, give this list a try. Fun games that make learning easy.
Holiday Gift Ideas for Boys
We are working on getting gift ideas together for every holiday. Here are the ones we have so far. Remember that the other guides are great for holiday gift giving as well.
Valentine's Day Gifts
Top 10 LEGO Valentine's Day Gifts for Boys under $10
Easter Gift Ideas
Easter Basket Gift Ideas for Boys. Super ideas for basket fillers that boys will enjoy.
Shopping for boys can be a lot of fun–unless you have no idea what to get them! I ran into this a few times and found it was nice to have a list of items that other boys enjoyed so I could get some ideas. I hope you enjoy the guides and gift ideas offered here. We are excited to bring you great gift ideas for boys of all ages that are full of learning & fun. After all, it is our goal to raise boys who love to learn.
Know another mom, grandma, dad, grandpa, aunt, uncle, neighbor, friend (you get the point 🙂 ) who might enjoy this? You can use the sharing buttons below to share this list with others. Thanks!
Books are another gift idea that is a wonderful choice. Go check our Best Books for Boys lists to find the perfect book to give your boy.