Looking for the perfect wooden tractor toy? The ones we found are wonderful and they are all homemade!
Wooden toys are a favorite of mine. I have given then as gifts for years and also made sure my son had plenty to play with. They are the keepers. The toys you hand down. The toys you want to keep to give to the grandchildren.
I found some really nice wooden tractors that I think you are going to love.
Take a scroll through our list and see which one is the perfect gift for your young one.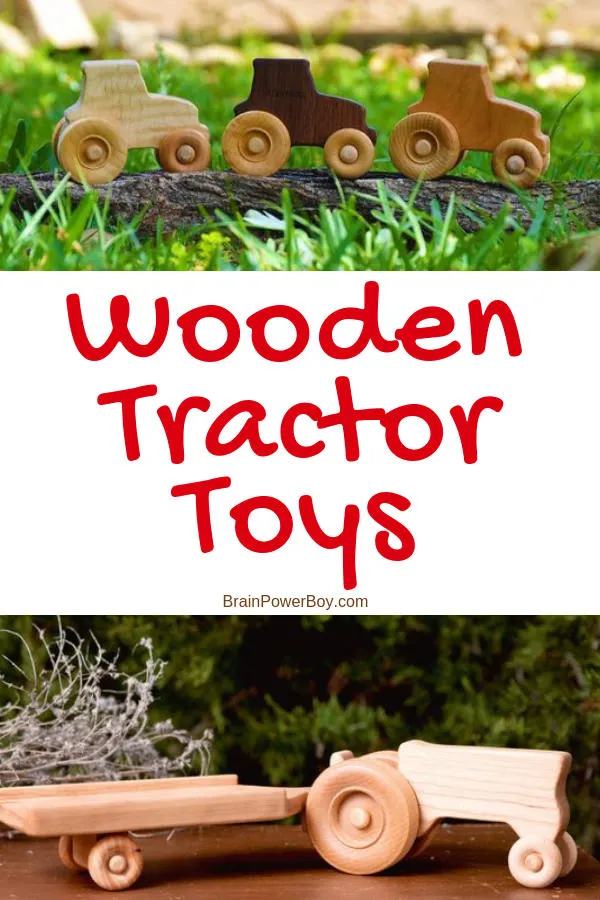 This post may contain affiliate links which means I may receive a small amount, at no cost to you, if you make a purchase through a link. All opinions are my own and I share things I think would be of interest to boys.
Wooden Tractor Toys
There are a variety of woods used in making these handmade wooden tractors. If you have a specific type of wood you are looking for you can go here and type it into the search box.
On to the tractors!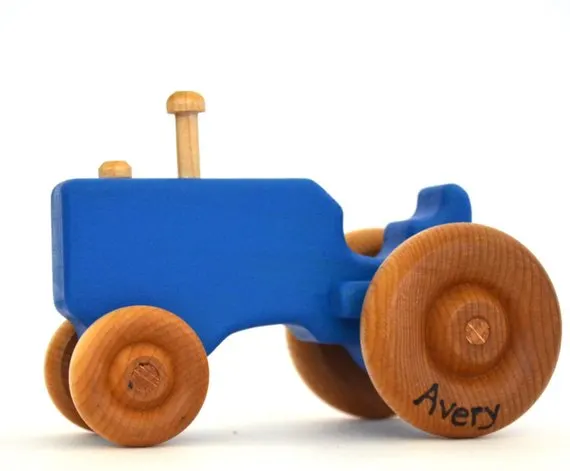 Don't you love the personalization on the wheel of this cute blue tractor?
You can customize it to your liking. Personalization is free and it comes in a little cotton drawstring bag. Charming!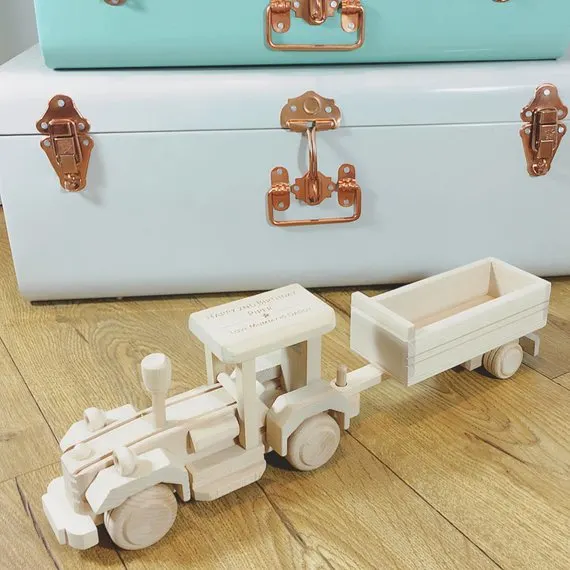 The next tractor is made from beech wood. It can be personalized and includes a sweet little trailer on the back.
I like it both for the look of the tractor and for the trailer which I am sure will get a lot of use.
Go see this nice one here
.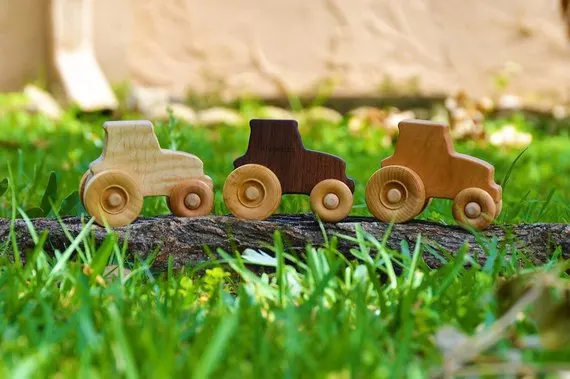 As you can see from the picture above, you can choose the type of wood you would like (or get all three!)
This nice wooden tractor is made from hardwood and comes in maple, cherry, or walnut wood.
The price is inexpensive
for a hardwood handmade wooden toy!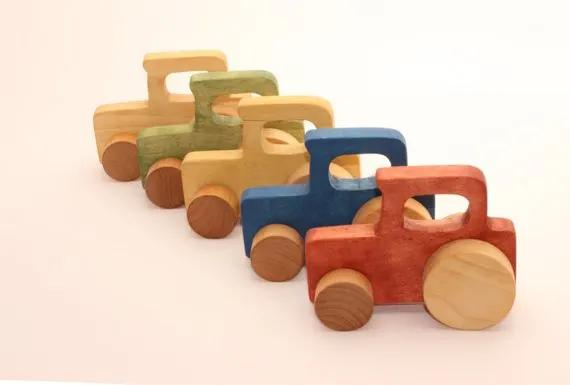 Five color choices are available when you select this wood tractor toy. Tough to choose which to get, right?! They are all nice looking. Pick their favorite color or go for a classic, natural look.
Made from birch and beech with a linseed oil stain these tractors will last a long time and withstand plenty of play.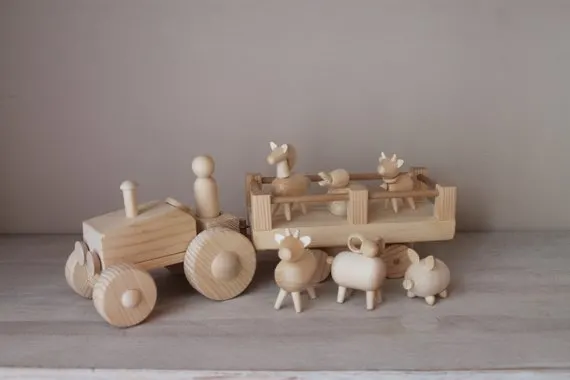 You are not going to believe how cheap this is! A handmade tractor with trailer and wooden farm animals at this price? Wow! Seriously, even with shipping it is a bargain.
I love the look of the farm animals!
Made of natural wood and uncoated, this perfect for families who love natural wooden toys.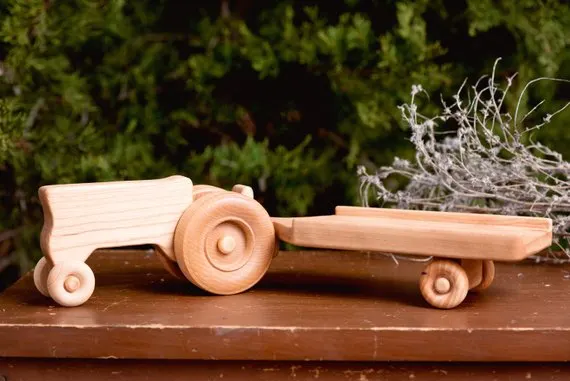 Just look at the flatbed trailer on this one! You just know that is going to see a lot of use. I can see a my nephew piling that with sticks or little pinecones or leaves or perhaps wooden farm animals if he is playing indoors.
It is the type of toy that is going to see a lot of use. I really like to give open-ended gifts like this tractor.
p.s. they plant 5 trees for every toy they sell which I think is pretty neat.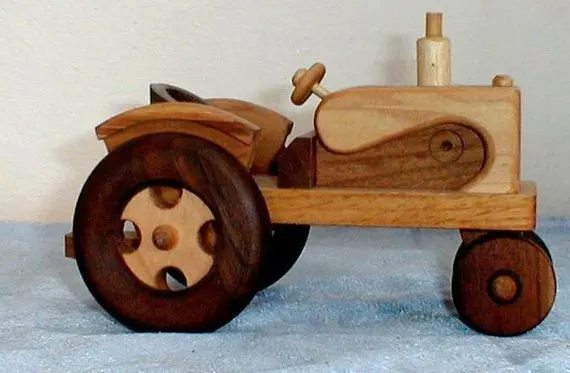 As soon as I saw this one, I knew it was going in this gift guide. It is a beauty, isn't it? Oh my!
It reminds me of the toys they used to make long ago. So much attention to detail right down to all the different wood types used to get the colors. Very impressive.
The shop is actually in my neck of the woods in Wisconsin which makes me even happier to feature this tractor. Go check them out!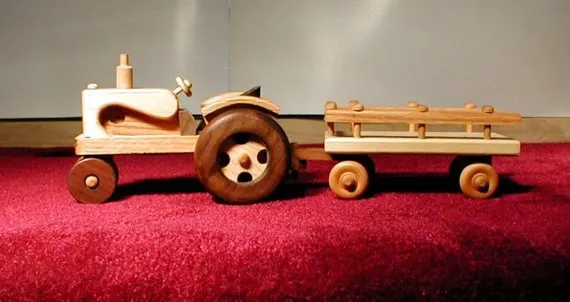 Another option from the shop I mentioned above is this great handmade tractor with wagon.
You can also get a trailer with milk cans or a disk or both. Look at the options when you click through to see what you would like to order.
There is nothing like a great wooden toy to get kids playing and these are so nicely made. My dad grew up on a farm so all of the wooden farm items always catch my eye.
I hope you found a wonderful wooden tractor toy that will last a long time and see a whole lot of play time.
I can just imagine the stories the kids will tell as they are playing!