These Star Wars Gifts Under 10 Dollars are perfect for when you need to buy a gift for someone who loves Star Wars, but don't want to break the bank!
We dug around and found a bunch of out of this world choices that are all under 10 bucks! Cool, right?!
And, these are nice gifts, not junk. As a bonus, some a so cheap that you can actually get several gifts and still stay under $10.00. What? It is totally true. As someone who is frugal, I was especially happy about that!
No matter who your big Star Wars fan is, you are sure to find a great idea here.
On to the inexpensive Star Wars gifts! You will be surprised at all the good stuff I found!!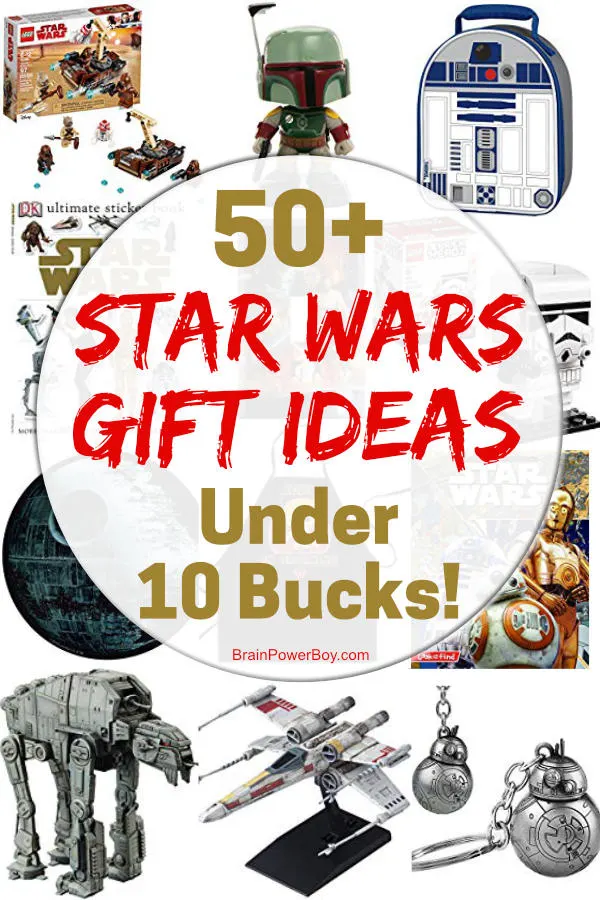 This post may contain affiliate links which means I may receive a small amount, at no cost to you, if you make a purchase through a link. All opinions are my own and I share things I think would be of interest to boys.
Star Wars Gifts Under $10.00
I am gathering these gift ideas by topic rather than by price. I think this will make it much easier to find what you are looking for.
At the time this was written, every item show was under 10 bucks. I will be checking the prices on occasion, but do keep in mind that prices can change at any time. Feel free to leave a comment if you see something that is over that price point. I do want to know so I can keep this guide exactly on point.
LEGO Star Wars Sets
This Millennium Falcon has a minifig Han Solo and Millennium Falcon Microfighter. Pretty cool.
If you think they would like a tie fighter, then this bag set is the one to get.
The Lego Star Wars Poe Damerons X-Wing Fighter is great for fans of the Resistance.
Funko Pop Star Wars
These collectibles are very popular. They are vinyl bobble heads. I'm not sure if it is the characters, that they are limited in quantity, or that they are bobble heads that make them so popular – probably all of the above actually!
I wasn't sure which ones to choose as there are so many!
I went with The Child (Baby Yoda), R2D2, and alternative Vader, and Heavy Infantry Mandalorian because I thought they were the neatest, but you can also check here to see if there are others they would like.
Inexpensive Star Wars Models
I was super excited to find these! At first I didn't think there were going to be models that fit our under 10 dollar criteria, but I kept poking around and found quite a few. Here are the best ones.
Star Wars Model Kits
They are awesome, right?! Each of these models is a kit.
Now, you do need to keep in mind that they are small. As in, they can fit in your hand, small. But, they are also incredibly detailed. Each model is pretty easy to build as there are only a few pieces.
Try the X-Wing Starfighter, the AT-M6, or the Millennium Falcon.
Star Wars Models
These models are great for creating scenes, for display or even to play with and create adventures. Each one is a Black Series Titanium vehicle and the attention to detail is pretty amazing.
Pictured are Rogue One Tie Striker, Kylo Ren's Command Shuttle, and a Rebel U-Wing Fighter.
These are super cheap! When I was doing this post, one was under $3.00 and I also see some for around 2 bucks.
Star Wars Books
If you follow my website, then you know that I started out as a boy's learning site and wrote a lot of book lists that are geared toward boys. So, I pretty much had to include books in this gift guide.
Star Wars Mad Libs
There are several Star Wars Mad Lib books that are available in this price range and they are all good! Mad Libs is such a fun and funny activity. We have always loved playing around with words and these books make that even better when you combine the fandom with word play.
Star Wars Mad Libs is the original in this series. It is a good one to start with if you don't have any yet. You could also opt for the Deluxe Edition which is oversized, has stickers and a pull-out poster.
A couple of other options are Star Wars Droids Mad Libs, and Star Wars The Force Awakens Mad Libs!
Mad Libs are cheap (usually under 5 bucks) and they are so fun. Yes, kids learn grammar but Mad Libs is all about silliness and fun. I know plenty of adults who buy these as well for a party game.
Star Wars Seek and Find Books
Everyone likes these! We have had a bunch of these books over the years and it is always fun to play.
To expand on using the books, we see who can find things the fastest as well as try to find things that are not in the list and challenge each other to find those items.
Try Journey to Star Wars: The Rise of Skywalker to search and find unique artifacts, objects and weapons. The scenes are great.
The Last Jedi Look and Find has eight scenes and you are looking for 125+ items.
This last one is my favorite but it is out of print. It is sometimes still available though so be sure to check to see if you can grab it. I think it is the best one!
Star Wars Activity Books
The Star Wars Doodles book is a fun cartoony style drawing book that lets you use your imagination to fill in/add to the drawings in the book. This style of book is great because you are not stuck trying to draw the whole picture and can still learn a lot of about how to draw from using it. Fun!
If you are looking for a sticker book, you might as well go for The Ultimate Sticker Book! The book has very nice stickers. There are only 60 but they are good.
This one is super – especially if you have a fan of the Origami Yoda books on your hands. The Art2-D2 s Guide to Folding and Doodling has drawing and folding activities to do. It is written sort of like a graphic novel. It's clever and the boys I know really enjoyed it.
You could also try one of these LEGO Star Wars activity books! Galactic Freedom Fighters, The Quest for the Kyber Saber, and Epic Space Adventures. The last two even come with a minifigure!!
See more Star Wars Activity and Coloring Books here
Star Wars Stationery Supplies
You can use these at home, for the office or at school. No matter where you use them, they will look cool because . . . Star Wars!
If you are looking for something unique, this will work! This is a projector pen and it lights up and shines a cool logo at the end of the pen. Star Wars Projector Pen.
Another pen is this BIC 4 color retractable pen. According to those reviewing, you may not get to choose which pen is shipped. You could contact the seller to try to get the one you want though. Pictured is the Storm Trooper pen in white. It also comes in black and there are other characters as well.
If you are grabbing a pen, you may also want to get this journal! I think it is a great deal. It is a blue hardcover journal with 120 lined pages in 5.25 X 8.25 inches size. It is very cool looking with a bright silver silhouette of a stormtrooper on the cover.
Perfer pencils? There are 12 The Force Awakens pencils in this set.
Star Wars Kitchen Items
Foodies are going to love these! If you know someone who likes to cook or takes their lunch with them to school or work, you should find something here.
They can have their favorite movie characters alongside them when they eat with these inexpensive items.
Star Wars Foodie Items for Less Than 10 Bucks!
Got someone who loves foodie type items, likes to cook or needs to take a lunch with them? Try these!
Star Wars Lunch Items
They can have their favorite movie characters along side them when they eat with these three inexpensive items.
Let's start with a Thermos brand cold cup with straw in the X-Wing design. Thermos has been around forever and they make quality items. I was surprised to find this and the lunch box from them both under 10.
The R2-D2 lunch box is PVA-free, insulated, and has a great design. Someone asked the question if it was acceptable for a 30-year-old to use this lunchbox. The first response says he is 50 and takes it to work daily. 🙂 Everyone loves R2!
The Storm Trooper head is actually a plastic insulated lunch container. It will keep things cold for 2 hours and hot for 3. I like thing that are unique and this is.
Star Wars Kitchen Items
Since we were just talking about lunch, I thought I would include these kitchen items as I found them while I was searching for other things. They were too good to leave out. Inspire a young chef or an adult fan to get cookin'.
We have two aprons. One for young JEDI in Training and one for adults with a Darth Vader style.
And, we found a very nice Helmets of the Dark side ice cube tray that includes 4 different helmet styles. You can also use this for anything from playdough, to chocolate, to ice and much more. We have quite a few of these in different themes.
Star Wars Room Decor Under 10
Add a bit of flare to a playroom, office, or bedroom with these out of this world wall decals or switch plates.
Star Wars Wall Decals
These Episode VII wall decals were the cheapest of the three when I wrote this. Like super cheap!
The spaceships version actually has 20 pieces so is a bit bigger than what they show in the picture.
For a nice variety, this is the set you should go for. They are sure to like it.
Star Wars Switchplates
This is another way to spruce up a room and like the decals above they see your gift every day. Nice! The single toggle and duplex outlet are both under 10 bucks.
Inexpensive Star Wars Computer Accessories
Grab one of these three mouse pads! They are super!! Classic collage, The Death Star (love that is it round!) or Anakin Skywalker.
If they use a stylus for their phone or tablet, spruce up their regular choice with a stylish choice!
The famous "Do or do not, there is no try" ~ Yoda phrase is on a decal to use on their laptop. Or try the three pack instead.
Cheap Keychains & Lanyards for Star Wars Fans
Another great idea is a keychain or lanyard.
There were a few to choose from that hit our price point. And, actually, the Darth Vader keychain is the cheapest thing in the whole guide (not pictured.)
The lanyard pictured has a Star Wars emblem hooked to it and comes with a plastic ID holder. There are a lot of other style choices here.
BB-8 is featured in this metal keychain which is a great deal. Note – you get one. I don't know why they did the picture so it looks like two are included but I wanted you to know that it is for one keychain.
Get a Boba Fet Helmet keychain if you know someone who really likes him. He is surprisingly popular!
A Few More Star Wars Gifts Under Ten Choices
Here are a few more ideas that didn't really fit in the categories above. Plus I wanted to make sure I had at least 50 items in this list so you had a lot of things to choose from.

The Death Star beach ball is cool enough on its own to make many want it but . . . it lights up!
There are a lot of socks that are available. I've shown boys no-show socks with Darth Vader, R2-D2, Chewbacca, stormtrooper and Yoda. The socks are even Disney brand!
Last, but not least, I found a light saber to include. Some of them are cheaply made but this light saber has a lot of good reviews and has been on markdown for quite some time. I am hoping it stays there. This is the Kylo Ren expandable light saber.
Conclusion
Did you make it all the way to the end? You must be a big Star Wars fan! I hope you found just the right gift for your recipient in our Star Wars Gifts Under 10 Dollars list.
If you need even more ideas to look at, try scrolling here. Amazon will put higher priced items between the others but there are most certainly (I triple checked) items under 10 within the scroll.
Other than that, I really hope you enjoyed this Star Wars gift guide. I had a blast putting it together for you. Enjoy!