Updated for 2020!
Are you getting LEGO for Christmas? So many people do that I thought it would be fun to highlight some actual New LEGO Christmas sets!
For those of you who always end up buying LEGO for Christmas, these holiday sets are a nice change from the regular building kits.
There are lists out there that say they feature LEGO Christmas sets but they are just regular sets they say would be good to give as a gift.
Here, I feature the currently available Christmas sets and those that have a holiday theme such as villages, trains, Christmas trees, Santa Claus and more . . . all done in LEGO!
This list is what you are expecting! Great, right?!
I did a lot of research and picked out the best sets for you so you didn't have to hunt around.
See more books, sets and gift ideas on our big LEGO page if you just can't get enough of LEGO goodness.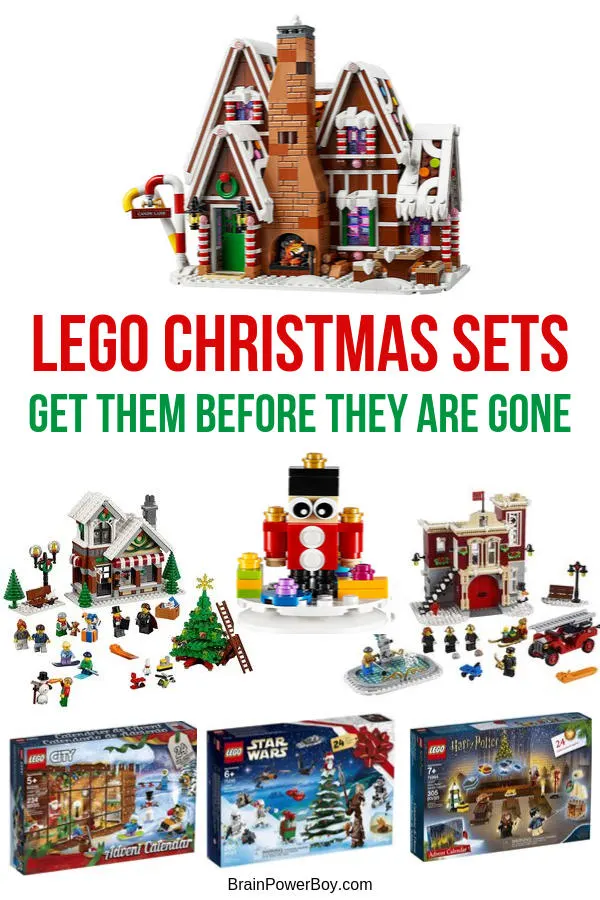 This post may contain affiliate links which means I may receive a small amount, at no cost to you, if you make a purchase through a link. All opinions are my own and I share things I think would be of interest to you and your family.
A quick note before we get started. I am linking to both Amazon and the LEGO Shop depending on the item and sometimes I am linking to both.

There are times when either store may offer you the best deal. It just depends as the price on Amazon varies.

The LEGO Shop sometimes offers free shipping, and if you spend a certain amount, they may throw in a small seasonal set (depending on the offer at the time you click) which is always a nice bonus.

I usually shop both places so just click both links and see which is a better option for you at the time you are shopping.
NEW LEGO Christmas Sets 2020
They are festive, they are fun and they are perfect for gift giving! Take a look at all the new LEGO Christmas sets for 2020 and a few that are still available from earlier releases (because, let's face it, if you don't have them already, you are probably going to want them.)
Keep in mind if you see something you like be sure to buy it right away. Quantities are limited and prices go up when there is short supply.
Shopping tip: Become a LEGO VIP member, it is free and you get points, members only discounts, early access to exclusive sets, gifts, promos and specials.
NEW LEGO Elf Club House – Winter Village
Oh my! The LEGO Elf Club House just came out and I am loving it!! Features 4 elf minifigures, a beautiful sleigh and a fantastic reindeer. You and your family are going to love putting this set together. It will most certainly make a fun holiday project.

This LEGO Creator set has 1197 pieces and because it lights up, has batteries included. Go see all of the wonderful details and be sure to watch the video. This may be my favorite LEGO Winter Village Collection set yet!!
New LEGO Advent Calendar Sets 2020
There are four Advent sets this year. A Star Wars Advent calendar, a City Advent calendar, a Harry Potter Advent calendar and a Friends Advent calendar.

Pick the one that you love or that will be the best choice for your LEGO fan.
Star Wars Advent Calendar – Star Wars fans will need to get this one. It has 311 pieces, 24 Star Wars characters & mini models including Darth Vader with Christmas sweater decoration and Tauntaun with a red nose, Millennium Falcon, an A-wing, TIE Fighter, X-wing, Anakin's Podracer and Darth Vader's Castle. So many cool items this year. (LEGO Shop)
Harry Potter Advent Calendar – This year's Harry Potter advent calendar features a chance to recreate Hogwart's holiday scenes. "Includes Harry Potter, Hermione Granger, Ron Weasley, Padma Patil, Parvati Patil and Cho Chang minifigures, plus buildable models such as a miniature Beauxbaton's carriage and dining table with ice-castle centerpiece." Great selection of mini-figs and 333 pieces total. (LEGO Shop)
City Advent Calendar – The City Advent calendar is looking good this year! I love the fun pieces they include that you can use for a lot of different builds. There are 6 minifigs including a Santa with letter minifigure. There are a lot of little vehicles this year which I know will be a hit! There is a nice variety and 342 pieces. << FYI this set has been dropping in price lately. And it has good reviews already. (LEGO Shop)
Friends Advent Calendar – There are 2 figures, 2 elves, a snowman and a penguin included in the 236 pieces. There are some good holiday-themed items in here. I'm a boy mom and never as impressed by the Friends sets but I know some of you like them, so here it is. (LEGO Shop)
Regarding the LEGO Advent Calendars (and really, all of the sets featured here) as we get closer to Christmas the price on these can go up, or they can sell out. The earlier you make your purchase, the better.
Every year, I get people asking me to please help them find one of the Advent calendars because they didn't buy when they first saw it.
I have been able help and they were very grateful. However, please believe me when I say buying ahead of time is the way to go.
New LEGO Ornaments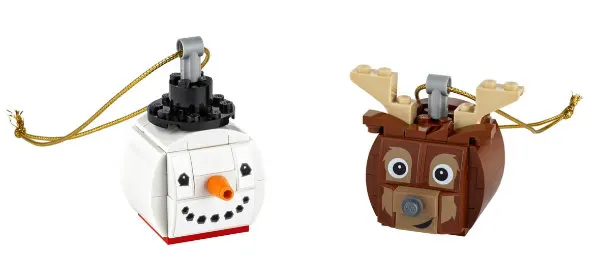 There are three new LEGO ornament sets I knew you were going to want to see so I included them all here. Which is your favorite?

Grab the Santa Ornament, the Reindeer Ornament, the Snowman and Reindeer Duo or all of them because, I'm sure you tree can always use more LEGO!!
For more LEGO ornaments go here. There are some cute ones. However because they are retired, a few of them are getting up there in price so keep that in mind.
The ornaments make cute stocking stuffers. For more stocking stuffer ideas see The Best LEGO Stocking Stuffer Ideas – Ever!!
NEW LEGO Christmas BrickHeadz Set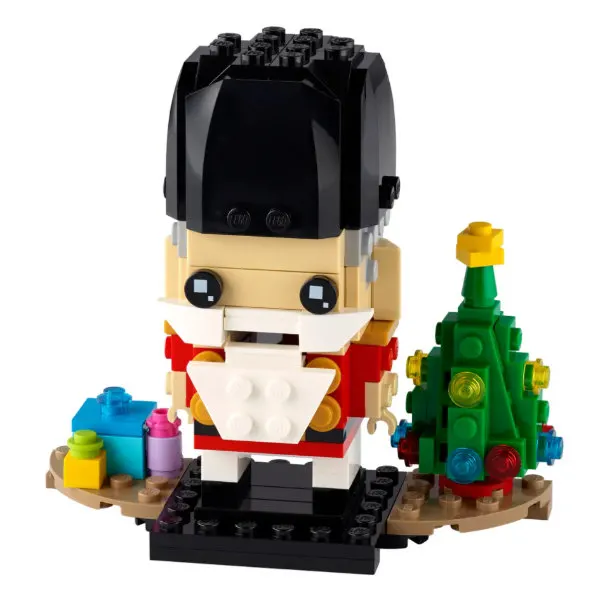 So, are you a nutcracker fan? Some people love them and some people do not. I don't really think there is much of an in-between feeling on this.

The newest Christmas LEGO BrickHeadz set is Nutcracker. And, if you do like nutcrackers than you can't help but like him. He is super cute with a little tree sitting next to him and a few gifts on the other side. I like him enough to get him and the price on the BrickHeadz is always nice.
If you would rather have an additional BrickHeadz set or another option see the Mr & Mrs Claus below.
LEGO Christmas Wreath 2-in-1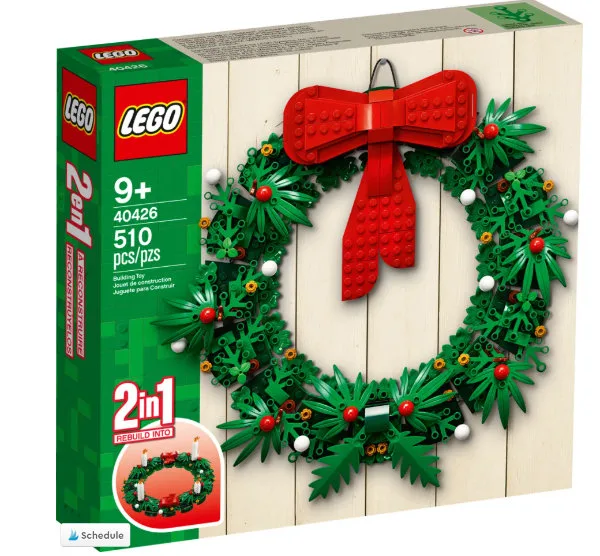 Well! It is always great to see something unique and original come out from LEGO isn't it? The Christmas Wreath is great! The use of plant pieces is fantastic.

Coming in at 510 pieces the set is actually a 2-in-1. You can build the 9 inch wreath with the red bow or the table wreath with candles. One fun thing is that you can take bricks out of the candles to simulate them going down.
NEW Winter Snowball Fight Set
If you are looking for a set to keep the kids busy while you are building one of the bigger sets, this is just the ticket. Or maybe you just want it for yourself!!

Though small, the Winter Snowball Fight has a lot going for it. Two minifigs, one with a winter hat, and a husky dog makes it pretty fun. Add in sleds, skis, a snowman to build and a little hot chocolate station and you have a winner. Oh and don't forget the Christmas tree! I know you will enjoy it.
LEGO Christmas Sets Still Available
LEGO Creator Gingerbread House – Winter Village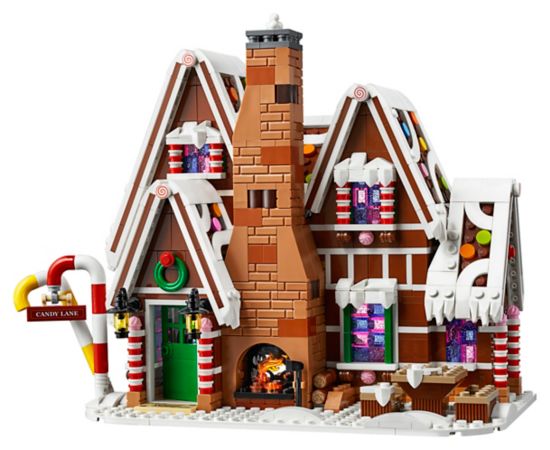 The LEGO Creator Gingerbread House (LEGO Shop) will wow you! Just take a look at it. 2019 Creator Winter Village set. Every village needs a gingerbread house, right?!
I'm a big fan of small details and this does not disappoint. From the fireplace with stockings hanging over it to the gingerbread mom and dad with their little baby (<< cute!) it is packed with little things to find.

The snowy frosting feel of the house is fabulous. If it is out of stock on LEGO, try here.
BrickHeadz Mr & Mrs Claus
Mr. & Mrs. Claus BrickHeadz set was released 2 years ago but I still love it. Look at all the great accessories!
I am linking to two places to get this one. Check the prices to see which one is best. Check price on Amazon – it goes up and down as we get closer to Christmas. Sometimes it is cheaper than the LEGO Shop, sometimes it is more but at the time I wrote this the LEGO Shop was out of stock.
LEGO Christmas Set Village Fire Station
NOTE: This is now listed as a Hard to Find set.

This LEGO Creator Winter Village Firestation set is still available. It is a winner and the reviews on it are wonderful. These sets are expert level, but really it is just because they are so big. Taking one build at a time, a child can build these.
You can check price on Amazon since that is the only place I see it right now.
I think the fire engine is my favorite piece and it looks very fun to build. Of course, the Christmas tree is pretty darn neat as well.
Overall it is a great addition to the LEGO Creator Winter sets. Whether you only get this one because you have a fireman fan on your hands or you get it to go with all of your other sets.
LEGO Christmas *****
This one was still available when I wrote this post. Hopefully the supply will last for a while longer.
LEGO Christmas Train Sets
We really can't have an article about LEGO Christmas sets without including trains!
The Winter Holiday Train is a sight to see. It comes with an engine, two cars and a caboose.
Included are 5 minifigs for plenty of display setups or play opportunities. It also has top notch accessories which you can see here (Amazon)
It wouldn't be a train without the track, and 16 curved pieces are included. You can make a circle with them or have it going straight across. Don't miss this one!
UPDATE: This one is still available but there were not many left at the time I updated this post.
If you don't want to go all out for the expert train set above, or you have a younger builder, you will like this mini train version.
The Christmas Mini Train Ride is a great stocking stuffer for kids of all ages!
See it on Amazon or in the LEGO shop.
With 169 pieces and plenty of Christmas cheer this set is just right.
It even has a built-in gift tag on the box.
What a fun set for the holidays.
LEGO Creator Expert Winter Toy Shop Christmas Set
UPDATE: Now retired but still available – at the time I updated this post there were 7 sets left on Amazon.
This LEGO Winter Toy Shop is perfect on its own or as part of a Christmas village. Just look at that shop! It is so neat!!
The accessories are wonderful as well . . . the tree with the ladder and star, the lights with the wreath, so many great details.
What I love best about this set is all the minifigs. There are carolers, a boy with a teddy bear, one is even building a snowman and more. 8 minifigs in all.
The level of this set is expert and it has 898 pieces so it is a big one.
Add this Winter Shop to your LEGO collection today!
---
There are still some great sets available from past years. I highlighted the ones I really like above. If you want to see everything that is currently available, click this link to see what is left.
I hope you found the new LEGO Christmas sets you were looking for. I will keep updating this list with new sets as they are released and will make sure to fill it each and every year with all the new Christmas sets.
Thanks for stopping by – Merry Christmas and Happy Building!
If you need more LEGO gift ideas, see these guides!
LEGO Gift Ideas: The Ultimate Guide
The Very Best LEGO Stocking Stuffers – EVER!
LEGO Books That You Won't Want to Miss!