Here are some more Fun and Easy Halloween Science Projects for you. This time with videos!
Take some time to gather your supplies because your kids are going to go crazy for these awesome (and gruesome) projects.
Tossing a bit of science into Halloween fun is a super way to get kids learning. Honestly, who doesn't want to do these? They are a scream! (ha! – couldn't resist 🙂 )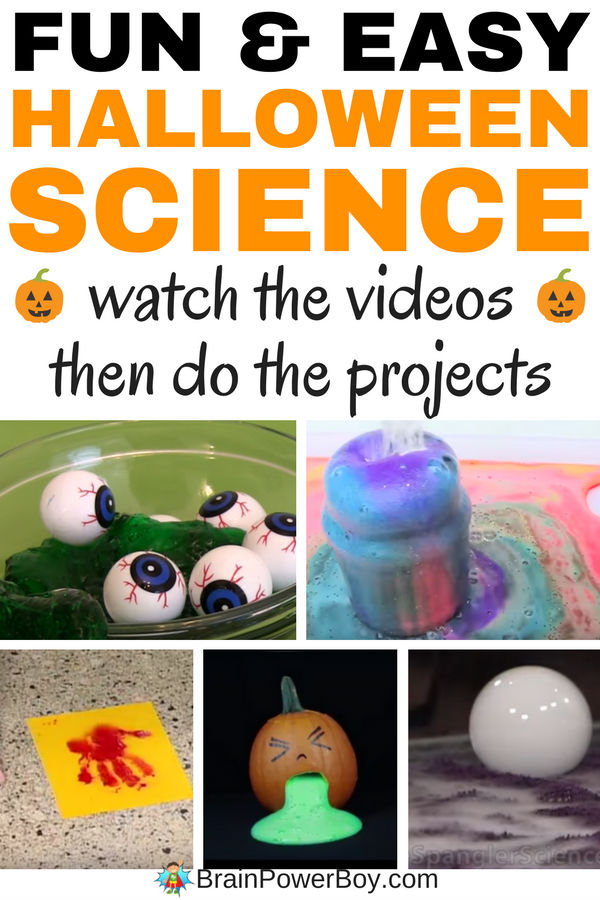 This post may contain affiliate links which means we may receive a small commission, at no cost to you, if you make a purchase through a link. All opinions are our own and we share things we think would be of interest to boys.
Fun and Easy Halloween Science Projects
If you are looking for fun and easy Halloween science projects that are perfect for kids you have to take a look below. These are great for your homeschool, for a classroom science project and don't forget to break them out at Halloween parties!
Ghostly Bubbles
Make Boo bubbles that look like mini ghosts by following the directions shown here. Watch what happens when you touch them – poof!
Mystery Messages
The bloody handprints are just creepy! They look so realistic. I'm sure your kids will want to make them again and again. They will also get a kick out of the hidden and black light mystery messages. They use a special paper for the experiments which you can get here. It isn't regular goldenrod paper you get from the office supply store.
Fake Blood & More
This video has a wicked witches brew, fake blood made with drink mixes, spooky slime with creepy eyeballs and glow-in-the-dark jello. Do some halloween science experiments and have a scary snack too!
Wizard's Brew
Wizards brew – you could totally do this one in Halloween colors! This is a very fun activity for kids of all ages. This video is mesmerizing to watch!
Ultimate Oozing Pumpkin
If you have not yet done an oozing pumpkin Halloween science project, I highly recommend you give it a try. It is so simple but has such a neat disgusting effect.
Interested in even more Halloween Science? Try our Halloween Science Projects article which is full of spooky fun ideas.