Are you looking for some fun Halloween science projects to do with your kids that are just a bit spooky and totally fun? Have we got the article for you!
We found 8 totally goulish and completely spooktacular halloween science activities that will get them learning and having a blast.
These are the types of science projects your boys will be begging to do! Call them over to have a look and let them help you choose which ones to do.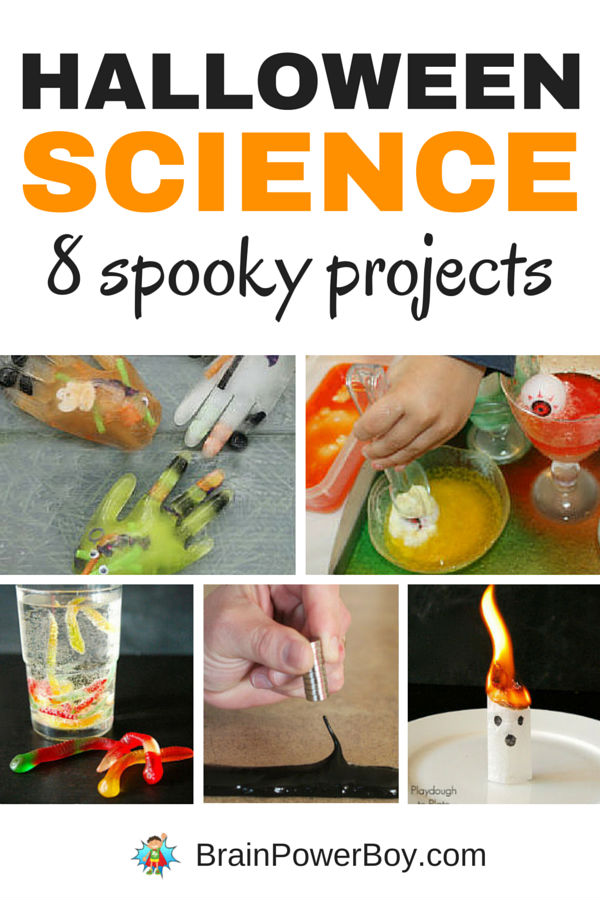 This post may contain affiliate links which means we may receive a small commission, at no cost to you, if you make a purchase through a link. All opinions are our own and we share things we think would be of interest to boys.
Halloween Science Projects
1. Get ready for Fizzing Eyeballs! A bit of science fun wrapped up in a creepy eyeball activity.
2. Watch out! That slime is creeping! This black slime is perfect for Halloween and when you put magnets over it you can make it move! NOTE: You are going to need some of this powder and you should be prepared to get messy. Magnetic Slime.
3. Easy salt and water Halloween science experiment that older boys will like as well. They are frozen hands with eyes, bugs, and other Halloween items in them.
4. Exploding Ghost Peeps looks too good to pass up. A tad messy but the reaction is a lot of fun. My tip is to put paper towel on a dish and put those under your experiment before trying it to make clean up easy.
For making magnetic slime
Peeps Marshmallow Ghosts
12 Hollow Plastic Eyeball Balls
5. These ghost rockets fly up pretty far and they are really easy to do (outside activity!)
6. Learn a bit about what makes things glow in the dark with this spooky looking centipede bottle.
7. Grab some Frankenworms (gummy worms) and make them move!
8. Oh my, this is a neat experiment. Tea Bag Ghosts. Honestly, if you have not tried it you really should. Wait until you see what happens when you set it on fire (oh yeah, I forgot to mention there is fire involved!) This is a favorite Halloween science activity!
Best bottles for projects
Realistic Bugs for Halloween
Large Fruit Gummi Worms
Just for fun, here is a link to our all-time-favorite Halloween song to put on in the background while you play around with science. You can listen free with Prime
! (special offer: you can get a 30 day free trial if you don't have Prime already.)
I hope you will get some science learning in by doing these Halloween science projects – they are a real scream!
For more Halloween fun try these:
Fun and Easy Halloween Science Projects with Videos
Funny Halloween Books for Boys
5 Spooktacular Halloween Perler Bead Pattern Ideas
Be sure to check out this neat Halloween Costume Planner Printables from Scattered Squirrel. It has everything you need to make Halloween Costume planning fun and enjoyable for everyone – including mom!
The Super Mommy Club brings us a wonderfully spooky spider recipes your kids are going to love. You have to pop over and see these fun food ideas!