We gathered together the top LEGO Valentine's day gifts for boys and they are all under $10.00!
Valentine's Day is a sweet day to show your boy some love.
I like to get my son a little something on Valentine's Day, and that little something is usually of the LEGO variety.
Enjoy! By the way, we have a lot of other selections in our big Gift Guide for Boys.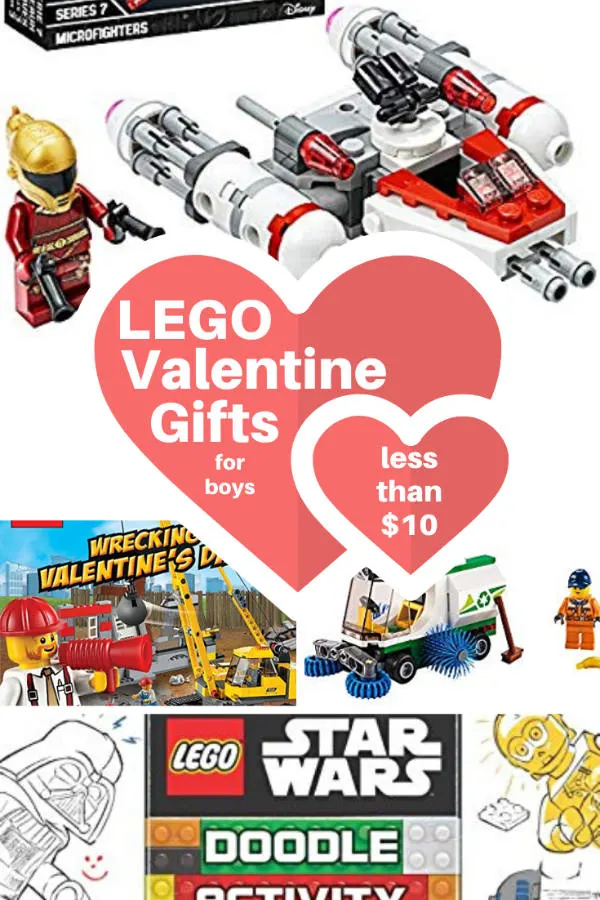 This post may contain affiliate links which means we may receive a small commission, at no cost to you, if you make a purchase through a link. All opinions are our own and we share things we think would be of interest to boys.
LEGO Valentine's Day Gifts for Boys
Here are the best ideas for giving your boy a bit of LEGO love at Valentine's day. You know they love LEGO and I guarantee a little surprise with certainly brighten their day.
PLEASE NOTE: My main image may include things that are no longer available. I am sorry about that! What happens is that prices changes frequently and sometimes things are out of stock or no longer available.
I try to keep this list as up to date as I can. That does mean switching some products out for other ones. Do let me know in the comments if you see something that is out of stock, or if the price went up. I will fix things pronto!!
LEGO Books To Give For Valentine's Day
Wrecking Valentine's Day!
Books are always a wonderful choice and this one will be a hit with young LEGO fans.Wrecking Valentine's Day is a funny story where science goes a bit wrong and suddenly everyone in LEGO City is all about love.
Dogs are loving cats, workers are loving their wrecking balls and more wacky love is afoot. Can Valentine's Day be saved?
See our list of Funny Valentine Books for more great Valentine selections.
---
Doodle Activity Book (LEGO Star Wars)
If your boy doesn't have this book and he likes to draw, you should seriously consider getting it.
The Doodle Activity Book is packed with fun.
It is a combo of an activity book and a drawing and doodling book.
Look at all the neat LEGO Star Wars coloring options!
&
---
These Aren't the Droids You're Looking For
Oh, what a fun activity book!
LEGO Star Wars: These Aren't the Droids You're Looking For features LEGO Star Wars heroes and villains in a neat seek and find book.
If your boy likes search and find type books this one will be a sure hit.
It is packed with action, has a lot of funny things to enjoy and will keep them occupied searching for their favorite characters and the things they need to find for hours at a time.
---
LEGO Activity Books With Minifigs Included
Harry Potter fans will love this fun activity book! The minifigure is Harry Potter with Hedwig!! Comics, puzzles, mazes and game await!
If Jurassic Park is more their speed, do not miss the Jurassic Hero book. Solve puzzles, read comics and build the minifig. All with prehistoric goodness!
Oh boy! I found a LEGO Movie 2 activity book with the new Emmet!! They say it is awesomer so we will go with that 🙂
Stickers LEGO Gift Idea for Boys
These sticker books are a lot of fun. Two of the books contain over 1000 sticker each! That ought to keep them happy and busy. Did you know that stickers are wonderful for helping boys with their fine motor abilities? True!
The LEGO Minifigure Ultimate Sticker Collection includes over 1000 reusable stickers! You can create cool and fun scenes with the stickers.
The LEGO City Sticker Storybook is great for younger boys. This book lets you play along with the story. They ask you to find specific stickers or help them complete the scene with your stickers. Fun!
Stickers galore! The Ninjago Ultimate Sticker Collection has over 1000 reusable stickers featuring all of their favorite characters.
LEGO Baseplates
The LEGO Classic Green Baseplate or LEGO Classic Sand Baseplate (tan) is a great choice for boys who are really into building.
While it may seem like an unusual gift, I can tell you that my son was super excited when I gave him one. Just think of the building possibilities!
AND – oh my gosh – there is a brand new white LEGO plate out this year!! Grab it here.
LEGO Classic Green Baseplate
LEGO Classic Sand Baseplate
&
---
LEGO Minifigure Series Packs
Pick up a couple of the LEGO Minifigure series packs.
They are little packs that have a LEGO minifig to build and which minfig is included is a mystery. They are $3.99 each in stores such as Walmart and Target.
I am not including a link because they are way overpriced online and I don't want you to pay too much.
LEGO Sets for Valentine's Day Gifts for Boys
Here are some LEGO sets that are under $10.00, look awesome, and are sure to be a great choice. Wrap them up and surprise your boy.
<
LEGO Star Wars Resistance Y-Wing Microfighter seems a great choice since the new Star Wars movie just came out. Includes a microfighter and a resistance fighter, Zorii Bliss.
Another great choice and new in 2020 is this LEGO City Street Sweeper set! Just look at it. This set is an awesome addition to the City line. Grab it now before it sells out.
Brand new and pretty darn awesome is this LEGO Marvel Avengers Iron Man Mech! They are similar to Bionicles and Hero Factory sets but with a superhero twist. Pretty cool!
LEGO BrickHeadz!
Did you know that these LEGO BrickHeadz are a hot collectible item? Well, they are, so if there is a character your boy likes be sure to snatch it up before they are gone.
Here is one that is under $10 but there are a few more here.

I found this cute LEGO Valentine Bee Brickhead! Perfect, right?
There are our top LEGO Valentine's Gifts for boys and they are all under $10.00! What a deal!!I hope you find some good ideas that he will enjoy. I have the perfect LEGO valentine gift for my son all picked out.
You can pair these gifts with a free printable LEGO Valentine too! Just print them out and use them as a gift card. Or try our LEGO Valentines post with DIY valentines to make at home.