Ready to win at gift giving? Try these personalized LEGO gifts that your LEGO fan is going to absolutely love to receive.

There is nothing quite like a gift that is made especially for someone. Not only do they get the cool item, but it is extra special because you took the time to have it personalized and customized just for them. That really shows them how much you care.

We set out to find the very best custom LEGO gift ideas and we did!

Believe me, these are the types of gifts that people get really excited about. Bonus: You will get thanked again and again!
Personalized LEGO Gifts
Let's get to the fun LEGO gift ideas!

Each item below is able to be customized. I'll let you know what types of customization is available for each one.

I will also let you know if there are additional options from the seller. Some of them had some very neat LEGO items and choosing only one to highlight made for some tough decisions, let me tell you!
LEGO Name Signs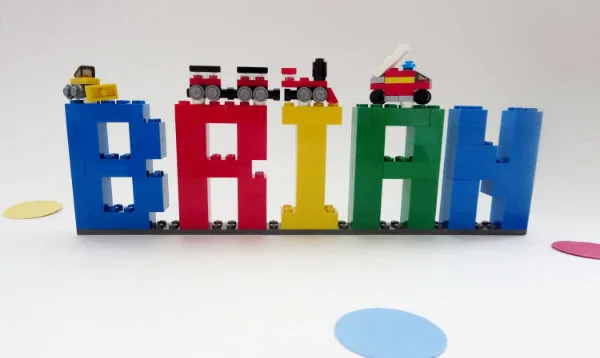 Spell out their name in bricks! This LEGO name decoration is custom made from LEGO bricks. Pricing depends on name length.

It includes the decorative items as well, which is a nice touch. You can choose 3 accessories. Select from fire truck, train, snow plow, boat and submarine. You also get to choose the color of the letters.

Go here for more choices of style and accessories including dinosaur, Batman, Minecraft, superhero, and Star Wars theme.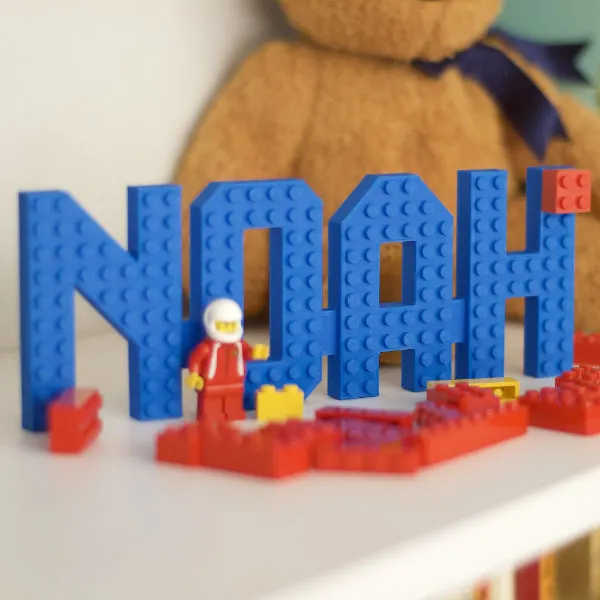 This LEGO name sign is 3D printed. You can attach LEGO bricks to the name to decorate. It comes in 8 different color options and you can have a word or name as long as 12 letters.

Someone in the comments said they did the word family and then decorated it with custom minifigs (see option below!) I think that is a pretty neat idea as well.
LEGO Door Sign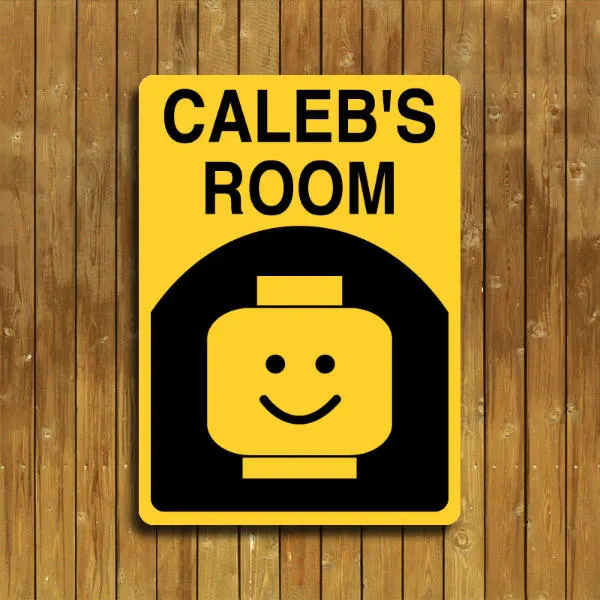 If you are looking for a bit of LEGO room decor, try this personalized minifigure head sign and add a name to it.

You are able to customize size, color, and wording.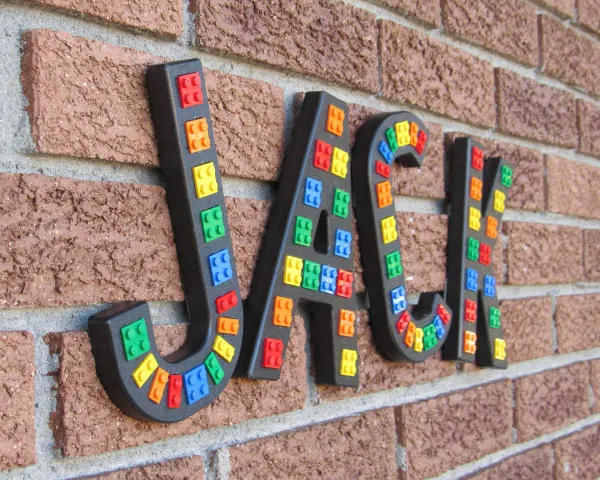 I love the look of these letters! They are seven inches tall and are made of poly lumber. They have LEGO plates attached allowing you to build upon each letter.

Go check it out and grab a cool gift for any LEGO fan – AFOLs (adult fans of LEGO) included!

It would be amazing to pair it with a DIY LEGO table and put the name above it.
LEGO Travel Box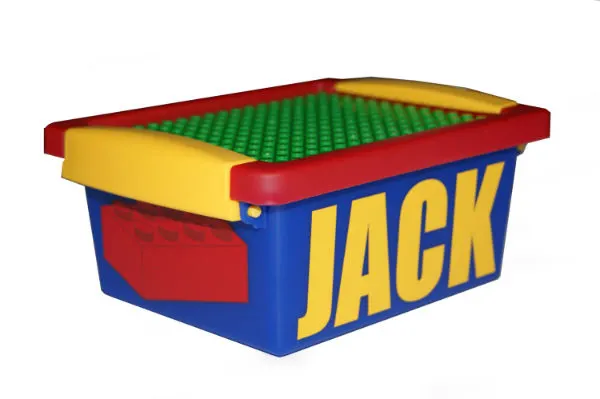 This brick storage box is super cute. It can be used to store bricks or even as a travel box. Having the LEGO plate on top makes it easy for them to have a place to build when you are on the go.

The size is approx. 7″ X 5.5″ There are two color options primary (shown) or pastel. You are able to choose the font style you want as well.
Custom LEGO Lunch Box
A LEGO lunch box! I found a nice metal lunch box with a LEGO theme that you can customize with a name. You also get to choose the font.

It has chalkboard interior so you can leave a note which is a pretty neat touch.

I happen to know adults who are very into various fandoms and AFOL who have a metal lunch box, so I am sure people of many ages will enjoy this one.
Engraved LEGO Brick Keychain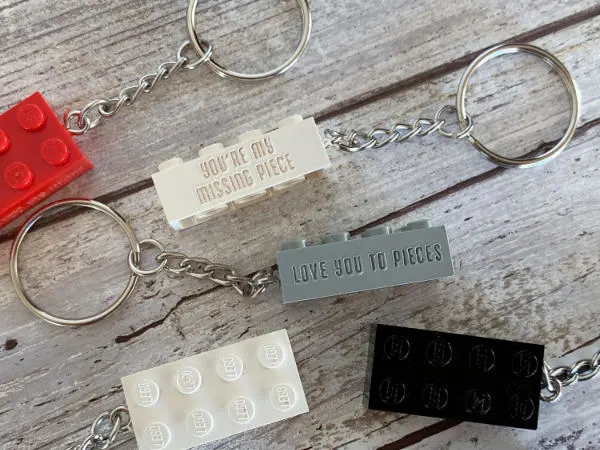 How about a keychain with a personalized message on it?

There are a lot of options! You can choose one of the sayings they list, such as those seen above, and add a name to the other side. Or, you can go completely customized and have them write whatever you like.

It is great for hanging on a backpack or to use as a keychain. 8+ colors are available.
Framed Personalized LEGO Decor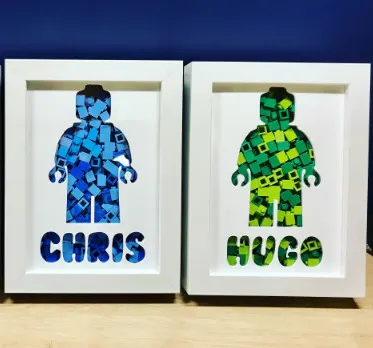 Framed and personalized LEGO gift with a minifigure body and name cut out makes for a unique idea that would be great in a child's room, a game room, or, if you are lucky enough to have a LEGO room, it would be awesome there as well.

You can order it with bricks as seen above, or choose to get one without bricks and put your own pieces in. I like they way it looks with the 1x1s myself.

If you prefer a word instead of a name, message the seller and ask. It looks like you can go up to 9 letters or so.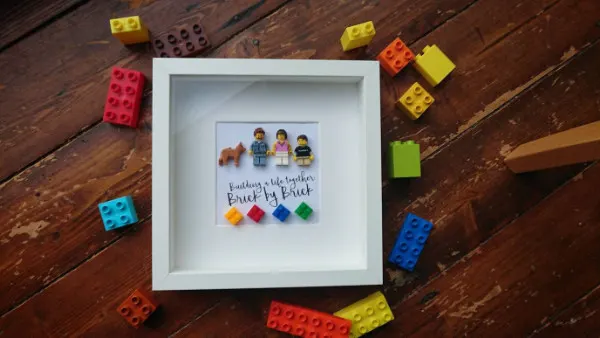 There are a lot of different options available for this idea including the pictured LEGO family portrait.

Keeping your recipient in mind, choose number of minifigs, black/white/oak frame, and then let them know each person's characteristics and they will pull together a unique LEGO gift not soon to be forgotten!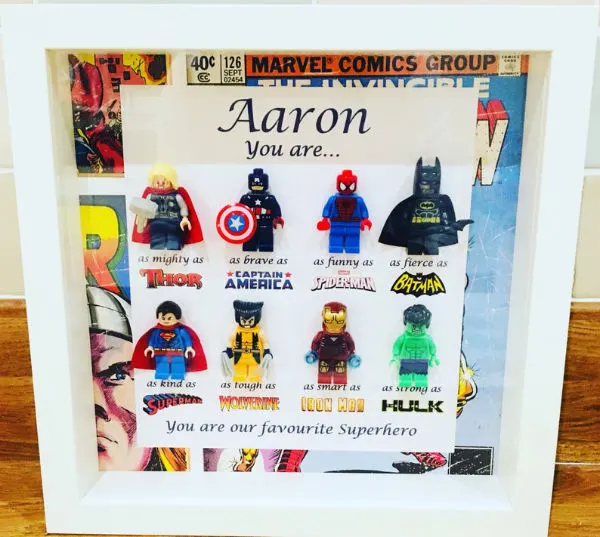 I have to say that I really love this Custom LEGO Shadow Box idea a lot. Not only will LEGO fans love it, but superhero fans will as well. If they like both . . . well, they will love it 2X (or maybe 10X) as much!

It comes in white, oak or black frame and with or without the comic background. You choose the name and the phrase at the bottom.

Plus, they have a lot of different fandom selections and other options as well! Take a look at them all here and choose from Harry Potter, Toy Story, Minions, Star Wars and a whole lot more.
Custom LEGO Minifigure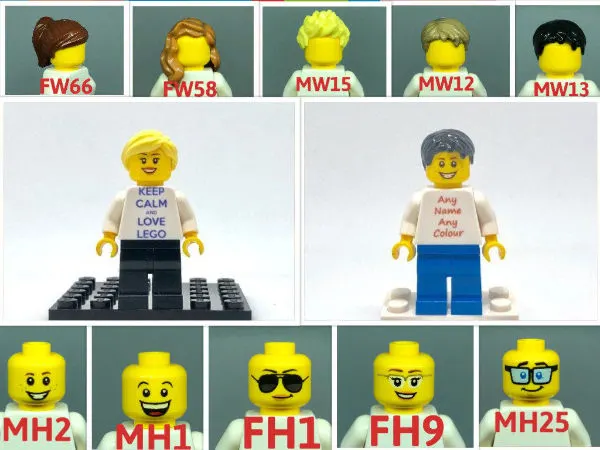 Well, this image has a whole lot going on, doesn't it? It lets you have a taste of what is available though, so I am sharing it.

You can get a custom minifigure made to order. How cool is that?!

There are so many options, I think you will be able to build a perfect gift for your LEGO fan. Choose from many hairstyles, and choose the type of head you want as well. Then let them know what words or name you would like on the front. Wow!
LEGO Font Name TShirt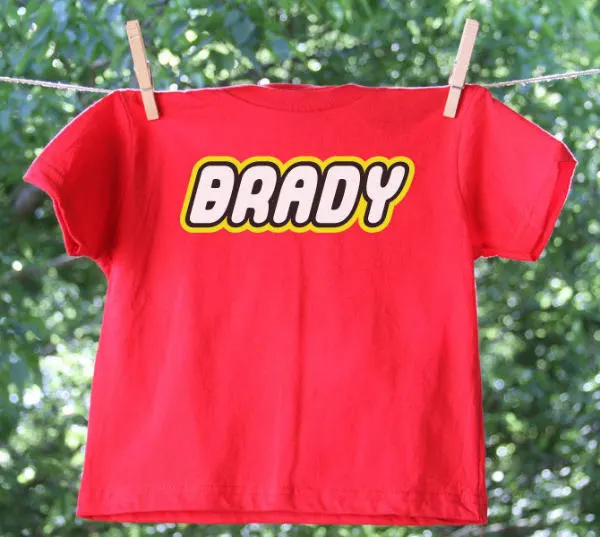 This is perfect! Get their name on a shirt in the LEGO font!

Anyone who is a big LEGO fan will recognize the stylized font on the tshirt. Trust me, they are going to like this gift.

Available in red and orange only. I do wish there were more color options but that is what they have. Sizes range from 2T to adult XL which is great.
Personalized LEGO Tray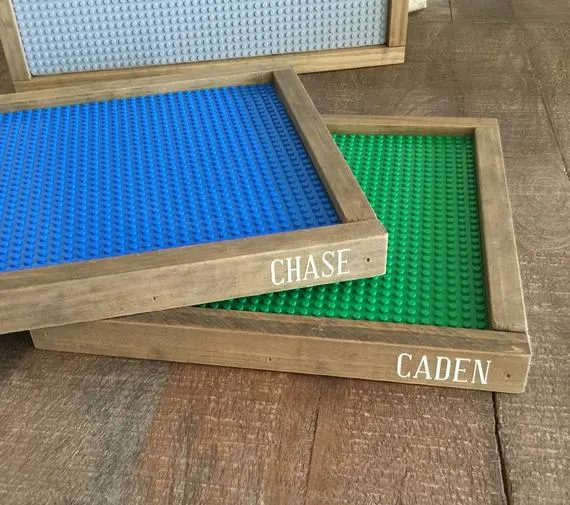 Jump over to my Personalized Gift Ideas for Boys post for this cool LEGO tray. The plates are available in many colors and they will add a name as well!
Looking for more LEGO ideas? Try these:
Ultimate LEGO Gift Guide
LEGO Books You Don't Want to Miss

Or, if you have boys be sure to see our Big Gift Guide for Boys