When looking for personalized gifts for boys, I ran across some really great ones and ended up deciding to write a post so I could share them with you!

I scrolled through hundreds of listings (I'm picky about what I share with you!) and ended up with these great gifts that boys will love.

Take a look and find the right gift to give to the special boy on your list.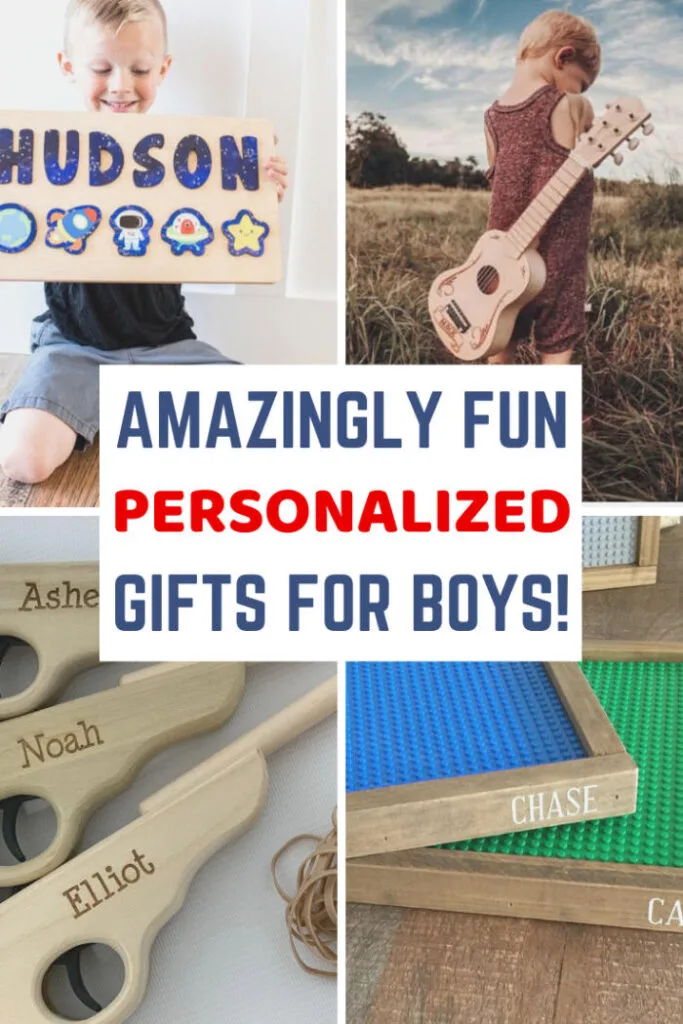 This post may contain affiliate links which means I may receive a small amount, at no cost to you, if you make a purchase through a link. All opinions are my own and I share things I think would be of interest to boys.
Personalized Gifts for Boys
Giving a special gift means taking the time to make sure it is just right for the person receiving it.
There is nothing more perfect than including personalization on an already amazing gift.
Not only will boys love the special touch of seeing their name written out right on the item, but they will have a lot of fun playing with them as well.
Pick the one that will fit him the best!
Photo Credit: www.etsy.com
Oh my, just look at this nice, and inexpensive, wooden car! It is great and reviews say it is even better in person.
Photo Credit: www.etsy.com
These are so fun, you may want to get a few of them! We have rubber band guns and have used them a lot.
We set up targets, plastic soldiers, and more to shoot at and have a great time playing. Even adults want to get into the action!
Photo Credit: www.etsy.com
You can choose the look of your superhero as well as add his name on this fantastic puzzle.
They also allow you to choose a 60, 80, or 120 piece puzzle making it good for multiple ages.
Photo Credit: www.etsy.com
Speaking of superheroes . . . how about a cool superhero cape with his name on it?
There are a lot of different choices here including superhero, shark, pirate, pilot, spider and firefighter that boys will go crazy for. Pretend play rules!
Photo Credit: www.etsy.com
I grabbed this space themed wooden name puzzle because I love it so much, but there are a lot of other name puzzles to choose from if you simply click on the seller's name once you get on the listing.
I saw nature themed, elephant, farm, camo, dinosaurs, police, diggers and many more that boys would totally want.
Photo Credit: www.etsy.com
I couldn't pass this up! Their name spelled out letter by letter in crayons they can actually use.
Pair it with a big pad of paper and you have a winning gift idea for sure.
And, I found the one that uses Crayola crayons because they are the best.
Photo Credit: www.etsy.com
Well, this charming wooden toy guitar had to be added to the list! (See our other wooden toy posts for more ideas as well)
It has a wonderful look to it, doesn't it? Grab one for your upcoming musical genius.
Photo Credit: www.etsy.com
This wood covered harmonica can have up to 12 letters engraved into it.
Isn't the engraving awesome looking?! I love it. This is a nice gift that will last for a long, long time.
I like that it is stocking stuffer size. As they say, good things come in small packages!
Photo Credit: www.etsy.com
If you have a LEGO fan, you really need this tray! It has a baseplate on the bottom so they can build whatever they like up onto it and it even features their name!
Select the color of plate, the size, and what word/name you want included on the frame.
I hope you enjoyed taking a look at these personalized gifts for boys! I found exactly what I was looking for and I hope this helped you find the perfect gift as well.

I just know they are going to love these!

For more great ideas try these gift guides:
Ultimate LEGO Gift Guide
Best Wooden Toy Barns
Incredible Card Table Playhouses

Or give the Etsy Gift Guide a try.