I decided to go find the very best Christmas ornaments for boys and here they are!
Boys like ornaments too! I remember my brothers making ornaments in school and how everyone enjoyed hanging them on the tree. Then when we opened up the ornament box the next year we were all excited to see the ornaments from past years.
We also made them at home with my mom. It was always fun to get out the paper and get crafting.
I have put this post into two sections for you. The first is Christmas ornaments for boys to make and the second is LEGO Christmas ornaments.
I'm sure they will enjoy them both. Have fun! Be sure to see our other activities for boys when you are done reading this.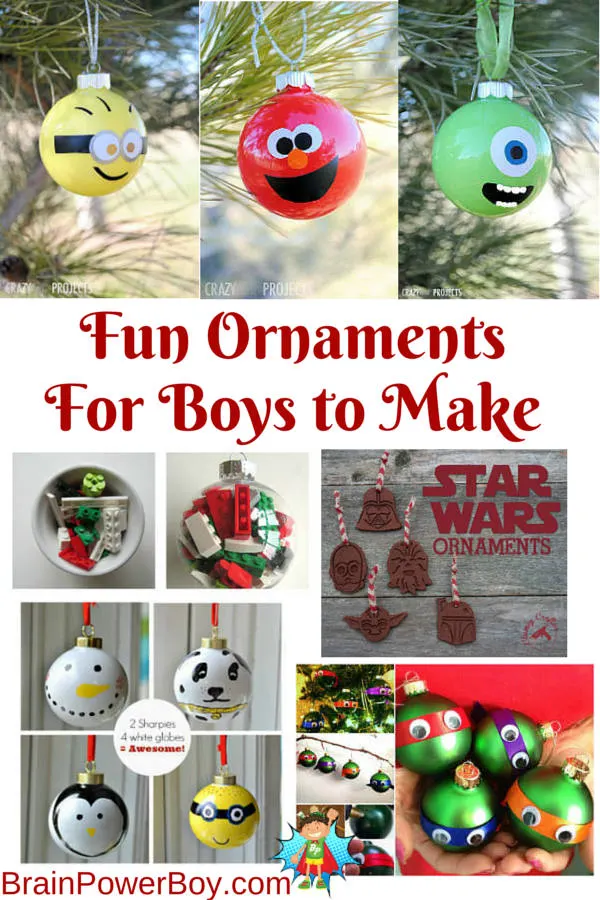 This post may contain affiliate links which means I may receive a small commission, at no cost to you, if you make a purchase through a link. All opinions are my own and I share things I think would be of interest to boys.
Christmas Ornaments for Boys!
Christmas Ornaments for Boys to Make
* Here is a very easy to make LEGO bricks ornament made with fill-able Christmas balls. She used ornaments that have a decorative piece at the top and a small hole to put the bricks in.
These would also work and might be easier for young makers: Clear Plastic Ball Ornaments. Simply place LEGO bricks right into the opening for a colorful, fun ornament. Nice for younger boys to make.
* Seriously? 2 sharpie markers and 4 white globes is all you need to make these delightful ornaments. Get your boys making some today! Snowman, puppy, penguin (my fav) and Minion.
Be sure to get the right type of Sharpie Marker. She used Sharpie Paint (I am linking to a set so you can see them–you can try to find them at an office supply store if you only want the two you need for this project)
---
Here are the supplies we recommend for the Christmas Ornaments for Boys
Plastic Ball to make LEGO ornament. Good brand that opens for filling
For drawing snowman, penguin, Minion & puppy ornaments

4-Piece Heavy Duty Glass Balls for Minion, Mike & Elmo ornaments
4 Pcs/set Star Wars Cookie Cutter for cinnamon ornaments
Green Drilled UV Matte Ornaments for TMNT
Set of Star Wars Gingerbread Cookie Cutters for cinnamon ornaments
&
---
* Here are a few more fun Christmas ornaments for boys to make. The eyes are made from pieces of vinyl and you need a bit of paint as well. Minion, Mike Wazowski, and Elmo! Use glass ornaments like these heavy duty glass balls.
* I don't know about your boy, but mine loves Star Wars. These Star Wars ornaments are made out of cinnamon! They really caught my eye and I knew I had to include them. Very Cool!
You could use these cutters with C-3PO, Darth Vader, Yoda and Chewbacca, or this awesome Star Wars Gingerbread cookie cutter set by Disney.
* Try these easy to make Teenage Mutant Ninja Turtle ornaments if you have a ninja fan in the house.

Make LEGO Christmas Ornaments
* LEGO! Chris McVeigh has been sharing directions for his LEGO Christmas ornaments for some time now—for free! He is a very generous LEGO creator and I love that he freely shares his designs with everyone. So nice.
On a side note, we actually interviewed Chris so be sure to check our Artist in LEGO Bricks Interview with Chris McVeigh.
He has directions for the builds you see in the photo above including:
LEGO Star Wars TIE Fighter ornament
LEGO Star Wars Millennium Falcon Christmas ornament
LEGO Star Wars Death Star Christmas ornament
a LEGO Gingerbread House
Santa's Sleigh
The last two are not technically ornaments but you can easily add a tie of some sort to hang them. Your boys won't care. Or you can add a piece at the top that has a loop.
To see Chris McVeigh's LEGO Ornaments, go to his site for directions.
He also has LEGO kits that you can purchase. His kits make a very nice gift for a LEGO lovin' boy! Look under "seasonal."
I hope you enjoyed this post. It was fun finding some great Christmas ornaments for boys that they would actually want to make. I just know they are going to like these!
Fun! Easy to Make LEGO Christmas Scene