If you and your boys love Christmas, reading, and books, this book list is perfect for you!
Try these Funny Christmas Books for Boys and you will all have a great time, reading, laughing and creating memories together.
We have a large plastic bin of Christmas books that we pull out and read each year. Every year as my son was growing up I bought Christmas books.
I sought out the books I used to read when I was a child and found new titles as well. We have quite the collection now. There are funny ones too and they have always been a favorite.
Enjoy this list from our best books for boys series and let me know if you have any books you would add to it by leaving a comment below.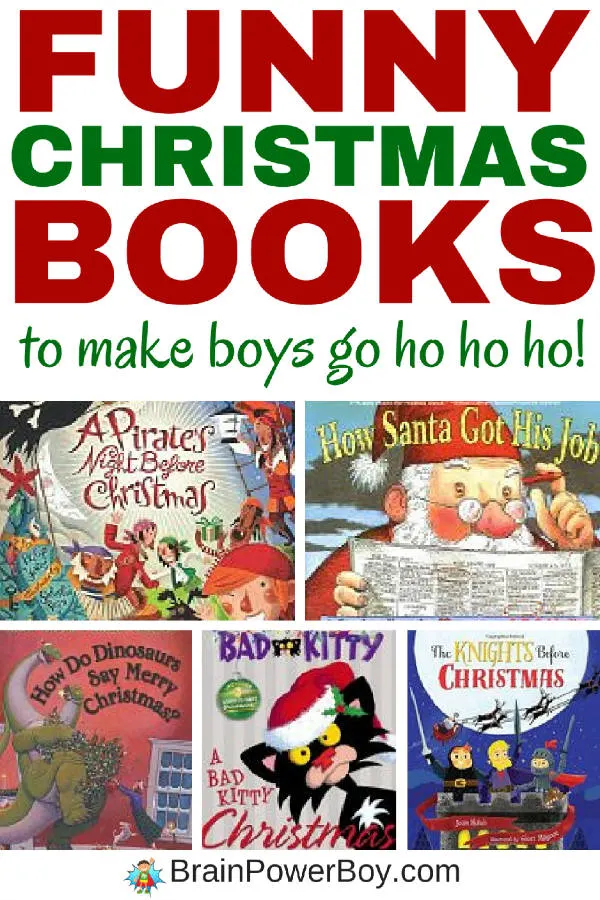 This post may contain affiliate links which means we may receive a small commission, at no cost to you, if you make a purchase through a link. All opinions are our own and we share things we think would be of interest to boys.
Funny Christmas Books for Boys
I have found that boys really enjoy funny books and am putting together some great "funny" book lists for you. See the other lists at the bottom of this article.
What would it be like to have a dinosaur in the house for the holiday season? Find out in How Do Dinosaurs Say Merry Christmas?
. Jane Yolen's How do Dinosaurs . . . series is a winner!
In typical Splat style, this book will make kids laugh. Merry Christmas, Splat
Splat wants a BIG present for Christmas but has he been "good enough?"
Yes, I am a Pete the Cat lover. I don't know if it is the illustration style, or the charming cat, but Pete has something that makes me laugh. I know for a fact that boys love Pete and this Christmas story will hold their attention. Done in a rhyming style this cute and funny book has Pete saving Christmas when Santa gets sick. Pete the Cat Saves Christmas
Bad Kitty is up to her sassy antics again in A Bad Kitty Christmas
She starts off just a tad greedy but in the end learns the true meaning of Christmas and we enjoy the amusing way this comes about.
Let's start of with one I know boys are going to love. A Pirate's Night Before Christmas
is silly, funny and an all around good book to get them thinking pirate – you know with visions of treasure chests and a "santa" with 8 giant seahorses.
Another hit by the author who wrote the book above, this time in the style of the 12 Days of Christmas, is A Pirate's Twelve Days of Christmas
This guy really knows his pirates! This is a fun one for pirate fans.
If your boy leans more toward knights than pirates try The Knights Before Christmas
. There is an invader that must be stopped but little do the knights know it is Santa Claus!
An amusing look at how Santa got his job. And on a side note I love this book because it really shows what you can do if you follow your passion. 😉 How Santa Got His Job
This is a tough one to describe but if you think sassy elf, Santa knocked out cold, Murray the Jewish deli owner to the rescue and some very amusing rhyming lines you about have the idea of this book. Click through to take a peak inside: How Murray Saved Christmas
. Yes, it is unusual!
I cannot begin to tell you how many times I read the Nate the Great series of books! Here is a favorite for the holidays: Nate the Great and the Crunchy Christmas
Christmas is my favorite holiday and spending time reading with my son is something I always make sure we have time for. I hope you will make the time to do the same with your boys.
Try a few of these funny Christmas books for boys, cuddle up on a cold winter day and read, read, read!
If you enjoyed this Funny Books for Boys list be sure to try our other funny book lists: Funny Poetry Books, Funny Pirate Books to Make Boys Laugh, and Funny Valentine's Day Books for Boys.