I love cute. There I said it 🙂 I really do. I love cute little animals, cute crafts, and I really love cute food.
Cute tends to make people happy. Kids love cute too – including boys! I rounded up a great selection of the cutest Christmas fun food you have ever seen.
This is part of our fun food for boys series on the site which is designed to get boys into the kitchen and having fun cooking. These are fun for the whole family – enjoy!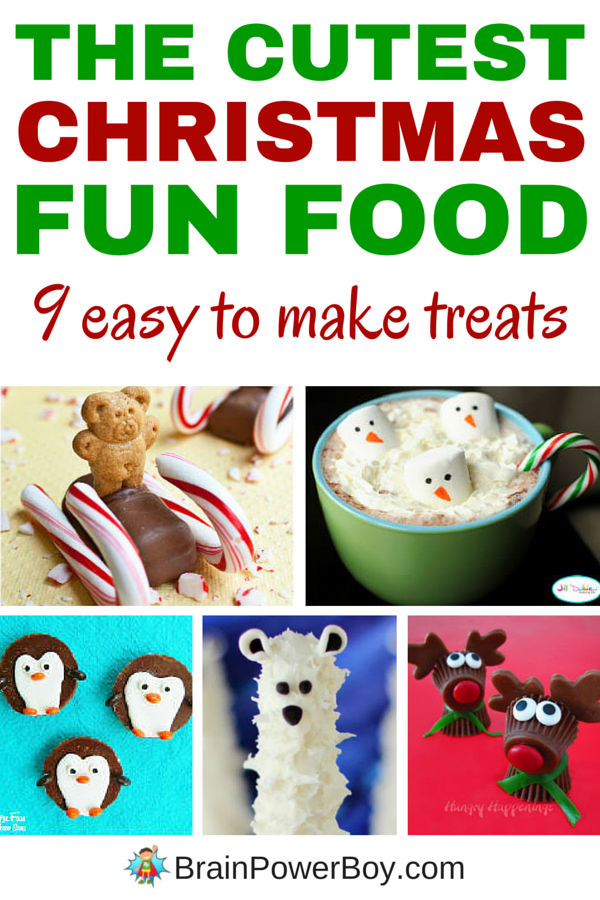 You are going to love making these with your kids. I like to make fun food but I don't want it to take all day. I know we are all busy at the holidays, so I chose ideas that were super easy to make and that come out really good with very little effort.
Christmas Fun Food
Oh my goodness, but these are cute – a little bear riding on a candy cane sled pretty much has to be cute, right!?
No baking required with these little marshmallow snowman pops. I love these because they can be decorated so many different ways. Just put out a variety of sprinkles and goodies and watch what the kids come up with.
These penguin cookies start with fudge stripe cookies making them super easy to make. You are going to love them.
It's a fun food Rudolf and he even has a red M&M for his nose. If you like Resee's Peanut Butter Cups, this one is a must do.
I have loved these since I first saw them and was wondering how they got the fur on the fun food polar bears so – well, furry. Easy! These are great for younger kids as they are made with pretzel rods.
A-dor-a-ble! These pretzel snowmen are easy to make and so impressive. Almost too cute to eat!
I like my hot chocolate! I have never been treated to one quite like this before, but now I am going to have to make these for my son and I for sure. Snowmen in hot chocolate.
Can't forget the Christmas Tree. This one is made with krispie cereal and decorated with M&Ms. Sounds good to me!
Let's end with the jolly old elf. Simple sugar cookies are transformed into Santa Star Cookies with a bit of decorating.
Aren't these ideas cute? I just want to make them all and I hope you will try a few of them with your kids too.
For more articles like Cute Christmas Fun Food click the link and for other activities for boys go here.
Two friends of mine have neat holiday posts to share with you too!
Clare from The Super Mommy Club rounded up 14 of the very best holiday cookies for you to bake with your kids. So hard to pick a favorite.
Alli from Scattered Squirrel has put together a detailed holiday planner to help keep you organized this season. I love the baking plan printable.
Enjoy!