When it comes to graduation gifts for boys there are a lot of choices. We pulled together a selection of gifts that they will actually use.
It is nice to get one of the special gifts like a Monte Blanc pen but the truth is, most of the time it sits in a drawer because the recipient is afraid they will lose it.
These are graduation gifts for boys that they will actually use. They are practical, yes, BUT they are needed and appreciated! Follow this link for more gift ideas for boys.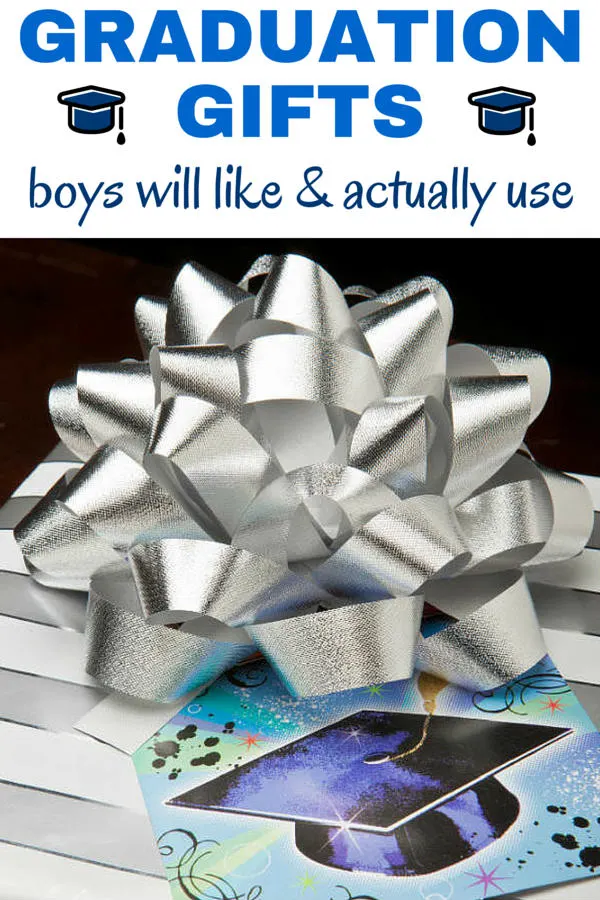 This post may contain affiliate links which means we may receive a small commission, at no cost to you, if you make a purchase through a link. All opinions are our own and we share things we think would be of interest to boys.
Graduation Gifts for Boys
You want to give neat graduation gifts for boys but also something they will actually use.
No point in giving them an expensive gift that never gets used or something they will return. I stick to somewhat practical gifts and they have always been a hit.
Writing Instruments
A Cool Pen or Pencil! Get one they will actually use. Here are three good selections that don't cost an arm and a leg.
Genuine Rosewood Ballpoint Pen
in Wood Gift Box
Cross Star Wars, Darth Vader
Click Gel Ink Pen
Pentel Automatic Drafting Pen
Brushed Metal Barrel
Flashlights The Will Want!
A flashlight to put in a backpack, briefcase or car. We like this one for its excellent light and smaller size.
NOTE: Wrap a 10 or a 20 dollar bill around the base of the flashlight for an extra bonus gift.
Stylus Pro LED Pen Light
Tactical V1-Pro Flashlight
High Quality Tumblers
Going with a YETI, SIC or RTIC tumbler will score you points. Boys love them. Yeti is higher end than Sic but both have a following and both keep drinks hot or cold for a long time without any sweating on the outside of the cup.
Sic tumblers come in different colors. See the listing for more information. Whether you choose YETI, SIC or Rtic they are going to be happy.
YETI Rambler 20 oz Stainless Steel
Vacuum Insulated Tumbler
with Lid
30 Oz. SIC (Seriously Ice Cold)
Stainless Steel Tumbler Double Wall Vacuum Insulated
RTIC 30 oz. Tumbler
18/8 Stainless Steel
Fits More Cup Holders
Business Cards & Holder
Get business cards made with their name and cell phone number. Ask their parents for details and to make sure they are alright with this idea. Business cards are still very popular and they make people stand out and be noticed.
Pair them with a business card holder for a nice gift. This handsome one is highly rated and not expensive at all: Leather Business Card Holder and it is super reasonable or try one of the other inexpensive choices below
Stainless Steel Leather Card Case
w/gift box
Flip Style Leather
Business Card Wallet
A Pocket Knife
An old fashioned gift? Perhaps, but my grandpa had one, my dad had one, and my husband has had a small pocket knife just like this one for years and years and it has come in handy more times than I can count. We will be getting one for my son when he graduates. Get a classic, like the nice Victorinox.
Victorinox Swiss Army Classic
Victorinox Swiss Army Tinker
Victorinox Swiss Army Climber
Tool Set
This tool set has all the basics in a nice carrying and storage case.
My dad gave me a tool box and tools when I left home and it was the best gift ever. I'll be honest, at the time I thought it was an unusual gift, but I still have it (I'm not telling you exactly how many years lol) and we use it on a regular basis.
This is a nice starter kit that should serve them well for many years to come. The reviews are pretty impressive.
Messenger Bag
So many great graduation gift ideas for those boys! No matter which direction your graduate is going, these bags are going to get used. When kids graduate they like to upgrade their gear. Out with the backpack and in with a nice messenger bag like these from Timbuk2 and Samsonite.
These high quality bags are perfect for carrying to college or for moving out into the business world.
Timbuk2 Laptop Messenger Bag
Timbuk2 Messenger Bag
Samsonite Leather Messenger Bag
Mad Libs Graduation Book
We all know that cash is always welcome but just giving just cash is kind of boring.
Try Graduation Mad Libs with a card and some cash.
They will have laugh and laugh while going through the book with their friends.
Even if they have never done a Mad Libs book in their life they will like this.
If they have done Mad Libs throughout their schooling, then this is simply perfect.
Subscriptions
I give them and I love to get them. If you give them a gift card and you will make them happy! They make great graduation gifts.
The key is to make sure it is for something they like to do or someplace they like to go. Here are a few suggestions.
A grocery store gift card from a local store or if they are going to college grab one from a grocery near their school.
Or, give them a unique experience with a subscription box that delivers snacks and candy from around the world each month.
I really love this option and you will too! Go check out all the subscription ideas here. You will be amazed at all of the cool selections. Click on men if you need a grad gift for an older boy. If it is for a younger child's graduation, try kids.
Give them a Prime Student 6 month subscription for free! Student discounts, free Amazon Prime delivery, movies, TV shows, music and more. This is a free 6 month trial then it is only 6.95 per month. Super awesome deal and a great gift idea.
A Kindle Unlimited subscription works for someone who loves to read. Over 1 million titles and a great selection of magazines are included. (1st month free!)
With an Audible subscription they get 3 titles each month of their gift membership: 1 audiobook + 2 Audible Originals. 30% off any additional audiobooks and if they don't like a book you can swap it for free! Plus unlimited listening to podcasts, news, comedy etc. They own the books they get while subscribed. You can choose the subscription duration – 1 month, 3 months, 6 months, or 12 months,
Thank You Cards
I know, you are thinking who wants that, right? Well, I have been genuinely thanked for thank you cards more than once and they get used. It is not something they think to buy themselves but they need them for job interviews, to thank people who helped them out and to thank people for gifts too! I include a note telling them why I got them. Get them a nice set like this one from Crane. I also include a cool pen (see above) and postage stamps.
Crane & Co. Navy Hand Engraved
Thank You Cards
Crane & Co. Hand Engraved
Beach Glass Thank You Cards
Crane & Co. Gold Hand Engraved
Regency Thank You Cards
That rounds out our list of graduation gifts for boys that they will actually use. Believe me, they will like these and not one of them will get tossed aside or returned 😉
Be sure to see our "cheap" graduation gifts if you still have not found what you are looking for. Oh, and you can check out Star Wars gifts as well.