Check out these cheap graduation gifts for boys! We picked out some inexpensive gifts that they will actually like and you can feel great about giving.
These gifts will deliver! They are great to give for high school graduation or even college.
Why give a cheap graduation gift?:
You are frugal
You are low on funds
It is for a casual friend
You have a lot of boys to buy for
You barely know him but do want to remember his special day
No matter the reason, giving a low cost gift doesn't have to mean giving a gift that is not worth giving. We found a variety of gifts that will meet your budget without breaking the bank.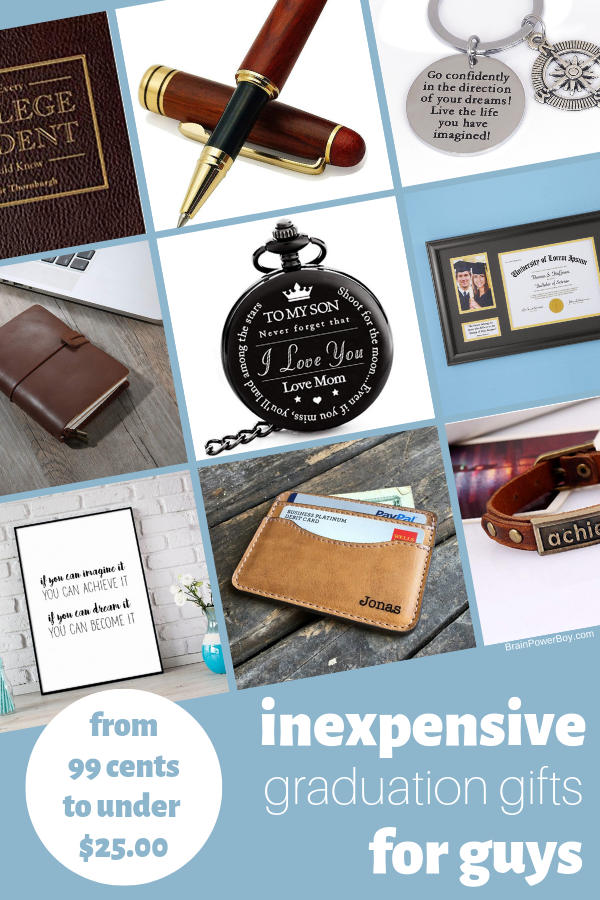 This post may contain affiliate links which means I may receive a small amount, at no cost to you, if you make a purchase through a link. All opinions are my own and I share things I think would be of interest to boys.
I have broken these down into categories sorted by price to make it easy for you.
Since everyone has a different idea of what "cheap" is when it comes to give giving, I've put several good gifts at different prices (starting at 99 cents!)
Cheap Graduations Gifts for Boys
When browsing this list, be sure to keep the boy you are shopping for in mind while also checking your pocketbook to make sure you are spending the amount you are comfortable with.
For some of the gifts, I buy something inexpensive and then add some cash, a gift card, or a note sharing something I will do for them to go along with it. They are always much appreciated! But you do not have to do that.
All of the gifts shared here are under $25.00. We start out at gifts under $5, then go to under $10, under $15, under $20, and finally, gifts under $25 dollars.
Graduations Gifts for Boys Under $5.00
I was pretty determined to start the list with gifts you could buy for under five dollars. Which meant I had to dig deep into my gift giving mojo and research how in the world I was going to find something good for that low amount.
I hope these work for you!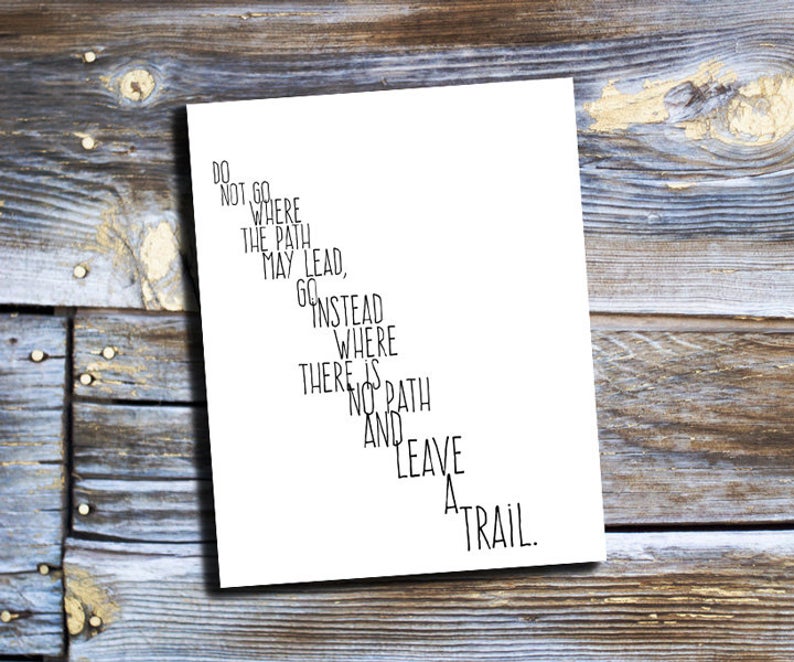 Coming in at only 1.19 cents, (sorry! the price went up 20 cents since I first wrote this) this is the least expensive item on my list. It is a printable digital download.
The quote is a popular one for this time in a boy's life. Do not go where the path may lead, go instead where there is no path and leave a trail. ~Ralph Waldo Emerson
You are probably going to want to frame the download. You can grab an economical frame at a thrift store or even someplace like TJMaxx or Ross. I've gotten nice frames from all of those places for less than a few dollars. If things are really tight, go to the dollar store and get a basic frame for a buck.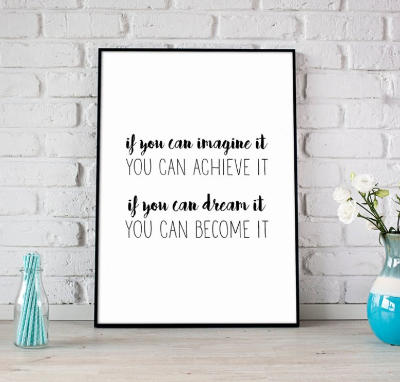 Here is another printable digital download option for you with a clean look.
If you can imagine it, you can achieve it. If you can dream it, you can become it. ~William Arthur Ward
Use the framing options I shared above to make it giftable.
What a quirky graduation gift for guys on our list! Madlibs Graduation is a whole lot of fun to do with friends and family.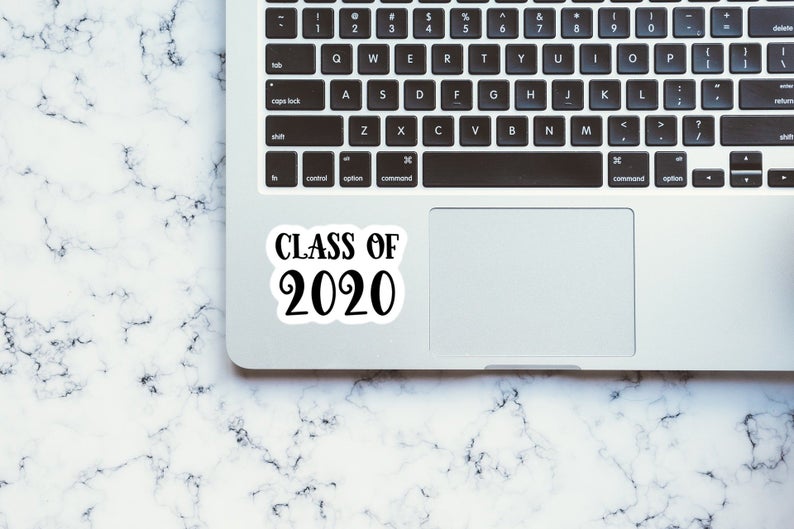 I found a decal that is perfect for seniors. You can add it to any smooth surface such as a mug or a cup, or slip it into a card to give it to them. They can then add it to a laptop, window or cell phone.
Graduation Gifts for Boys Under $10.00
Yes, you really can get a nice graduation gift under ten dollars! With a few of these you may want to add in something else, like a certificate for a favor or a home cooked meal.
Since this key chain had part of my favorite quote on it, and that quote is always a hit for graduation, I decided I had to include this. The quote with compass symbol makes a memorable gift.
The original quote by Henry David Thoreau is "If advances confidently in the direction of his dreams, and endeavors to live the life he has imagined, he will meet with success unexpected in common hours." You can even include the whole quote with the keychain.
The hardcover book Stuff Every College Student Should Know is perfect for boys heading to college. It is filled with practical advice that they may not have picked up.
Daily Motivation for Your Best Year Ever . What a nice thing to wish for your graduate! This book includes 365 inspirational quotes, one for each day of the year.
He can take this on whatever journey he is going on, and keep it throughout his life. Sometimes, a good quote is all you need to turn around a day.
This graduation bear is for sure one of the gifts I would slip a little something extra in with. Perhaps a gift card would do the trick. However, he is pretty cute all by himself.
Another idea would be to include a letter of wise advice, roll it up and slip it into the scroll the bear is holding.
This necklace has a quote from Winnie the Pooh on it. It is a classic and will help them remember that they can make it through tough times.
It is available customized, as well as from dad, from mom, or from mom and dad.
If you like the quote but don't think he would want a necklace you can always take it off the chain and make it into a key chain instead.
This is pretty cool. The strap is leather and the metal inspirational wording says Achieve. I love the look of the bracelet.
It comes with different sayings. Check them out here.
Keep going . . . there are several sections in the post segmented by price.
Graduation Gifts for Boys Under $15.00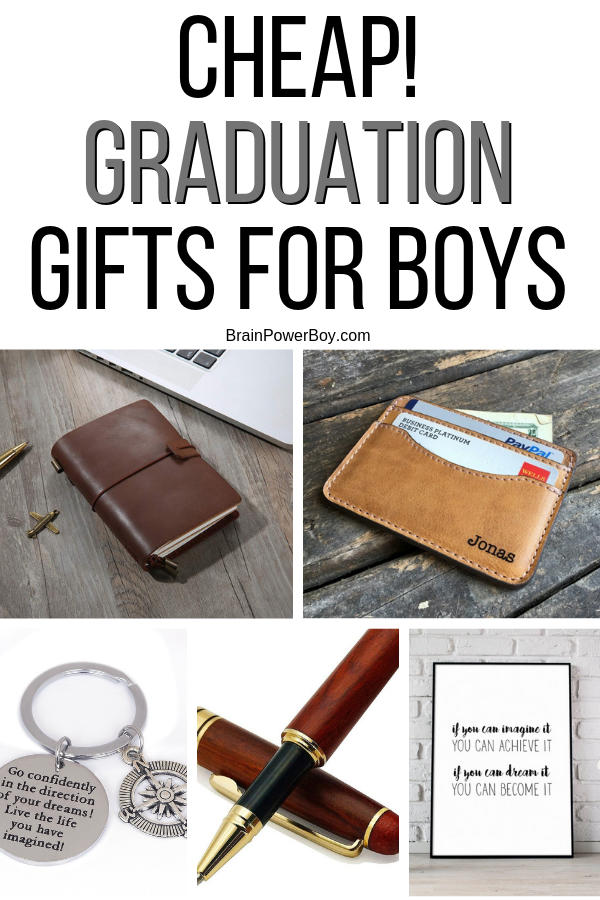 Next up are gifts under fifteen dollars. I found some real winners!
Beautiful, right?! This wooden pen comes in a gift box and has great reviews. Pens are a traditional graduation gift and I knew I wanted to include one, but I wanted something special that was inexpensive as well.
I think this rosewood pen is just right. It sure look expensive. It even comes with an ink refill.
This small hand made leather journal has a lot of style. It is perfect for traveling or for someone who likes to carry a notebook with them.
Go take a look at all of the features. It is a fantastic value. It even comes in a gift box.
A useful cookbook will get the guy you are buying for through college without only eating fast food and ramen noodles!
5 Ingredient College Cookbook will help them save time and money while keeping them fed.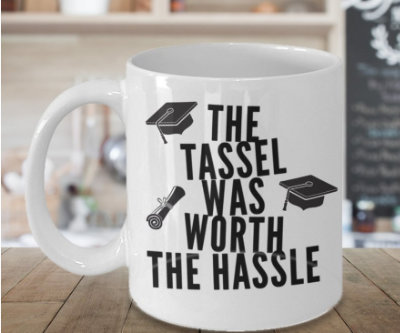 How about a funny mug? If the boy you are buying for enjoys humor, he may well like this The Tassel Was Worth the Hassle coffee mug. Available in 11 ounce or 15 ounce.
While it is hard to pick a favorite inexpensive graduation gift to give, this one may well be it.
My husband got a Swiss Army Knife for graduation and that little knife has come in handy so many times it is almost unbelievable! The little scissors are awesome. If he doesn't already have one of these, I'd consider getting it.
Graduation Gifts for Guys Under $20.00
This pocket watch is a nice keepsake. It is made of zinc alloy. There is a from mom and dad version as well. I like the saying on it.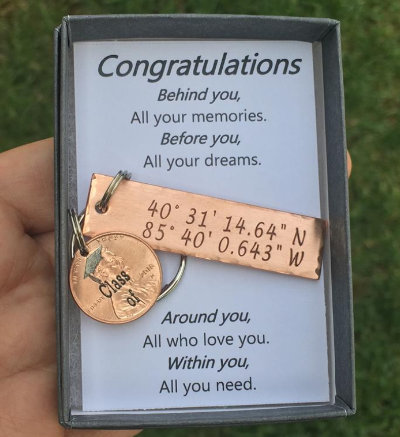 This handmade keychain is unique. It has a penny (you can choose the year) and hand-stamped coordinates on it. Some ideas for the coordinates include his home, his school, his favorite place in the world etc.
Here is a coordinates finder for you to use.
For under twenty bucks you can choose either the aluminum or stainless steel options. Other metals are a bit, but not much, more. Comes in a gift box.
This is a very nice idea. My husband got a frame with a place for his tassel and it still hangs on our wall. The graduation frame shown here also has a spot for a picture which I like a lot better.
The quote in the corner is by Eleanor Roosevelt and reads "The future belongs to those who believe in the beauty of their dreams."
Framing the diploma makes for a nice keepsake.
The next idea I have to share is this nice planner. A planner is a wonderful gift and the Elephant planner includes places for gratitude, affirmations and top 3 goals.
Lasting 365 days, it is perfect for giving them a chance to plan their upcoming year in a way that will help them achieve their goals.
If you are looking for a funny graduation gift, then take a look at this t-shirt! "I graduated now i'm like smart and stuff." That should bring a smile to his face.
If your grad is heading off to college or into the job market, this portfolio will come in handy. It has a lot of pockets for staying organized.
Graduation Gifts for Boys Under $25.00
This is the last price point I am sharing. Getting a great gift for under $25.00 is awesome and I know if you are here for cheap gifts you are not likely to want to go much over that amount.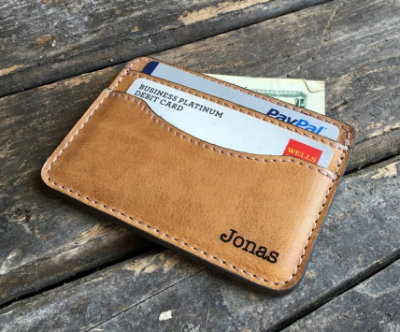 Finding a handmade leather gift under 25 bucks was tough but I finally found a high quality slim wallet that is beautifully made and totally worth getting.
A slim leather wallet/credit card holder is great for guys who like to carry their wallet in their front pocket or for slipping into a backpack. The best part is the price includes personalization.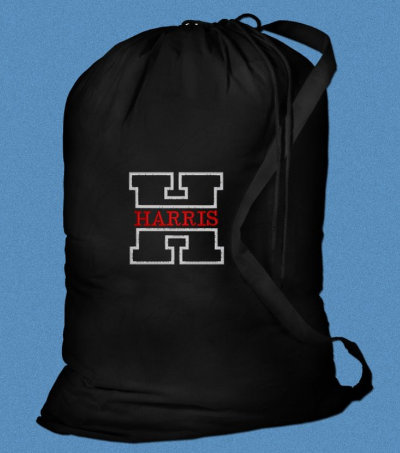 An excellent idea for the boy headed to college or to his own apartment is an embroidered laundry bag. This one is made of cotton, is heavy duty, and you can choose to add a name or monogram to the bag in several different styles.
A
class of 2020 throw
would be a neat idea. Keep them cozy and thinking about you when they study or work on their laptop. It has a very nice design around the outside as well as the graduate mortar board and scroll in the center picture.I know not everyone has a lot of money to spend but they still want to give a great gift that looks like they spent more. I really hope you found a nice cheap graduation gift for your boy.
See also: Graduation Gifts for Boys That They Will Actually Use