Do you need Easter gifts for teen boys? Find over 60 of the best ones here.
All ideas are Teen Boy Approved!
Are you here to find some Easter Gifts For Teen Boys? Welcome! We are happy to help.
It can certainly be hard to find things to put in their Easter baskets that they will actually be excited to get, can't it?
They are getting older and play dough eggs and hopping bunny toys aren't going to cut it anymore!
Take a peek below to see a great selection they they will want in their baskets. You can also check out our gift ideas for boys guides for additional basket fillers.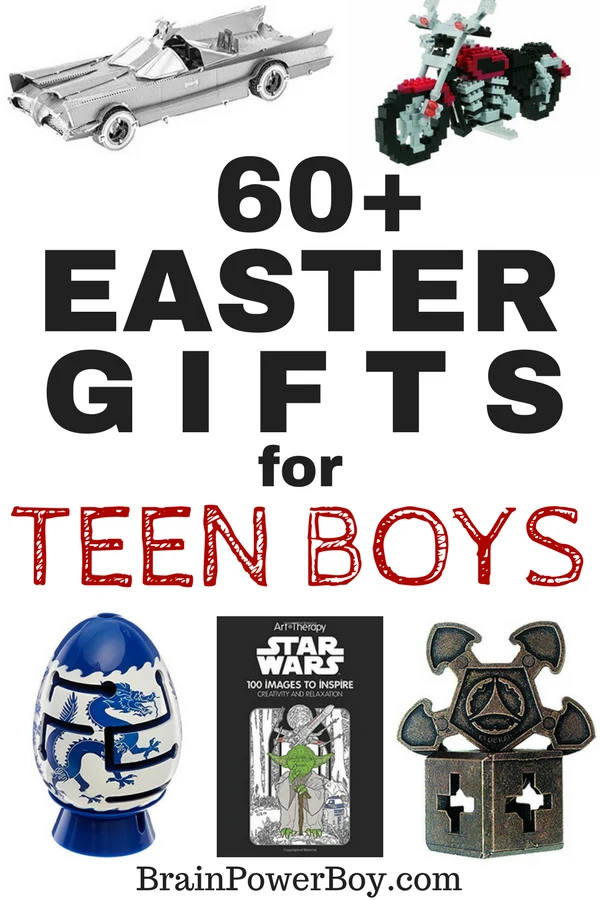 This post may contain affiliate links which means I may receive a small amount, at no cost to you, if you make a purchase through a link. All opinions are my own and I share things I think would be of interest to boys.
Easter Gifts for Teen Boys
Since our site focuses on learning I thought I would mention that the tradition of giving Easter basket goes way back. You can learn more about the origin of the Easter basket here.
Then, let's get right to the best Easter gifts you can give to a teenage boy, shall we?
---
Electronics Accessories Gifts
Teen boys love their electronics so gifting them a few accessories is a great idea. These will easily fit into an Easter basket.
Try ear bud organizers so they are not always struggling with cords, a new pair of great sounding and cool looking ear buds, or a nifty case to keep all of the cords, chargers and other misc stuff they need.
Cable Organizer
Earbuds, High Definition, in-Ear
Leather Earbud Holder
Key Chains and Lanyards
Here are a few of our favorites but there are plenty of other choices. Pick whatever topic your boy enjoys the most. Go here for more key chains and here for more lanyards.
Star Wars Millennium Keychain
Harry Potter Solemnly Swear Lanyard
Compass Key Chain
---
Easter Basket Food for Teen Boys
And, of course, we certainly can't forget that teen boys love to eat and they are totally going to want some goodies in their baskets.
Jerky & Snack Sticks
Real Steak Jerky, Chipotle
Slim Jim Premium
Bridgford Beef Jerky
Candy for Your Teen Boy's Easter Basket
Jelly Beans
Bertie Bott's Every Flavour Beans
Jelly Belly Tabasco Beans
4th Edition Beanboozled Game
Ultimate Snack Food Boxes
There is not a boy I know who wouldn't be excited to get these snack food bonanzas! These kits make it so easy on mom too. Order today, it comes in the mail, unpack and put into a basket (or don't even bother with that and simply give it to them!)
Sweet & Salty Hangry Kit 40 count
Sampler Assortment 40 Count
The Deluxe CraveBox 50 count
Chocolate Easter Bunny
Don't forget the Easter Bunny!

Dove Dark Chocolate Easter Bunny or milk chocolate. Or maybe he would prefer a Lindt bunny instead!
There you go. Plenty of Easter Gifts for teen boys you can choose from. I hope this makes it easier for you to shop for them and I hope they love the Easter basket fillers you select!
Happy Easter to you and your family.
You may also enjoy:
These wonderful Easter basket ideas for boys may give you some more options!
And if you have a boy who likes to build with LEGO try LEGO Easter trio
If you are looking for additional Easter ideas go to Creative LEGO Easter Ideas