Today we are bringing you book series for teen boys! Finding good stories to keep boys reading is a bit harder as they get older.
Many of the books written for young adults seem to appeal more to girls than they do to boys.
When flipping through a book catalog I was not surprised, but was disappointed, to see the small number of books actually geared toward boys.
Not so with this list. We dug through to find excellent series. We talked to boy who read and those who found these books to be great even though reading is not really their thing. These are the books that made the cut.
These books are a thrill to read. They are exciting and will keep your boys' interest right up through the last book!
See all of our books lists for boys here.
Enjoy this list of books that have boy appeal and are about right for boys 12 or 13-years-old and up.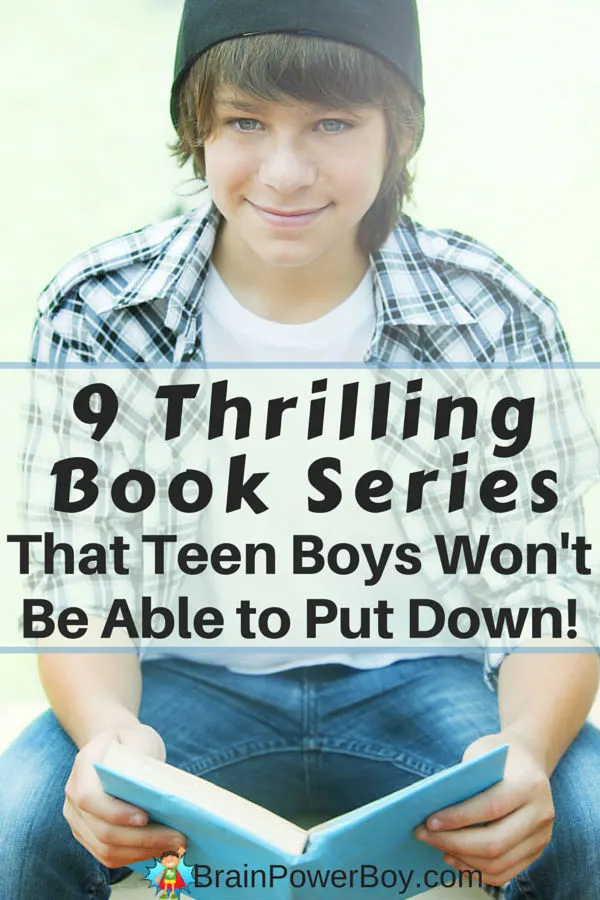 This post may contain affiliate links which means we may receive a small commission, at no cost to you, if you make a purchase through a link. All opinions are our own and we share things we think would be of interest to boys.
Book Series for Teen Boys
Click on the books to learn more about the series or a specific title.
Once they read one of the books, they are likely to want to continue so be sure to check out the sequels as well. Make sure you are watching to see when they need more books!
These series books are all exciting and really great reads that your boys won't want to put down.
If you want to know more about why book series are great for boys read our article.
---
Hatchet (Brian's Saga Series)
I know this book series is sometimes on lists for younger readers but I think this is a good one for teens who like the outdoors.
Brian is stranded after a plane crash and has to survive with only a hatchet. The rest of the books in this series are also adventure books and they are very good.
Hatchet (Book 1)
The River (Book 2)
Brian's Winter (Book 3)
Brian's Return (Book 4)
Brian's Hunt (Book 5)
&
---
The Maze Runner (The Maze Runner Series)
The Maze Runner is a wonderful book series for teen boys.
Thomas finds himself waking up in an elevator and he doesn't know where he is and he can't remember anything but his name. 60 other teen boys are there and a mysterious girl with a message shows up soon.
Rather violent, and a bit creepy, this is a popular action-packed choice among teen boys.
The Maze Runner (Book 1)
The Scorch Trials (Book 2)
The Death Cure (Book 3)
The Kill Order (Book 4)
The Fever Code (Book 5)
The Maze Runner Series
&
---
Leviathan (The Leviathan Trilogy)
Set in the early 1900s World War I, this is a book with a twist that switches things up and includes genetically engineered animals vs steam-powered fighting machines.
Not terribly violent considering the setting but it does include death. The Leviathan is an airship and this is a steampunk adventure that will have boys asking for more.
Leviathan (Book 1)
Goliath (Book 2)
Behemoth (3)
Leviathan (The Leviathan Trilogy)
&
---
The Ruins of Gorlan (The Ranger's Apprentice series)
Magic, darkness and shadows are three words that describe these books rather well.
Will is a 15-year-old boy and is chosen as a Ranger's Apprentice though he was hoping to be a knight. Follow his adventures in this classic good vs. evil story.
The Ruins of Gorlan (Book 1)
The Burning Bridge (Book 2)
The Icebound Land (Book 3)
The Battle for Skandia (Book 4)
The Sorcerer of the North (Book 5)
The Siege of Macindaw (Book 6)
Erak's Ransom (Book 7)
Kings of Clonmel (Book 8)
Halt's Peril (Book 9)
The Emperor of Nihon-Ja (Book 10)
The Lost Stories (Book 11)
The Royal Ranger (Book 12)
&
---
The Alchemyst (The Secrets of the Immortal Nicholas Flamel Series)
A kidnapping, a special book, twins and lots of magic get this series started. Plenty of mythology to keep fans of Percy Jackson happy. These books are page-turners!
The Alchemyst (Book 1)
The Magician (Book 2)
The Sorceress (Book 3)
The Necromancer (Book 4)
The Warlock (Book 5)
The Enchantress (Book 6)
The Secrets of the Immortal Nicholas Flamel Complete Series
&
---
Eragon (The Inheritance Cycle Series)
Part of the reason the boys checked this one out was because it was written by a homeschool teen boy when he was 17-years-old.
This series of books is chock full of pages and adventures. They are a long! The first book is 528 pages.
Eragon finds a blue stone which isn't a blue stone at all – it hatches a dragon. This is a saga of sorts and there are a lot of characters to keep track of. There are maps and glossaries to help your boy out. If he gives the first book a chance he will certainly want to continue on to read the rest.
Eragon (Book 1)
Eldest (Book 2)
Brisingr (Book 3)
Inheritance (Book 4)
Inheritance Cycle Boxed Set
&
---
The Hunger Games (The Hunger Games Trilogy)
The Hunger Games is one of those books that boys and girls alike just love.
I know so many teen boys who burned through this series that I had to include it.
Dsytopian in nature, the books are very violent. There are 20 deaths in the first book alone and there is teen on teen fighting/killing. I did not get too far in these books because they are just too violent for me and some sensitive boys agree. The story line is there however and most boys really like them.
The Hunger Games (Book 1)
Catching Fire (Book 2)
Mockingjay (Book 3)
Trilogy Box Set: Foil Edition
&
---
Ender's Game (The Ender Quintet Series)
An oldie but a goody. Do not discount this series!
Ender is a brilliant young boy who goes off to Battle School for military training.
This is a sci-fi winner and it has it all – aliens that are hostile and ready to attack, struggles within the main character and an unusual boy who just might be the one who has to save the world.
Ender's Game (Book 1)
Speaker for the Dead (Book 2)
Xenocide(Book 3)
Children of the Mind (Book 4)
The Ender Quartet Set Kindle
&
---
The Hobbit and the Lord of the Rings Series
I'm sure you are all familiar with this choice but . . . has your boy actually read them?
This is seriously an amazing book series for teen boys that they simply cannot miss.
You likely already know that there is a ring – a ring to rule them all, and hobbits, wizards, dwarfs, orcs, elves, a dragon and so much more wonderfulness that I can't begin to share it.
If your boys watched the movies but didn't read the books, I would strongly suggest they give them a try. This is one of my family's favorite series of all time. Your teen boy needs to own these. Highly Recommended.
The Fellowship of the Ring: Being the First Part of The Lord of the Rings
The Two Towers: Being the Second Part of The Lord of the Rings
The Return of the King: Being the Third Part of the Lord of the Rings
The Lord of the Rings Trilogy, 3 Volume boxed Set
The Hobbit An Unexpected Journey J.R.R. Tolkien

The Hobbit and the Lord of the Rings 4 Volume Boxed Set
&
---
I am a huge fan of book series and love to read them myself. My son is also very fond of series and once he finds one he likes he just plows through the books one after another. I hope you will suggest that your teen try a few of these series.
Let me know in the comments if there are other book series for teen boys you and your son like. We are always looking for new books to read!
Check out Book Series for Book Series for 9 – 12 year Old Boys as you may find more ideas there too!
Here are some other teen posts for you:
Amazing Inexpensive Gifts for Teenage Boys
Rocket Books for Teens! Read, Build, Blast Off!
Maker Books Boys Will Really Like!