If you are stuck and not really sure what to get for your teenage boy, or a teen boy you know, we have the perfect selection of inexpensive gifts for teenage boys.
Bonus: they are all unplugged gift ideas. And, even better we now have over 50 items to choose from.
I update this post often to make sure that we are offering the best items.
Finding gifts for teen boys can be a challenge. They are getting older and may not be as interested in some of the toys they played with earlier.
All of these selections are inexpensive gifts for teenage boys.
When I wrote this all of the teen boy gift ideas were listed for under $20.00 each!
Some starting as low as $3.50!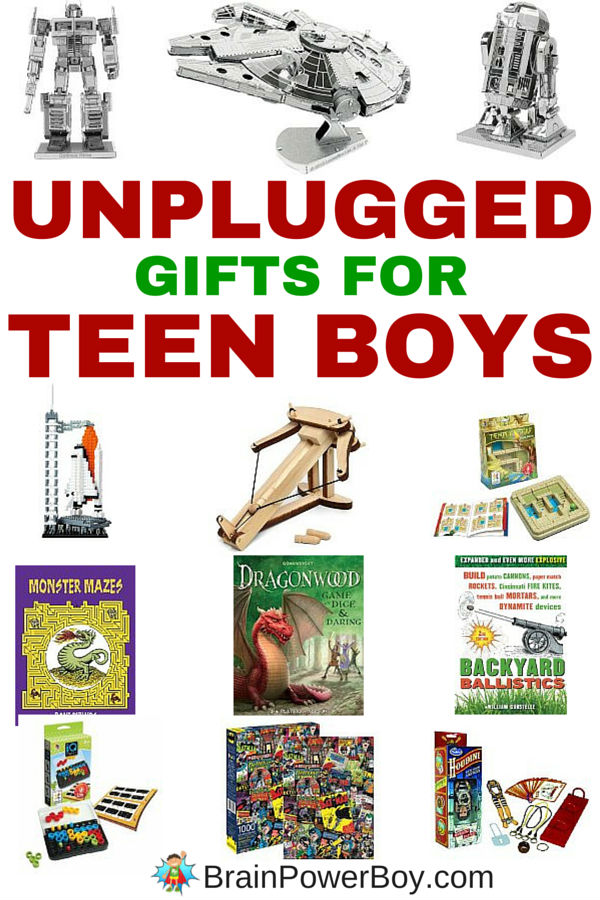 This post may contain affiliate links which means we may receive a small commission, at no cost to you, if you make a purchase through a link. All opinions are our own and we share things we think would be of interest to boys.
Inexpensive Gifts for Teenage Boys
These small metal models are a challenge and best suited for teens.
The Star Wars Millennium Falcon 3D Metal Model Kit
is likely the hardest of the bunch and provides the most challenge. Another good choice is the Kawasaki Ninja H2R Motorcycle kit.
If they are more into Transformers then you have to get this one!
Batman 1989 Batwing
3D Metal Model Kit
Star Wars Force Awakens BB8
3D Metal Model Kit
3D Laser Cut Model Kit
Kawasaki Ninja H2R Motorcycle
1.75-Inch Transformers
Optimus Prime
Boeing F-15 Eagle Airplane
3D Metal Model Kit
Star Wars Millennium Falcon
3D Metal Model Kit
---
For LEGO (and you knew I would be mentioning LEGO, right?!) please see our Ultimate LEGO Gift Guide for suggestions.
If you are looking for another building toy that is similar to LEGO take a look at Nanoblock
.
There is a wide selection of subjects available from vehicles, to buildings, to animals and much more. Click the pictures below.
Castle Neuschwanstein
Star Wars R2D2
Electric Guitar
Pikachu – Pokemon
Great Horned Owl
Phoenix
---
Forbidden Desert
and Forbidden Island
are two great games to try for those who like the survival theme choose your theme survive in the desert or become an explorer on an island.
Either choice is great and fun for the whole family.Dragonwood
is a 2015 Mensa Select Game that will get them thinking strategy. Gobblins, Orcs, and fire-breathing dragons abound and you have to collect adventure cards to earn your dice.
Forbidden Desert
Forbidden Island
Dragonwood Dice & Daring
&
Here are three wonderful card games to select from.
In Gubs you must be brave and try to survive by building the mightiest colony while at the same time avoiding traps. They said it is a game of wit and luck.
All of the Fluxx games are fun. I grabbed the zombie version because I know sooo many teen boys are into zombies but you can totally pick another such as Pirate Flux , Star Flux (space,) or even Batman Flux. You can easily find the one that is perfect for you teen boy. Go here to see them all.
Loot is, a plundering game, which of course is no surprise since the theme is pirates. Will they rule the high seas or succumb to skullduggery?
Gubs
Zombie Fluxx
Loot Deluxe Tin
---
Star Wars Origami,
Animal Origami for the Enthusiast or 
Paper Inventions
 are wonderful for a teen boy who likes to create things with their hands.
Star Wars Origami: 36 Amazing Paper-folding Projects from a Galaxy Far, Far Away…. Incredibly fun projects with specialty paper!
Make: Paper Inventions: Machines that Move, Drawings that Light Up, and Wearables and Structures You Can Cut, Fold, and Roll
Animal Origami for the Enthusiast: Step-by-Step Instructions in Over 900 Diagrams/25 Original Models (Dover Origami Papercraft)
&
Slip this in for your mathematically inclined boy: The Moscow Puzzles: 359 Mathematical Recreations
, it is inexpensive and highly recommended.
The Mazes by Dave Phillips
are the BEST. We have quite a few of his (ok, we have a lot of them!) and they are all very high quality, challenging, maze books that my son has thoroughly enjoyed.
Monster Mazes
The Moscow Puzzles
Wizards and Dragons Mazes
We are always on the lookout for more of these awesome logic puzzle games and like to keep them scattered about.
I had to remove my favorite choice from this list because the price went up over $20.00. Bummer!  If you still want to see it you can find it here. It does go below $20 sometimes so perhaps you can catch it at a good price.
If your boy likes adventure and logic puzzles, this one is a winner. We have one that is very similar to this and it is a good one. Temple Trap
.
Parking Puzzles! This logic game has a fun twist as it is 3-D. If you have a boy who is dreaming of driving or one who just started, or even one who loves his car, this is the choice for you.
With rotating, circular pieces you need to navigate your spaceship safely around the asteroids to your home port. This one is on our list as a possible next purchase!
Temple Trap
Parking Puzzler
Asteroid Escape
Kanoodle Extreme has over 300 puzzles included! I really like that it features three different types of puzzles, 2D, 3D and sliding 2D. If you are just starting with Kanoodle, you may want to grab the first game. Then if they like it you can get the rest in the series.
Fit twisted pieces onto the board. Sounds easy, right? Well, IQ Twist
 can be quite the challenge!
Remember Tetris? Oh my, but did I spend a lot of time playing that game. Well, they now have a hands-on version called Tetris Cube which is a 3D puzzler. Looks very cool.
Kanoodle Extreme
IQ Twist
Tetris Cube 3D
---
My husband is a magician, and he absolutely loves this brainteaser game as would boys who like puzzles and magic.
You get a Houdini cutout which you have to trap with ropes, locks, rings etc. using the cards included.
Next, you have to figure out how to help him escape!
Grab this seriously fun brainteaser puzzle game today.
&
---
For the science-minded, hands-on kid who likes to, ahem, blow things up this book is a must! Super popular among boys.
Grab some basic office supplies that are laying around the house and pair them with this book and
your boy will be able to build a secret agent arsenal
! 
Backyard Ballistics: Build Potato Cannons, Paper Match Rockets, Cincinnati Fire Kites, Tennis Ball Mortars, and More Dynamite Devices than you can shake a stick at!
Mini Weapons of Mass Destruction 2: Build a Secret Agent Arsenal. From a mini-catapult in a breath-mint tin to milk-jug cap blow-dart wristwatches this book has them all.
Rubber Band Engineer: Build Slingshot Powered Rockets, Rubber Band Rifles, Unconventional Catapults, and More Guerrilla Gadgets from Household Hardware
For more books for teen boys, see: Thrilling Book Series for Teen Boys and Maker Books!
&
---
These are the droids you are looking for. Grab this Star Wars puzzle and you will have one happy teen boy. 1000 pieces.
Comic book style + Batman! This collage puzzle is absolutely perfect for super hero fans. 1000 pieces.
Tolkien fan?  Then his one is the right choice. The artwork on this Smaug puzzle is stunning. 1000 pieces.
Droids of the Resistance Photomosaic Puzzle (1000 Piece)
Batman Collage Jigsaw Puzzle, 1000-Piece
Smaug Dragon a 1000-Piece Jigsaw Puzzle 
And here are a few more selections. Simply click on the picture to see them on Amazon.
&
Candy Wrappers – 1000 Piece
Moonlight Warrior (1000 pcs)
Jumbo the Pirates (1000 Piece)
---
For some nighttime fun try these!
Playing a sport at night is something teen boys seem to really enjoy. Perfect for athletic boys and their friends.
The football is smaller in size so it is easy to grab and throw. Go watch the video if you want to see it in action – pretty cool. It looks like they are wearing gloves like these for more glow fun.
If they like frisbee you have to get this.  These discs are crazy good! They fly far and are durable. I found one of theirs that glows in the dark!
And a soccer ball. Super for tossing around, kicking, or doing tricks, this one is great for boys.
NightBa LED Football
Skylighter Disc
Light Up Soccer Ball
---
This desktop size Miniature Ballista Kit
can fire up to 30 feet! It is a fun kit to put together. It does require some patience as it is likely best to glue the pieces together in order for it to be more sturdy and ready for battle.
Another wooden Medieval weapon kit is the catapult. The suggestions for the kit above apply here too. Glue and wait before trying it.
Miniature Ballista Kit – Wooden Desktop Warfare Ballista
Pathfinders Medieval Catapult Wooden Kit
&
---
If your boy still likes to fidget a bit, forget the spinners (although if you really want one this is our top choice) and grab one of these more grown-up fidget devices.
You have a choice of infinity cubes, advanced fidget cubes, the magic fidget orbs which are not only a fidget but a puzzle as well, and the ever popular, twisted snakes.
For the specific items below click the pictures.
Interstellar Infinity Cube Fidget
Smart Magic Cubes Fidget
Luxury Infinity Cube Fidget
Snake Cube Twist Puzzle
Magnetic Balls Sculpture Fidget
Magic Cube Fidget Puzzle
---
Try a money puzzle maze box!
TIP:  You do not have to put money in them. You can put a gift certificate, a note saying you will take them somewhere or other things as well.  Of course, if you are giving cash (which teen boys always like,) this makes for a very fun way to give it and get it.
Our favorites are the blue block brain teaser maze where you can slip an item in from the top and the flat one which is sized to fit a gift card.
Money Puzzle Box

Money Puzzle Maze

The boys I know really like all of these choices! I hope your teen enjoys them as well.
Finding inexpensive gifts for teenage boys that they are actually going to like isn't that hard now that you have a list to go by.
See what other ideas you can come up with and also check out our other gift guides for boys of all ages for more choices.
Gift Guide for Boys has a variety of lists to choose from and you can also take a look at Electronics Gifts for Teen Boys as well.