Get these maker books for your boy and you will see him delve into the world of makers. The learning that occurs by using just one of these titles is incredible. I have seen it first hand.
What is the maker movement all about? Well, that is simple: making stuff! Good old-fashioned, hands-on, enthusiastic making.
I went through the available maker books and cherry picked the ones I thought boys would really like. You know, titles with robots and rockets, steampunk and zombies, hovercraft and weapons. Great, right?!
Be sure to stop by our best books for boys lists to see what other awesome titles we picked especially for boys.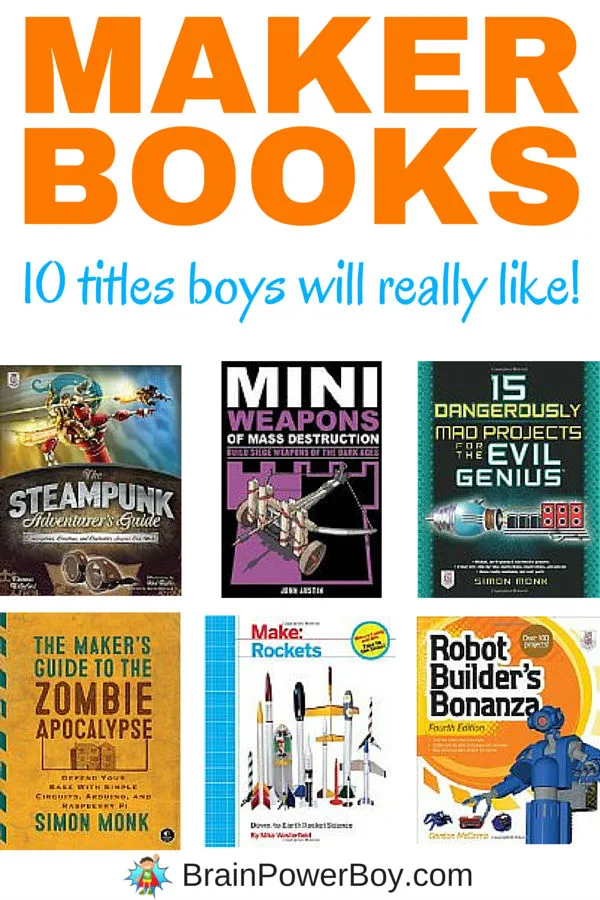 This post may contain affiliate links which means we may receive a small commission, at no cost to you, if you make a purchase through a link. All opinions are our own and we share things we think would be of interest to boys.
Maker Books Boys Will Really Like!
Wow, that is one great selection of maker books. I hope you and your boy find some cool projects to do. Grab one (or several) of these books as a gift or send him a package in the mail "just because." I love to do this! I order a title from Amazon, have it sent here and hand it to my son when it comes. Surprises are fun.
See also: