I went out and found the best hands-on STEM toys for boys. I picked through to find the ones that boys would really like so you would get the best of the best.
I am putting this article with the rest of our gift guide for boys lists as I want to make sure it is easy to find again. You can find more ideas there as well.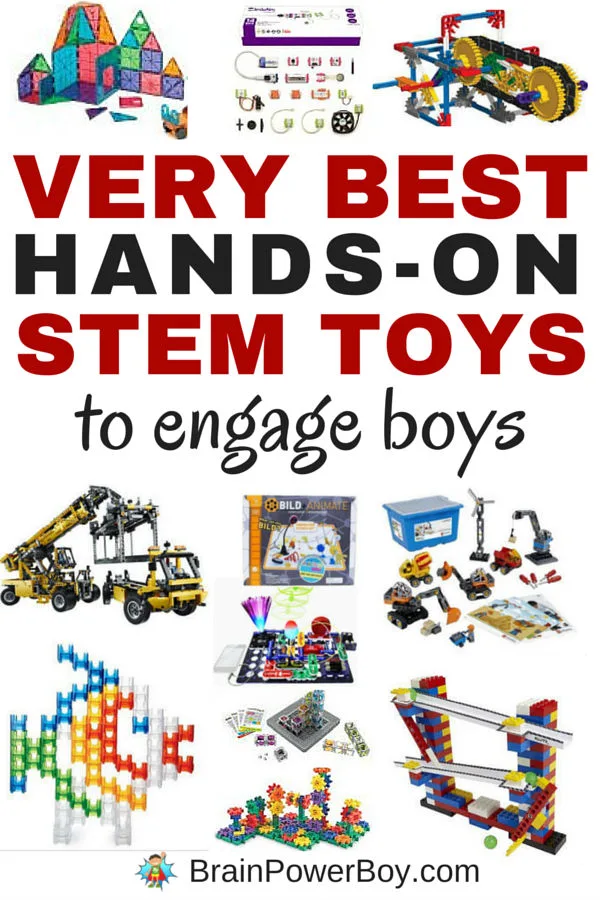 This post may contain affiliate links which means I may receive a small amount, at no cost to you, if you make a purchase through a link. All opinions are my own and I share things I think would be of interest to you and your family.
Hands-on STEM Toys For Boys
You want toys that cover STEM and that help your boys learn, but you also want toys that they are going to want to actually play with!
You want to find the perfect match between learning and play – because those are the toys that last. Our list has you covered! These hands-on STEM toys are boy-approved.
NOTE: I have added suggested ages and mentioned if the item pictured in this post. If you have any questions, feel free to leave a comment and I will do my best to help you find the perfect toy.
STEM Subscription Boxes
I thought I would throw in a couple of subscription boxes because they are like getting a gift in the mail each month. Kids (and parents!) love them.
---
My first pick is a fun subscription box with STEM activites that include making your own toys such as a maze rocket, a hypno gyroscope or an ancient cannon (examples of the types of kits.)

Comes with a building set, educational comics, activities and more. Makes a great gift! Ages 5 – 10
---
The other one I like for hands-on toys is a woodworking subscription kit. They can build their own toy! Past projects include a catapult, turbo racer, space shuttle, tow truck and more (examples of types of kits).

Getting your boys familiar with tools and how to safely use them is a very good idea. These projects will help him learn how to build things which is a useful skill and also a lot of fun. Boys love this subscription box.

Right now if you use my link (or the button below) >>> you can get 75% off your first order! How great is that?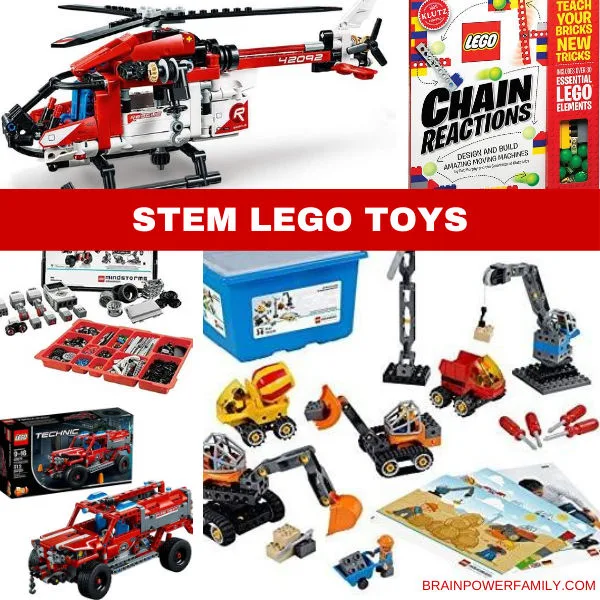 LEGO STEM Sets
Wow! I would have bought this one for my son when he was young if it had been available. (pictured bottom right)

This is a bit different than other DUPLO sets. It includes a screwdrivers which you use to click things in place.

Includes materials to build construction vehicles, a crane, and a wind turbine plus accessories and figures!

A super STEM toy with a lot of play value. 3+ years
---
I got this for Christmas from my husband & my son and I love it. (pictured upper right)

I like toys that have a lot of options and a chance to use the piece to design something of your own. This is that toy.

Not only is a lot of fun to make the chain reactions they share in the book but you can use these LEGO pieces for so many other things.

Overall a top choice for boys who like to build. 8+ years
(see also the cool LEGO kit in the gears section below)
---
The educational TOTY (Toy of the Year) went to LEGO Technics and I totally understand why. LEGO Technics is a bit different from regular LEGO bricks and involves some complex thinking when building and especially when creating with it.

There are many different sets available. The prices start at around 10-12 dollars and go up from there. Ages vary by complexity of set. Starting at 6-7 years.

Here are out top picks:
Police Car (120 Pieces)
Race Truck (227 Pieces) Pull Back Action – New!
Fire Truck (513 Pieces) (pictured)
Corvette ZR1 (579 Pieces)
Helicopter (325 Pieces) (pictured)
Mobile Crane (1,292 Pieces) Hot Pick!
---
You know I couldn't be talking about STEM toys for boys without mentioning LEGO Mindstorms! (pictured center left)

It is expensive, but if you have a boy who likes LEGO and Robotics you should give it serious consideration.

The educational value is very high and your boy can grow with it. There are a lot of awesome projects included and a great community of people who are willing to help young creators. 10+ years

If I were buying it today, I would get the following items:
LEGO Mindstorms EV3 (latest version!)
This beginners book that gives project ideas
An expansion set (optional, but nice)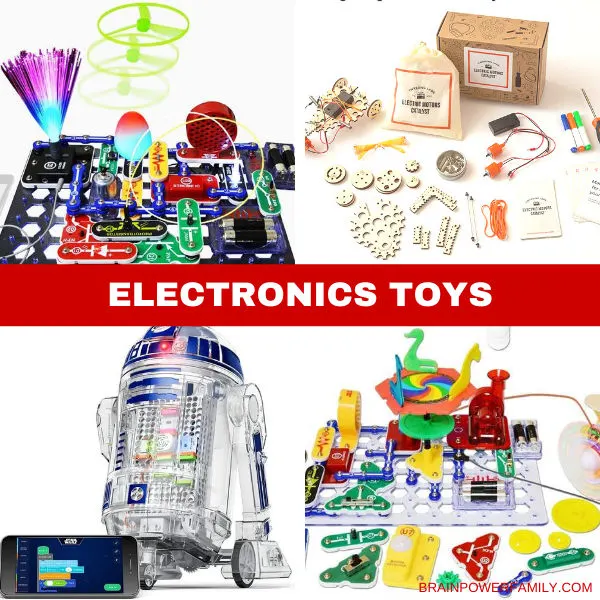 Electronics Toys
Next up is the award winning toy line Snap Circuits. We have the medium size set and I have to say it has been worth every penny.

This isn't a toy that stays out all year round and is played with every day, but every time we get it out we learn a lot and have a blast coming up with new things to make. Plus, we got this many years ago and we still use it.

We like the new variations they have come out with as well as the standard set. 8+ years

300 piece standard set.
The light set looks super cool! (pictured upper left)
The Motion set hooks to your smart phone for extra discovery options. (pictured bottom right)
The Rover is a vehicle version which has a remote control.
---
I love the idea behind the littleBits line of products.
littleBits Electronics Premium Kit has everything you need to "play with light, sound, sensing and buttons without wiring, soldering or programming."
It is like a little more modern and a tad more cool version of Snap Circuits.

In addition to the awesome Star Wars kit (pictured bottom left), I also recommend:
The deluxe kit – because you can never have too many pieces.
The inventor kit – which is a great starter kit.
All 8+ years
---
This one is a winner. If you are looking for a STEM electric motors kit that includes learning about motors as well as building, give it a try. (pictured upper right)

Build robots that doodle, make electric model card and even add motors to LEGO with this fun electronics invention kit. The pieces are wood. (not cardboard) 8 – 12+ years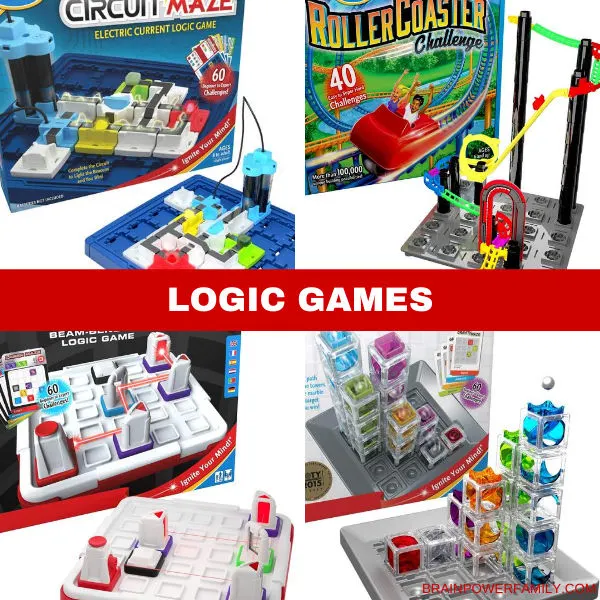 Logic Puzzle Games
I wanted to pick something in the logic puzzle game line but I couldn't decide which to share with you so I picked several!

We love these games and I can see real learning happening right before me when we play.

Try one (or more!) of these:

This cool Roller Coaster is 1/2 building toy, 1/2 logic puzzle and a whole lot of fun. (Award winner) (pictured upper right) 6+ years
Kanoodle, the 3-D puzzle game with over 2 million sold. That says something! 7+ years
With Circuit Maze the goal is to create a real electric circuits to light up a beacon. (pictured upper left) 8+ years
Laser Maze uses mirrors, strategic planning and beam splitters to light up the target. (pictured lower left) 8+ years
Gravity Maze is a combo of a marble run and a logic puzzle that helps you develop critical thinking skills. (pictured lower right) 8+ years

I pull these logic games out on a rotating basis and they are always played with by both kids and adults. In fact, you can't stop playing them!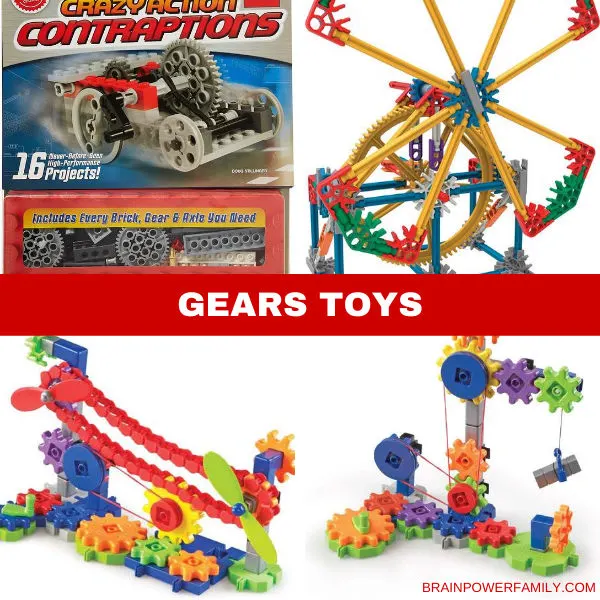 Gear Sets
This gear set is a perfect hands-on STEM toy for younger kids, although I have seen boys up to 12ish playing around with it too.

Learning Resources Gears! Gears! Gears! is a best seller for a reason. 3+ years

Machines in Motion is another version which allows kids to create their own movable inventions. (pictured bottom row) 5+ years
---
For older boys, try this LEGO Contraptions Set which includes gears. (pictured upper left)

Make 16 unique projects, including a sqeezeclaw grabber, LEGO launcher, wall rocket racer, battle top spinner and more! We own it and it is great! 7 – 15 years
---
Or this one from K'NEX education. STEM Exploration Gears gives directions to build three projects but, of course, the fun is in designing your own! (pictured upper right) 8+ years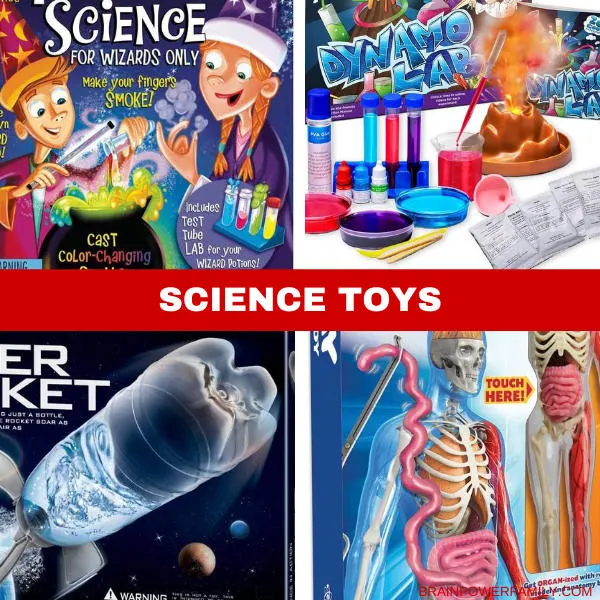 Fun Science Kits
My son got this for his birthday from my brother and it was a hit (still is, actually as we have not done all of the experiments yet.) (pictured upper left)

Magic Science Kit for Wizards Only includes everything you need to be a wizard in your own house!

Mystical foaming, magic color changing, potions and wand and more will get your boy excited about magic and interested in science.

Harry Potter and fantasy fans will enjoy this one! 6 – 10 years
---
Make a lava lamp, crystals, a volcano and more with 21 science activities to do. You will need to add basic household items but all chemicals, ingredients and materials are included. (pictured upper right)

Dynamo Lab is a really nice science kit with super reviews and they stand behind their product! 5+ years

If you are getting the kit for a family, grab this one by the same company as it has 60 experiements in it. 4+ years
---
When I wanted my son to learn about the human body, this is the toy I picked up. It was fun. You can take the model apart and then rebuild it. (pictured lower right)

There are 12 squishy organs which were a hit! lol

It comes with a full-color anatamy/biology book as well. 7+ years
---
This actually is rocket science. This is a great outdoor toy that gets used a whole lot. (pictured lower left)

Nothing quite like build a rocket and launching it 90 feet in the air to get them interested in science! You will need a bicycle pump as well. If you don't have one you may be able to borrow one or grab a cheap one.
Age not given. We had one around age 7, but use your own judgement.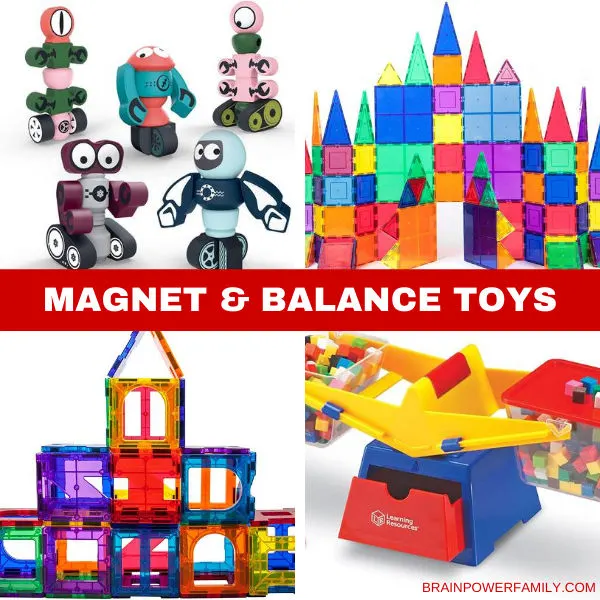 Magnet Sets
Magnetic play is always a winner with boys. Magnets are great for math, science, spatial and tactile skills.

This Magna-Tiles set comes with 100 pieces which allows from plenty of building ideas ideas. I also like this Magna-Tile car expansion set!

You could also try the PicassoTiles 100 piece set which are highly rated and quite a bit less expensive than Magna-Tiles but still have great reviews. (pictured upper right)

This Picasso set is a nice add on as it has windows, doors and shapes which will let them build even more creatively. (pictured lower left)

You can start out with a smaller set to see if your boy likes them but really, having a lot of pieces makes it much easier to build neat things. Can start at 3+ years but older boys love these as well.
---
I am loving this set of magnetic robots. So cute! There are 35 pieces and they can be built as shown or, better yet, the parts can be combined to make different robots. (pictured upper left) 3 – 6 years.

Oh! They have a rocket set as well. Fun!
Balance Toys
STEM toys come in a wide price range. Here is an inexpensive choice that will get a lot of play time. (pictured lower right)

We had a balance when my son was younger and it was used a lot!

The bucket balance is perfect for introducing volume and for comparing weight. It doesn't actually measure the weight of anything, but will tell you if 25 animal counters weigh more than 10 animal counters. Or if 1 object weighs more than the other.

What I like about this one is that it allows you to use liquids as well. Plus, you can either put a lid on the bucket to make a platform or put the items into the bucket which is easier for younger kids. It grows with them. 3+ years
---
Another option is this silly monkey balance.

Kids will learn their numbers, counting and addition through playing. 3+ years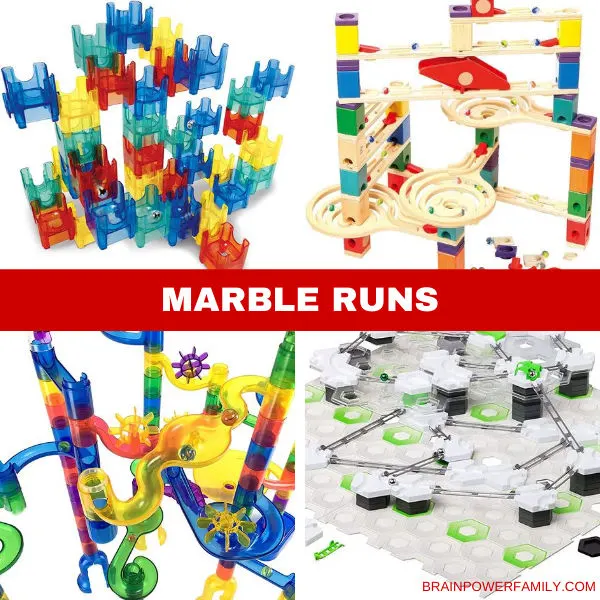 Marble Runs
If you are looking for a standard marble run, this is a good choice. (pictured bottom left)

The one I chose has 150 pieces, comes with marbles and includes specialty pieces that make building a playing more fun. 4+ years
---
For something a bit different, try the next two options.

Q-Ba-Maze 2.0 is an unusual and enjoyable toy.
(Pictured upper left) It is a marble maze, building toy and art medium all in one.

Perfect for STEAM learning. Build a marble run that is also a piece of art and let your marbles drop! 6+ years
---
Ravensburger is a favorite of our family and I found out they came out with a unique marble run called Gravitrax. (pictured bottom right)

This one allows you to build race tracks and some really cool combinations to get your marbles through the track.

They will have fun while learning about engineering, gravity and magnetism. I linked to the standard set abvoe but there are expansion sets and add-ons too which you can see here. 8+ years
---
I know some of you prefer wooden toys, so I wanted to include a wooden marble run as well. (pictured upper right)

Beautiful! With German engineering, nice bright colors and heirloom quality you will not go wrong getting this set. 4+ years (with help) or 6+ years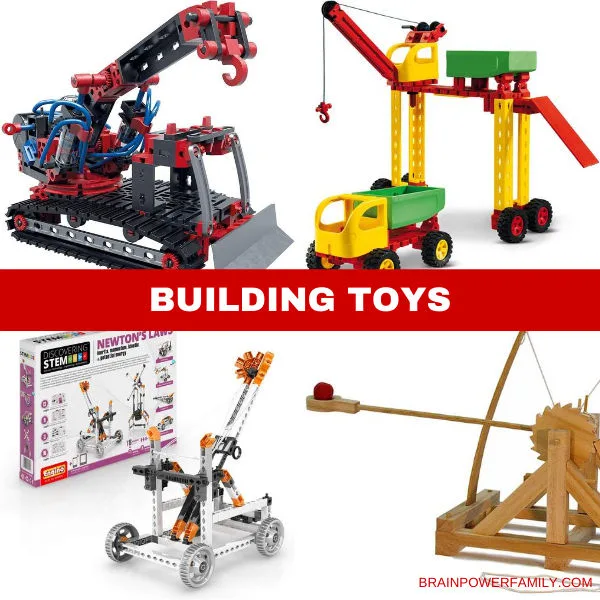 Building Toys
Engineering is an important part of STEM. Help your boy learn more about it naturally through playing with building toys.

A reader recommended I include fischertechnik in this list. I admit that I forgot about this toy because it is not as popular in the US as LEGO is.

However, some friends from Germany had these toys and the kids always enjoyed playing with them so I am including it here.

I would go for the pneumatic power building kit first because it allows them to make several different projects including an excavator, recovery vehicle and a crane and they all move with pneumatics. Super kit for a reasonable price! 9 – 15+ years (pictured upper left)

They also have a junior starter kit for younger kids with which they can build 16 models (cranes, a tractor, helicopter, boats.) 5 – 8 years (pictured upper right)

See all fischertechnik here for even more ideas.
---
For a wooden building kit (other than the awesome subscrition here) have them build a Leonardo da Vinci Catapult! (pictured bottom right)

I saw this in person when we went to see a Leonardo da Vinci exhibit and it is high quality. They will need a bit of patience as they will need to glue somem pieces together. 8+ years with help or 11-12+ years
---
He will discover Newton's laws of motion through this STEM construction toy. They look a bit like LEGO technic at first glance but they have a different type of connecting system. (pictured bottom left)

Make a collision car, a balloon powered plane, a dragster and 5 other projects. Includes a nicely detailed theory and instruction book. 8 – 16 years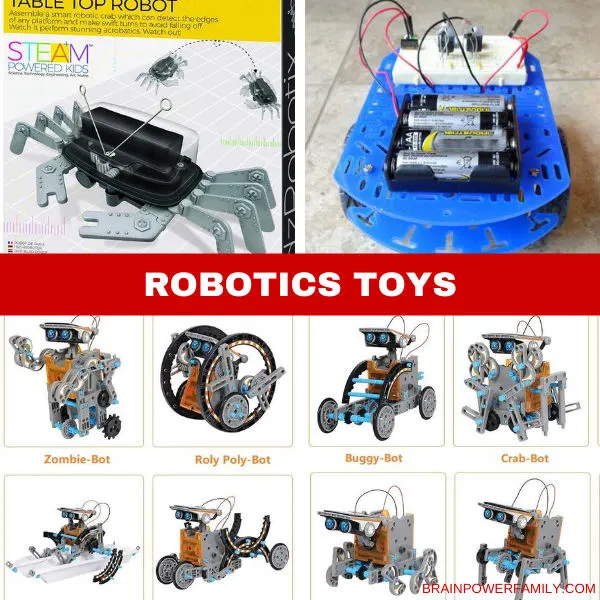 Robotics
You will be pleasantly surprised when you see the price of this robotics kit! (pictured bottom row)

There are 190 pieces in the kit and you can build 12 types of robots. You can easily take them apart to build a diferent robot. Great reviews and a lot of value for the money! 8+ years
---
We tried this easy to make robot. It is great for those just getting started with robotics. (pictured upper left)

You are making a little tabletop crab that changes direction when it encounters an object. Includes easy to follow instructions. They suggest 8+ years (my son was 6 when we got it.)
---
I have a review of a robot set from a homeschool store that is really great. We put it together and used it. You won't believe how quick it is! (picture upper right)

Go check out my review here and be sure to click on the link to give you a $5.00 off coupon as well. 10+ years
These hands-on STEM toys are great for every day and also make awesome gifts because they are of excellent quality, provide hours and hours of play and kids really like them – a LOT.
All of the toys featured here are wonderful hands-on STEM toys for boys. They will keep your boys engaged and learning while playing.
We shared our favorite STEM toys with you. If you have a favorite that we didn't mention, please take a moment and share the name of the toy and why you and your boys like it in the comments below.
Don't miss the Cool STEM Gear for Boys for more great ideas.